I have been keeping a secret… We are due this summer with Baby 2! Baby on the way!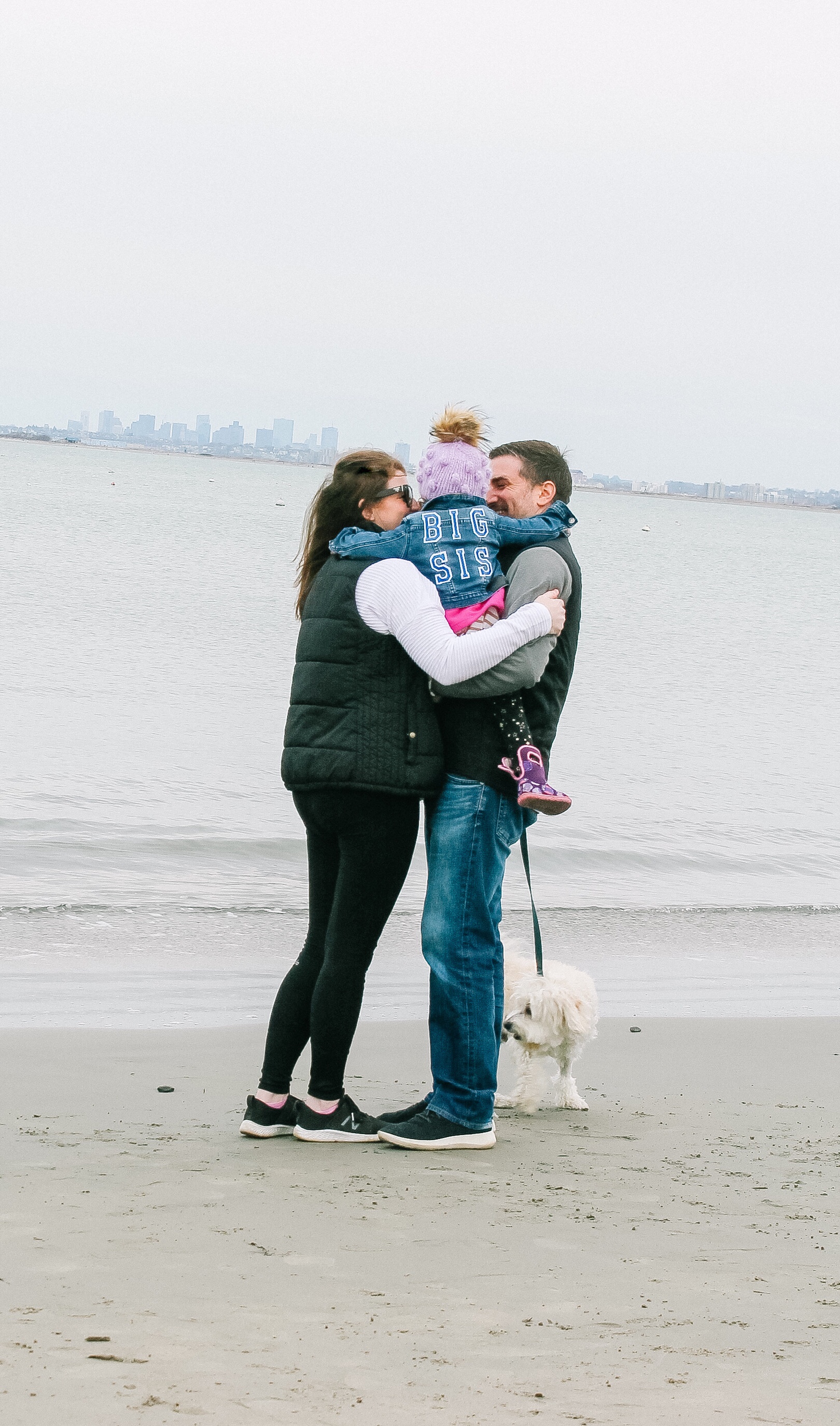 We took a nice long drive this weekend along the shore and decided to take some baby announcement photos on the beach. I love these pictures so much and plan to frame a bunch for our home!
I am close in age to my two sisters (17 months apart from one and 3.5 years from the other), and both T and I are close to our siblings. We are so excited to have two kids fairly close in age. I hope they will be good friends!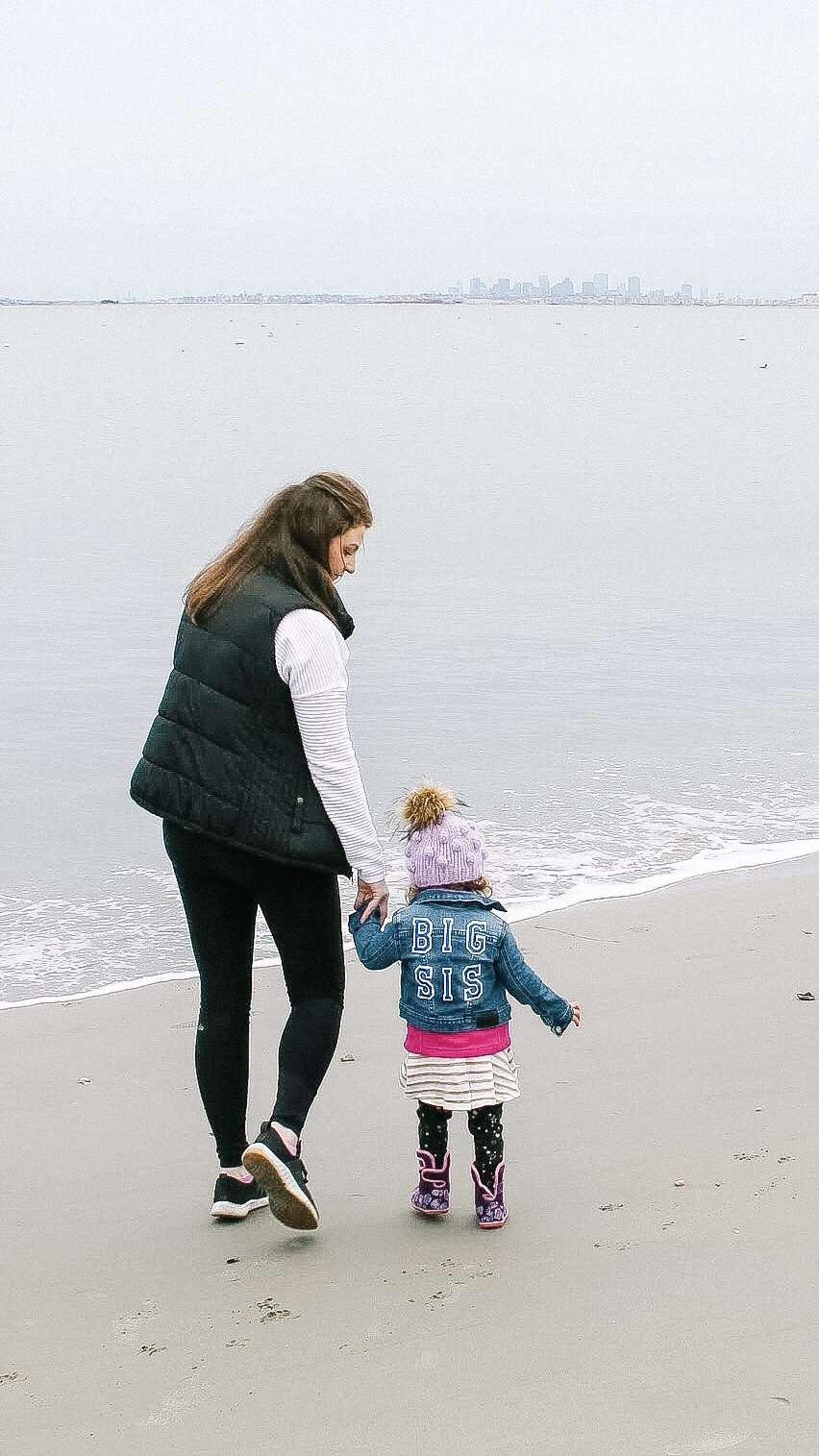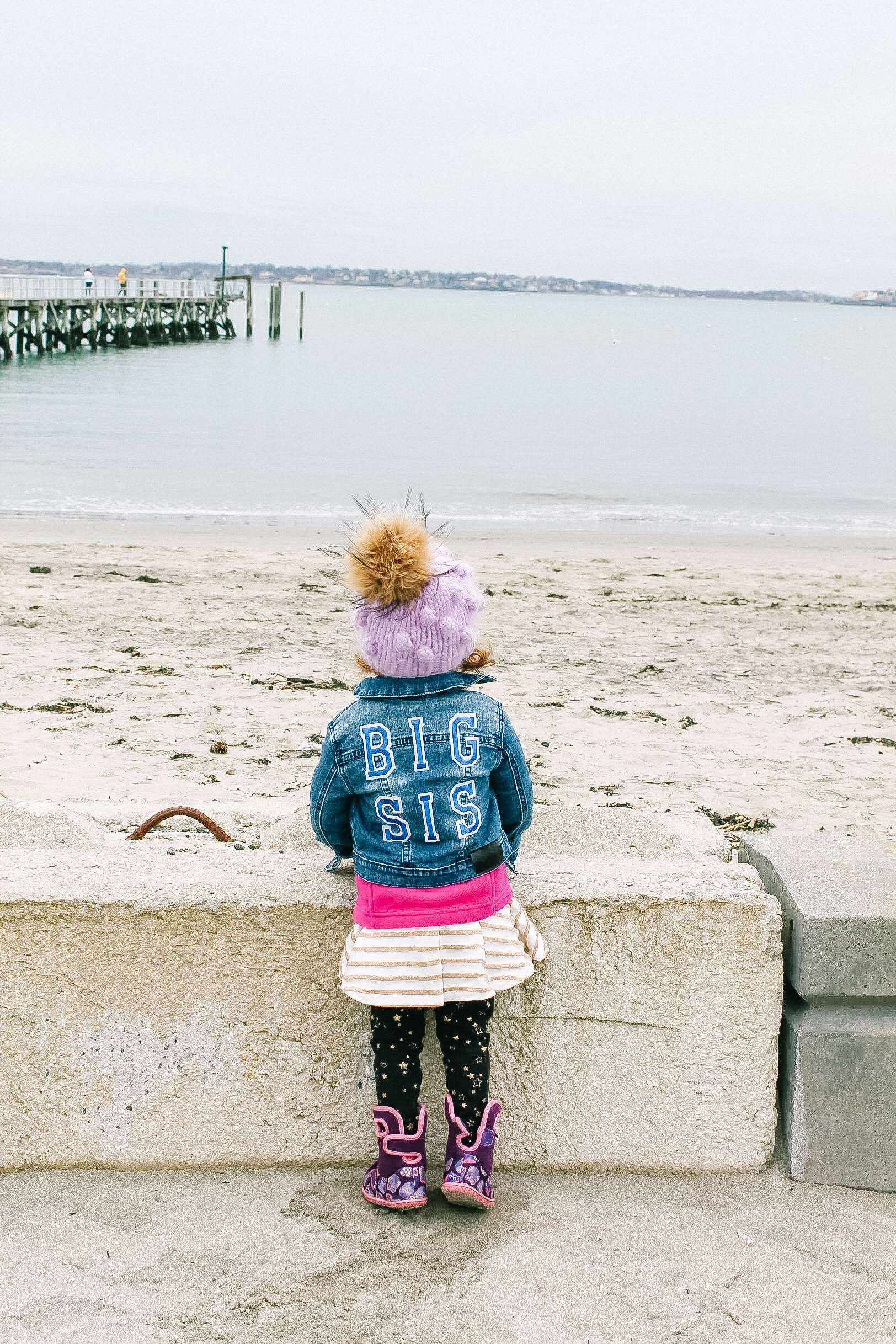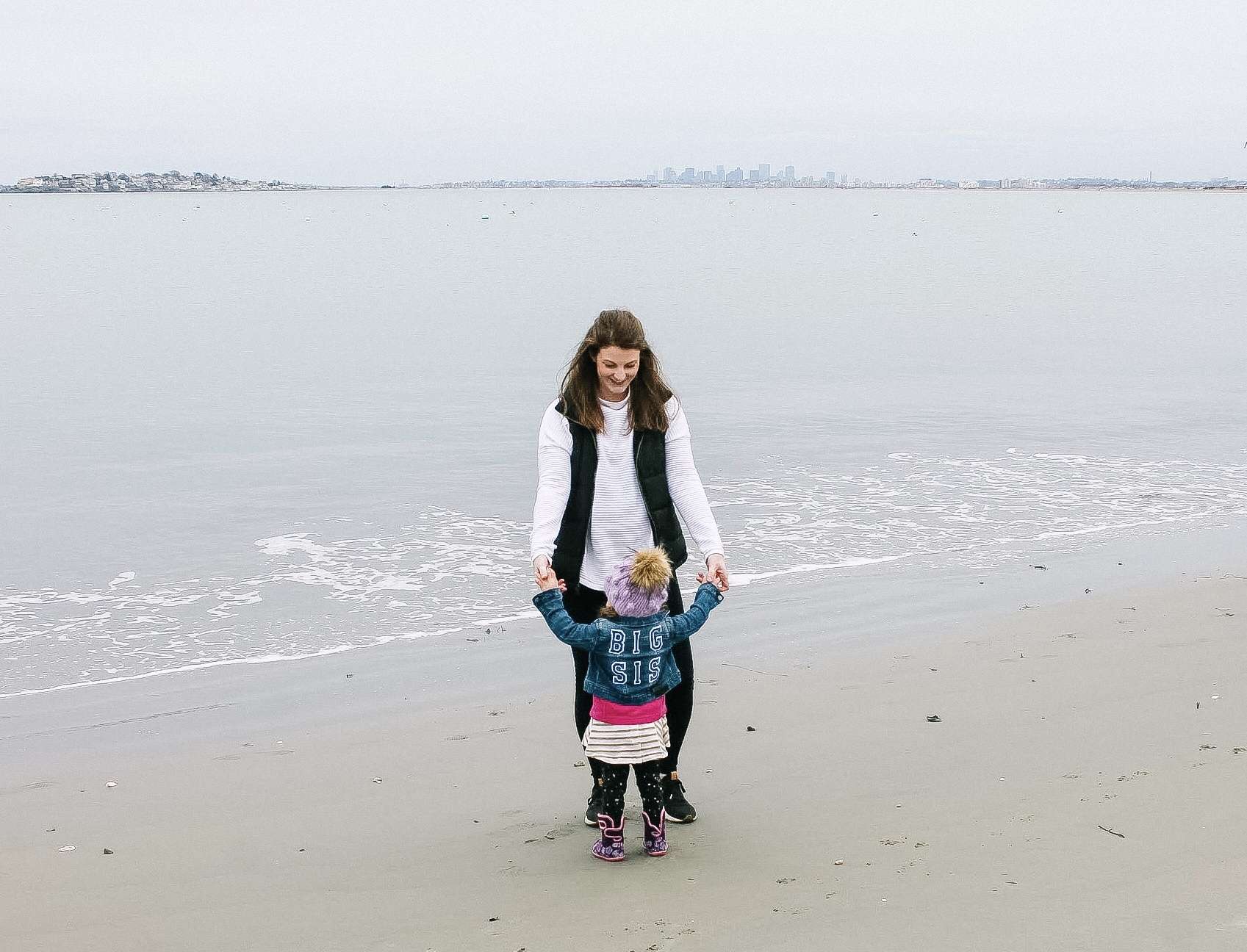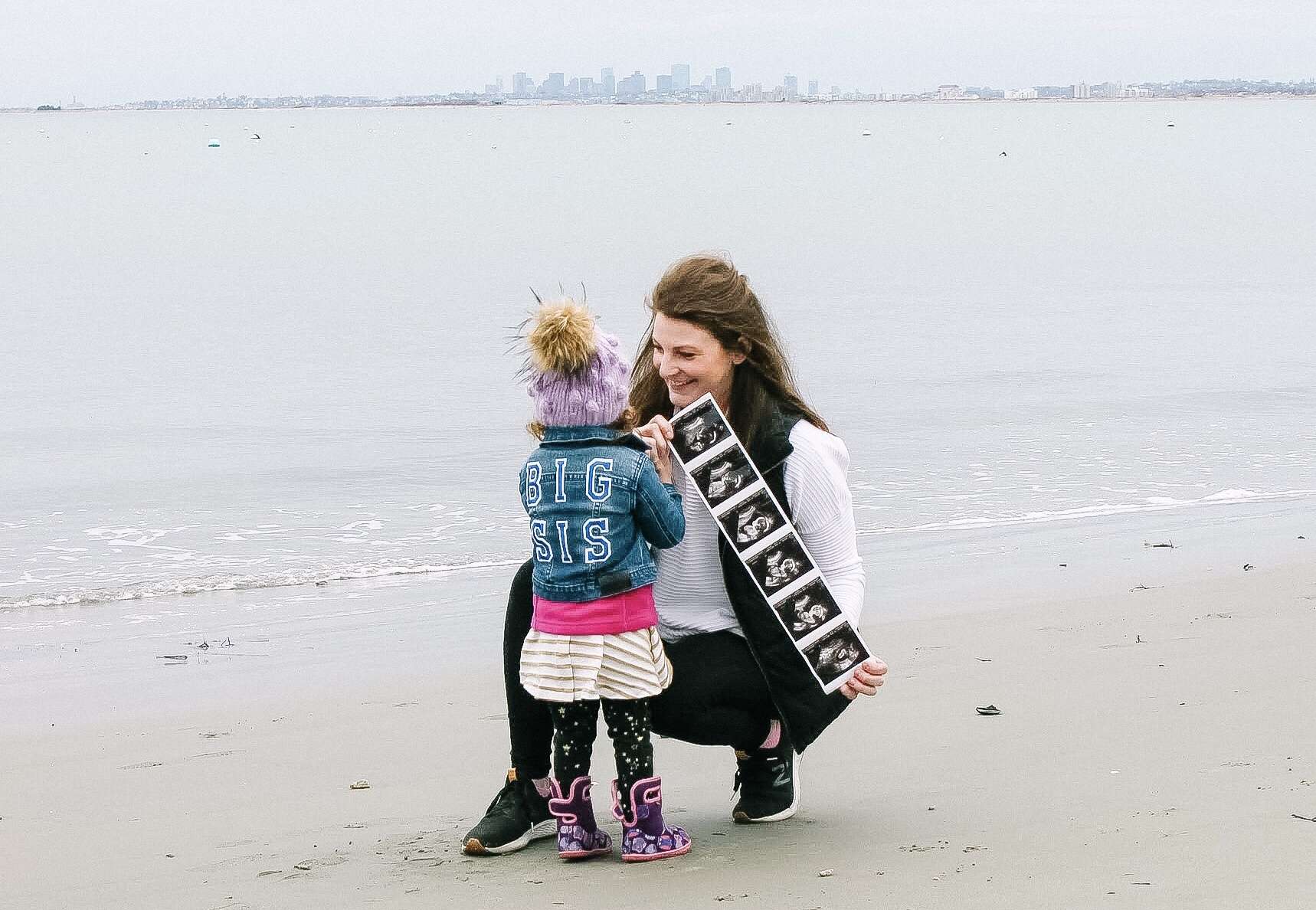 We have been trying to prepare E for all of the upcoming changes, but I'm not sure that she truly understands. She is only two! But we keep talking about it with her. (If you have any advice, I'm all ears!) We bought her a book about being a big sister, and she has been playing with her baby doll quite a bit lately.
How/When We Found Out
Our journey to this pregnancy was a long one. We suffered a loss this past summer and it was really difficult. A pregnancy loss is difficult on its own, but not being in our own home made it much worse. I've wanted to address that part of our summer so many times but haven't really had the words to do so.
I'm one of those people who obsessively tracks everything, so I knew almost right away this time that we were pregnant. Still, it's so exciting (and kind of scary) to see those blue lines pop up!
Because of our miscarriage in July and then a chemical pregnancy not long after, we were cautiously optimistic about this pregnancy. I don't think I fully breathed at a doctor's appointment until the anatomy scan when they said everything looked perfect!
If you've been through a pregnancy loss or are currently experiencing that awful waiting game, I feel you. It's not a fun place to be in to hear about other people getting and staying pregnant. I think the best thing for me was to just know that things can't always happen on my timeline. By nature, I want to be able to control when things happen, and this was one of those times that I had to just let it go and say "when it's time, it'll be time."
How I'm Feeling
The first few weeks that we knew, I was so nervous. It was kind of awful, to be honest. But my doctor was awesome and super helpful. Then the nausea hit. OH, the nausea. For about 10 weeks I was exhausted and felt sick to my stomach. I wasn't actually throwing up and could keep food down, so I wasn't able to get anything prescription-wise, but I started taking B6 and that helped a lot. That, and eating every 2 hours was the only way I was able to carry on with somewhat-normal life!
Things now are much better, but there isn't a lot of time in my schedule for naps this time around. With E, I would nap on the weekends or just relax in the evenings, and that's just not realistic with a toddler at home. I'm either chasing her or carrying her.
We have had a few sonograms, and it's still so crazy to see a tiny human bouncing around. The miracle of life isn't lost on me, for sure!
First Trimester
To answer a couple of very common questions…
On showing earlier with a second baby: I started to show earlier this time around, which I hear is totally normal with a second baby!
My most craved foods? Pizza, Dunkin Donuts breakfast sandwiches on croissants, and Diet Pepsi (specifically fountain soda).
Do you know the gender? We do know the gender!
Do you have a name? No, we don't have a name yet. With our first we had two names we liked and ended up making our final decision when she was born. We just wanted to see her first! I would guess it will be similar this time around, too.
I can't wait to share more about this journey to becoming a family of four (five, if you count Sprout!).
See our first pregnancy announcement here.