If you're trying to decide what crib mattress to buy for your new baby, I'm hoping I can help! In this post I'm reviewing two popular crib mattresses. I'll answer some popular questions, like: Is the Newton crib mattress worth it? Is a breathable mattress necessary? Can I buy an affordable crib mattress and help my baby get great sleep?
I never make a purchase without researching it about 900 times. Let me take that back… When I'm standing in line at HomeGoods, I will 100% make a purchase on a whim. Otherwise, I will research it approximately 900 times. There was no exception to this when I was putting together our baby registry, and especially when it came to the crib and mattress.
An old furniture-store commercial always rings in my head: "You spend 1/3 of your life sleeping." I wanted our daughter to be comfortable, safe, and have everything she needed to sleep through the night. We tried out both the Newton Baby Crib Mattress and the Safety 1st Heavenly Dreams Crib Mattress. Here's my review of the two, and which crib mattress I recommend!
Newton Baby Breathable Crib Mattress | Safety 1st Heavenly Dreams Crib Mattress
Click on this image to go to my YouTube review!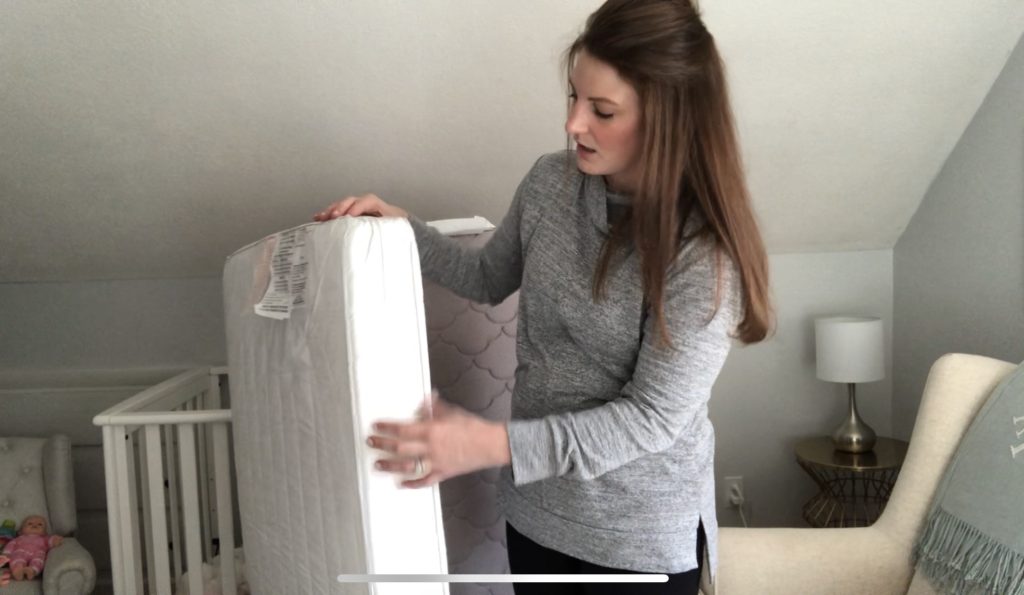 Newton Baby vs. Safety 1st
There's quite a price difference between these two mattresses (Newton Baby retails for $299 and Safety 1st retails for $68), so I assumed that I would see a BIG difference in sleep, too. I'll get to that, but let's cover some of the details first.
What is it made out of?
According to their website, the Newton Baby Crib Mattress is made of food-grade polymer (10%) and air (90%), which makes up its Wovenair core. It is made to fit standard cribs and move into a toddler bed, too. Newton Baby's biggest claim to fame with this mattress is its breathability.
The Safety 1st crib mattress is made out of a thermo-bonded fiber core, plus a vinyl outer cover. The outer cover is wipeable. It is made to fit standard-sized cribs and toddler beds.
Pros of the Newton Baby Crib Mattress
The cover zips off and can be replaced if necessary (they sell replacement covers for $80)
Its materials are 100% recyclable
It holds its shape after 2 years of continued use, without any areas being more squashed down than others
Cons of the Newton Baby Mattress
Every review I found on Newton Baby's mattress said that its breathable core is a major benefit to moms and newborns. I put it to the test for myself, and I actually found myself struggling to breathe through the mattress. I'm going to go ahead and be (possibly) the first mom reviewer to say that I think this claim is actually a "con" to the mattress. If you were just using the core of the mattress (watch my YouTube review to see what I mean), I'm sure it would be breathable… but put on the woven cover, a mattress cover, and a crib sheet, and there's no way you (or your newborn) are breathing through that. I'm putting this as a big CON because so many people talk about its breathability – without realizing that most parents are probably going to be using a waterproof mattress cover, plus a crib sheet, on top of the mattress and its cover. Update: Newton Baby now makes a waterproof version of the mattress, which would get rid of the need of a waterproof cover.
It's not cheap. $299 is steep, especially if you plan to go from a crib to twin-size (or bigger) bed and skip the toddler bed altogether, and especially if you only plan to use this mattress for one child.
The replaceable mattress covers are $80 each. If you plan to only use the mattress with their removable cover, you should have at least one extra mattress cover on hand because … well, sh*t happens.
Pros of the Safety 1st Heavenly Dreams Crib Mattress
It's affordable! At $68 on Amazon, you won't feel awful if something terrible happens to the mattress and you have to replace it.
Cons of the Safety 1st Mattress
The inside material is layered, with not a ton of structure. Over time, the mattress will flatten in some spots, like the corners. (Especially if you have a child who sleeps in the same position all the time or plan to use the same mattress through multiple children.)
It's not made of recycled materials, a con if that is important to you.
Sleep: Newton Baby Mattress vs. Safety 1st Mattress
I assumed that my daughter would sleep 3x as well on the Newton Baby mattress, since it's 3x the price. But I was so wrong. She slept JUST as well on the $68 mattress as the $299 mattress!
I used the Safety 1st Heavenly Dreams Crib Mattress from the time she moved into her own room (around 4 months old) until she was 15 months old. Then I swapped out her crib mattress for the Newton Baby Crib Mattress, expecting to see a huge change in sleep. To be honest, her sleep was exactly the same.
We never had an incident where I had to take apart the mattress and clean it off (other than the usual sheet-changing), so I can't comment on that.
How long will my baby use a crib mattress?
Most babies sleep in a crib from 3 months to 2.5 years, and then transition into either a toddler bed or a larger sized bed. Plan on using a crib mattress for about 2 years. If you use a toddler bed, you can continue using the same crib mattress (a toddler bed is generally the same size as a crib).
Which crib mattress should I get if I plan to have more than 1 child?
One big question to consider is this: How long will you actually use the crib mattress? We decided to keep using the Newton Baby crib mattress for our second child. He has been sleeping in his own crib for 3 months, and the crib mattress has held up beautifully after 2+ years of continued use. If you do plan to have multiple children on the crib mattress you're buying, then it may be worth the upgrade to Newton Baby.
See more product recommendations for baby sleep on my Amazon Storefront
Final thoughts
I put together a short video to show more differences between the two mattresses. Take a look!
P.S. Don't forget to subscribe to my YouTube channel if you prefer video! I'm newer to YouTube, but I really enjoy putting videos together and hope to do more in the future!