After being home with our baby for nearly three months, I'm sharing my baby registry must haves for what you absolutely must have with a newborn. (I'll update the list as time goes on, too!) Print this out if it's helpful, because I'm going through everything from stroller to clothing to sound machines and other gadgets. Moms (and Dads!)… here is your baby checklist of sorts:
Baby Registry Must Haves
Clothing/Wearables
Kimono-style tops: Needed especially the first two weeks because you don't want anything to rub on the baby's umbilical cord stump while it's healing. I like the half-top, but they also come in a full onesie style.
Swaddles: These pod swaddles are perfect for babies who don't need to be swaddled extremely tight, and they make middle-of-the-night diaper changes super easy. For babies who need to be swaddled tightly, these are the best. We used both in the beginning because we weren't sure what our baby wanted! Swaddle blankets are also great to have because you can use them as swaddles for sleeping or as a stroller blanket.
Swaddles for 3 months+: For a baby who loves the feeling of being swaddled but can roll, you'll want something that lets them have their hands. We love this swaddle (in stage 2/transition). The one zipper makes it SO easy!
Footed onesies with zippers (aka "sleep n play"): These are our favorite, and they're often on sale (you'll probably also want the fleece version if you're having a winter baby!). You'll start to despise snaps during late night diaper changes, so make sure you have enough of these.
Gowns also make diaper changes really easy!
Short-sleeve onesies to put under outfits for extra warmth for our September baby! (And long-sleeve onesies to wear with a sweater)
Items to skip: We never used the mittens we purchased. Our baby had her hands by her face in every ultrasound, and she still sleeps like that!
Bedroom/Nursery
Crib (You can see the crib we chose in this nursery reveal post): There are so many different kinds of cribs to choose from. This site has reviews that are super helpful! Don't forget to register for a crib mattress, waterproof crib mattress cover, and sheets (these Burts Bees sheets are our favorite so far). You might also want a mobile (Pottery Barn Kids has some really cute options!).
You might also want to see: Crib Mattress Review: Newton Baby vs. Safety 1st
Changing table or dresser with changing topper (our choice to save space in a small nursery) and changing pad, changing table covers (our favorites). The first week we were home we did so much laundry that I ordered these covers, too. They wash easily (and I hang them to dry).
Diapers! and wipes, cream for diaper rash (we use this one and this one). We also keep Water Wipes in the nursery because they're great for cleaning off the baby's face if necessary. Good to know: We have found that Pampers are better sized for skinny babies, where Huggies have more width to them. Because our little one is skinny and long, we're a Pampers Swaddlers family!
Diaper caddy: Unless you're planning to have a changing station on both floors of your house (we didn't), you'll need a caddy to bring diapers, wipes, creams, etc. so everything is within reach!
Diaper pail: We love this Ubbi one, because a) there's no smell outside of it and b) it uses regular tall kitchen trash bags, meaning you don't have to try to remember to replace cartridges when you run out. Just grab a bag from the kitchen! (We love these scented trash bags for the nursery.)
Update: Here's a diaper pail comparison post on Ubbi vs. Dekor!
Rocking chair/glider with ottoman: At first I wasn't sure if I wanted a chair and ottoman because our baby's room is fairly small, but we use it SO much that it has been worth having.
Noise machine (this one is super popular for a reason). Plus we love the Sleep Sheep, too, which is easy to take with you if you travel (and it runs on batteries, so it's great for the car).
Note: Keep a case of water bottles in the nursery, especially if that's where you go to feed/change baby at night. You'll be extra thirsty if you're breastfeeding, and if you're formula feeding you might want to grab a water, too!
Items to skip: Wipes warmer (I was told by a friend that it only dried out their wipes)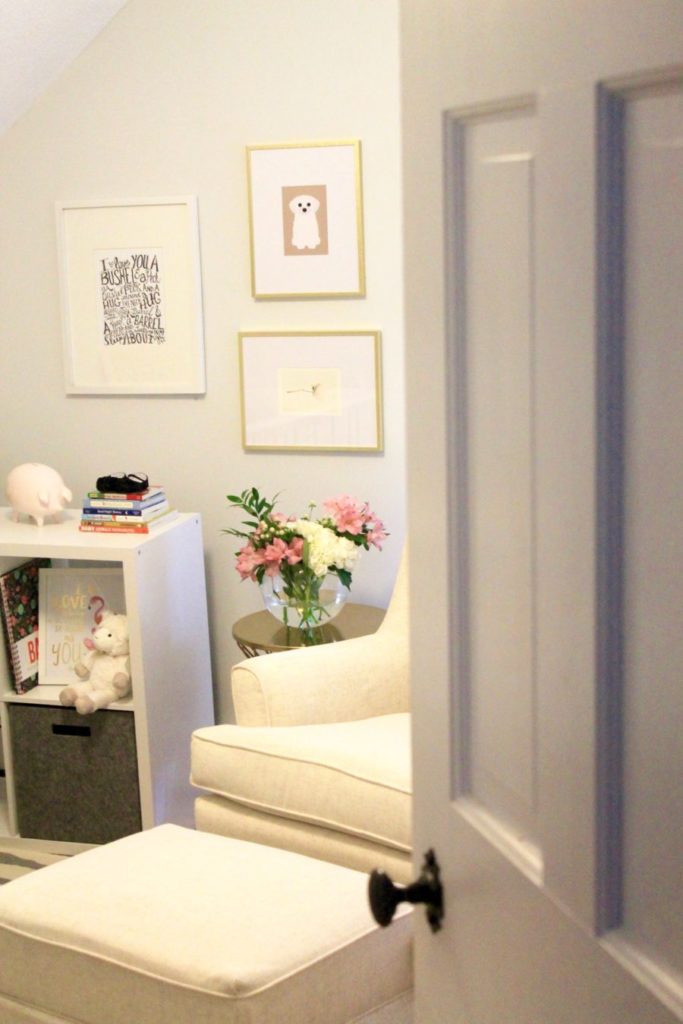 Stroller
Light stroller: This caddy version is great for when the baby is still in an infant car seat, and you can easily transfer the baby from the car onto the caddy to go shopping or for a walk. I LOVE this, because it's light enough that I can fold it up with one hand and put it back in the car. (Note: If you plan to hang a lot on the stroller, it could be too heavy and tip the stroller over, so just be careful!)
Heavier stroller: We also have this stroller, and I added an attachment to put the car seat on it. This stroller is not quite as light for maneuvering in and out of stores, but it's great for walks outdoors. It's also a heavier stroller, so I can hang more on the hook (see below) without worrying about tipping the stroller.
Must-have Stroller Accessories:
Hook: Awesome for attaching bags while you're out shopping!
Stroller organizer: I see this on pretty much every stroller, so it's a definite must-have! It easily holds your water bottle, keys, phone, etc.
Car seat cover: For when you're out with Baby but don't want anyone touching him/her, or if you are going somewhere with bright lights and want to make sure Baby doesn't wake up from the lights.
Baby Gear
Car seat (the car seat we have was highly rated for safety): Think about getting a second base if you have two cars (so you don't have to always be moving the base back and forth between cars). If you have a winter baby, this cover keeps the baby nice and warm! We have this blanket and use it constantly for extra warmth in the car seat.
Related post: https://www.feathersandstripes.com/10-winter-items-dress-baby/
Bassinet: Include the newborn insert, as well as the caddy for the outside where you can store burp cloths, wipes, an extra onesie… anything you might need in the middle of the night that you don't want to go hunting for. This bassinet is awesome because it swivels around, so you can actually swivel it over your bed for ease in the middle of the night. (I didn't think of this when I put together my baby registry, but you'll also need separate sheets for the bassinet!)
DockATot: I explained why in this post!
Bouncer seat: At first my husband couldn't understand why we needed so many different seats for the baby, but we both quickly learned that Baby sometimes gets bored where she is and needs to move. We added the bouncer toy bar, which Baby started to use at around two months old.
Swing: We really love this swing, which has 5 different swing speeds (side to side), two sets of music, plus a mobile that spins and goes up and down. It's fairly affordable in the world of swings at $120.
Activity mat: The one we have has a variety of "activities" – crinkle noises, rattle noises, squeakers, jingles, mirrors. We also started to use this piano mat after a couple of months, and our baby has loved it! The piano is even removable for use into the toddler years.
Diaper bag: I have this one, which looks like a bag I would carry if it was just a regular tote. I love the gold zippers, and it has both inner and outer pockets. The only problem is even with inner pockets it gets disorganized inside, so think about using separate pouches for each item (diapers and wipes, extra clothing, pacifiers, hand pump, etc.). (It's also available at other stores, including Amazon!)
Portable changing station: It's amazing how many public places don't have a changing table, and even if they do you will want to put something down to protect Baby. This portable changing station folds easily and can go right in your diaper bag.
Night lights: Something I didn't think about until later, you'll need nightlights because you will be getting up in the middle of the night for a couple of months at least. I like these because they automatically go on and off based on whether or not it's light or dark out.
Wrap baby carrier: Our baby was only a little over 6 pounds when we came home, and at two months she was still too small for most carriers. (Many require Baby to be at least 12 pounds.) This baby wrap was awesome for going on walks when we didn't want to use the stroller. We also registered for this carrier, which we recently started using.
Feeding
Note: I'm breastfeeding, so this is from the perspective of what you'll need while breastfeeding your baby!
Manual pump: The second week at home, I ordered this on Amazon. Our baby will often only eat on one side and be done, so I can easily pump the other (especially if it's in the early hours of the morning). It's also handy to take with you if you'll be gone from the house for a while! I also have a pump with a motor, but I use the manual version just as much!
Bottle brush: You'll need a brush that is separate from the one you use to clean your dishes. (There is also a travel version.)
Bottle sanitizer: You have to sanitize your bottles, pacifiers, pump parts, etc. before you use them, which can be kind of a pain. BUT this sanitizer from Chicco is awesome – put it in the microwave for 5 minutes and you're done! (Anything that saves time is a win!)
Drying rack: I like this version that is multi-layered so it keeps more off the counter if you are dealing with a small kitchen or just don't want everything spread out.
Bottles: We used these and these. Both work well for us!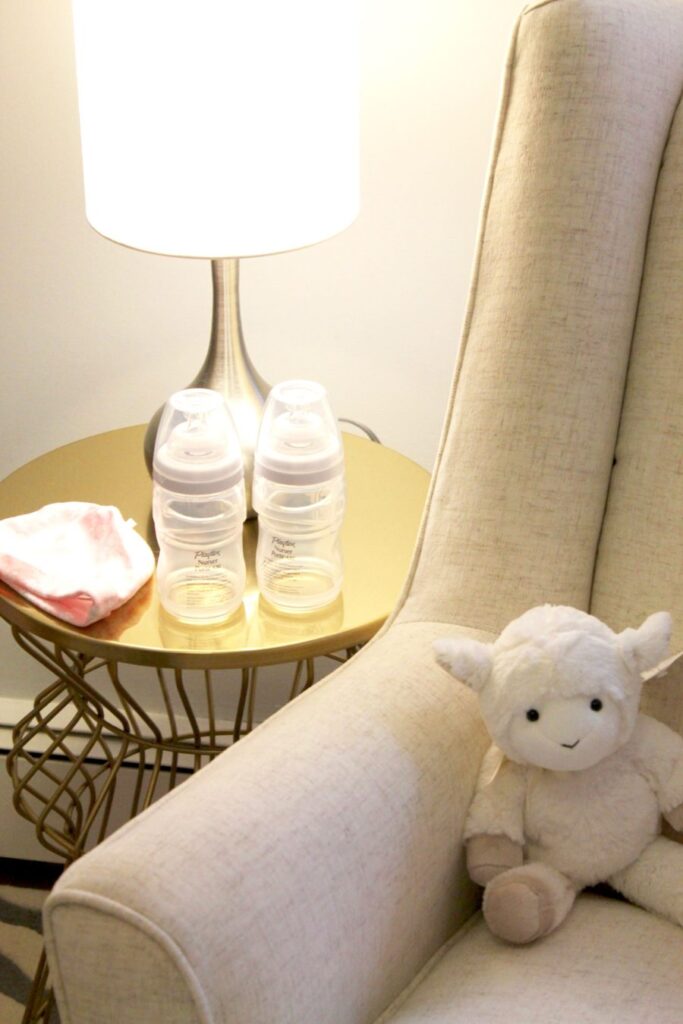 Feeding pillow: I wasn't entirely sure if I would need a Boppy, but it helps save your back from unnecessary pain while you're feeding the baby. Totally worth it, if you ask me. (Also: waterproof cover, pretty cover)
Burp cloths: And get extras, because these go missing and you always need one! These are a favorite.
Pacifiers: You may or may not want to use these, but we do and these Avent pacifiers (2-pack) are the ones we love. They're the ones most hospitals use, too.
Bathtime
I found this little infant tub to use in the sink, and it has been great so far. One thing I love about it is that it holds a small amount of water in the bum part of the seat, so Baby can keep her bum warm 🙂
No-tears shampoo/baby wash is a must-have!
These washcloths are our favorite for bath time, and we love these hooded towels, too. You can register for them in a set, too.
We used this lotion for post-bath for a while, and we recently started using this lotion, too.
Everyone told me to get the safety nail clippers, so I did. But after the first time I accidentally clipped the baby's finger instead of her nail (with subsequent freak-out call to the doctor), I swore them off. I ordered this little electric nail file for baby off of Amazon – and it's the ONLY thing I will use now!
Where do I register for baby?
I created a Target baby registry and Amazon baby registry for the essentials (to give people options). Most of our friends and family chose to go the Amazon route, just because of convenience! I also had a Pottery Barn Kids baby registry for decor and the more just-because-it's-cute stuff! Consider where your guests live and give people options of going in-store vs. buying online.
How many baby registries should I have?
This is totally dependent on you, but I'd say if you are going to have a traditional baby shower, aim for 2-3 registries. That way people can choose if they want to do an Amazon (super easy) or go into a store (Pottery Barn Baby, for example) to actually see the items before they purchase. Just make sure you're putting items on just one registry so you don't get duplicates.
Who has the best baby registry completion discount?
Of the places I registered/considered registering at:
With an Amazon baby registry, you get a 15% off completion coupon to use on any remaining items (which includes diapers!). Also, once $500 of items are purchased from your registry, you get a discount of 20% on diapers (up to $60). With Target's baby registry, you get a 15% off completion coupon to use on any remaining items that you need/want.
Moms, did I miss anything that you thought were baby registry must haves? 
You might also want to read: The only maternity clothes you need, What's in my hospital bag (updated with what I used/didn't use!), and Best gifts for new moms