It's hard not to get jealous of people who have found their workout of choice – and can stick with it! Before I tell you why, let's back up a bit.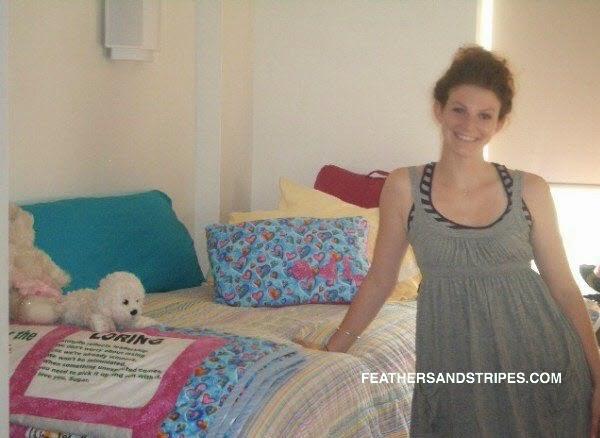 college photo throwback!
In high school I was an athlete, a member of my high school's competitive cheerleading team that practiced 5 days a week. After cheer practice or gymnastics (which we were required to take twice a week), I'd go directly to dance class twice a week, where I'd be for a couple more hours until I finally got home around 9pm. Thursday or Friday nights we had games, so my teammates and I would often stay in the gym practicing stunts until it was game time (during which we would show off said stunts – we actually used cheering at games like an extra practice!). Saturdays were for early dance class and could sometimes include a stunt clinic or other cheer-related afternoon.
If I had a history test that I was having a hard time studying for, I'd get on the treadmill and study there because it helped me concentrate. Predictably, in high school I could eat whatever I wanted (as in cheeseburgers before practice and Twinkies afterwards) and didn't gain an ounce. Low-rise jeans and shirts showing a couple of inches of midriff were perfectly okay. I look back at photos from those days, and I am so jealous of those abs.
In college I worked out because I was used to having that routine. I'd purposely schedule my classes so that I had a break and could work out easily. I'd go to my 8:30am class and then directly to the gym, with enough time to have a good workout, get back to my dorm and get ready for the day before heading back out to class. As the college years went on and my dorm was farther from the gym, I got a little lazier about getting to the gym – but those abs stayed in tact! (It probably had something to do with all of the walking I did around campus.)
After college I started working at a company that had a great little gym and a better bathroom than the one in my apartment. I changed my schedule around to get up early and work out every morning and shower at work before hitting my desk at 9am. But soon I fell in love and my workout schedule became increasingly erratic, as weekend nights meant eating at great restaurants and enjoying a glass or 3 of champagne.
Now, here's where I wanted to get (but you needed that backstory!). I went from having a very rigid, scheduled workout plan to a self-imposed rigid workout plan to a "I'll get to it when I get to it" complete lack of plan.
I have tried spin, barre, Pilates, yoga, running, and dance, among a few other types of exercise. Barre lasted 5 classes, running one summer (though I will randomly decide I want to go for a run every now and then), and spin lasted a good 6 months. I have not yet found a workout I will stick with as rigidly as those workouts of my teens and 20s. I just get easily bored with working out, so anything predictable doesn't work for me. (I actually really liked going to spin, but it only had an effect on the lower half of my body.)
The summer before my wedding I went to Pilates religiously 3 times a week – and had the arms to prove it! I recently jumped back into it after seeing a photo of myself in the same dress before our wedding and a year later (oh, what a difference a year makes!), and I'm working on getting myself into a rigid routine of at least twice a week.
What I love about my Pilates studio is two-fold: 1. it's on the reformer machines, so you use your bodyweight as resistance with the option to add more or less 2. it's different every time, and I never know what's coming next. It's 45 minutes of torturous movements that have quick transition times and not enough time to really think about anything other than "is my hip correctly aligned" and "awesome, halfway through this one, keep going."
I've made some other small changes that have had an impact on my body, too, but I feel like I really need exercise to stay healthy. And in order to actually do the exercise, I need something that shows results but isn't monotonous.
I wonder – does anyone else yo yo with their exercise like I do? If you stick with one type, what's your secret?