My original title for this post was "Where I've Been Lately AKA Jesus Take the Wheel" so that should give you some indication of how the past few weeks have been.
After we got over a pretty nasty case of croup (for E), Sprout tore a ligament in his knee on the most beautiful day outdoors on a hike.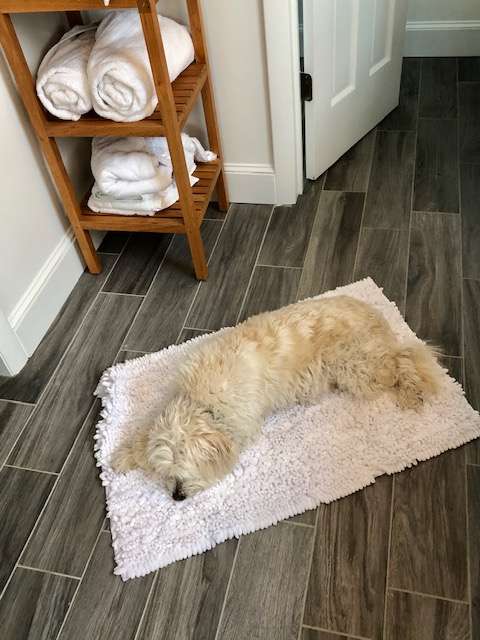 For the past few weeks, we've been managing his pain with medications while seeing if PT will help (at the suggestion of his surgeon). Aside from that, he's basically on bed rest. But for a dog who doesn't understand what that means and thinks he's part goat, that's been really hard. We have to carry him up and down the stairs, and he can't go on walks/play outside/etc. We do have a surgery scheduled, but it's not until the end of the month. The surgery is pretty intense. I've never had to do a surgery for any of my pets so I'm completely freaked out. I'm welcoming any advice if you've been through a CCL tear!
I've also been really tired and am trying to ward off any sickness with sleep. Some nights I'm in bed by 8:30pm and don't get up until 7am. This time of year is so tough in New England, because it's cold and nasty outside so everyone stays in or goes to indoor places – and there are just germs everywhere! (One of my best friends mentioned that she bought hospital-grade Clorox wipes from Amazon and they're the only kind that can kill norovirus, so I just ordered some.)
I feel like it's kind of the universe's way of telling me that I need to slow down. That I can't assume I will be able to always do things at 75 mph. Who knows, though.
As always, thank you for reading, for your messages and kind words!
P.S. for more Sprout-related content:
Small Bathroom Dog-Friendly DIY Update