Thanksgiving is one of my favorite holidays. There are few expectations, way too much food, and it kicks off a fun season of parties and getting together with people I don't normally see regularly. I'm lucky in that my family and T's family live close enough that we can easily see everyone on the holiday, rather than having to travel too far. (I can't imagine having to fly across the country for the holidays, but then again, it's because I'm spoiled!)
I put together two Thanksgiving Day outfits, whether you're going for the cozy look (read: board games with extra dessert rounds), or if you are meeting the in-laws for the first time and need to dress it up a bit. I usually dress down and prefer to wear a pretty sweater, leggings, and boots (these are 30% off!), topped off with a monogrammed necklace.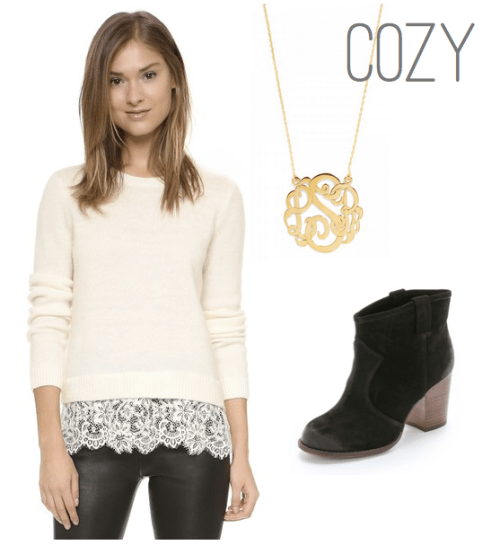 If we were going to a big party or having Thanksgiving someplace dressy, I would go for a black turtleneck tucked into a pretty metallic brocade skirt, complete with black tights and ankle boots. I love this tassel necklace to top off the look.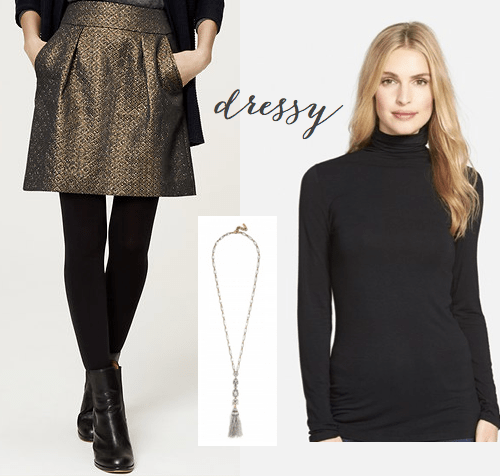 Regardless of what you're wearing that day, I hope you have a very happy Thanksgiving!