Call me old fashioned, but there is one thing I think you should never do to a bride: Wear white.
There are SO many options for dresses that choosing something white or ivory can be seen as a huge slap in the face to the soon-to-be-Mrs. It doesn't matter if it's pure white or white with hot pink piping… just don't do it! Same goes for a bridal shower, engagement party… let the bride have her day, and leave the color (or lack of color?) white to the lady of the hour. Even if she's a bride who doesn't care about being the only one in white, stay on the safe side and wear a color.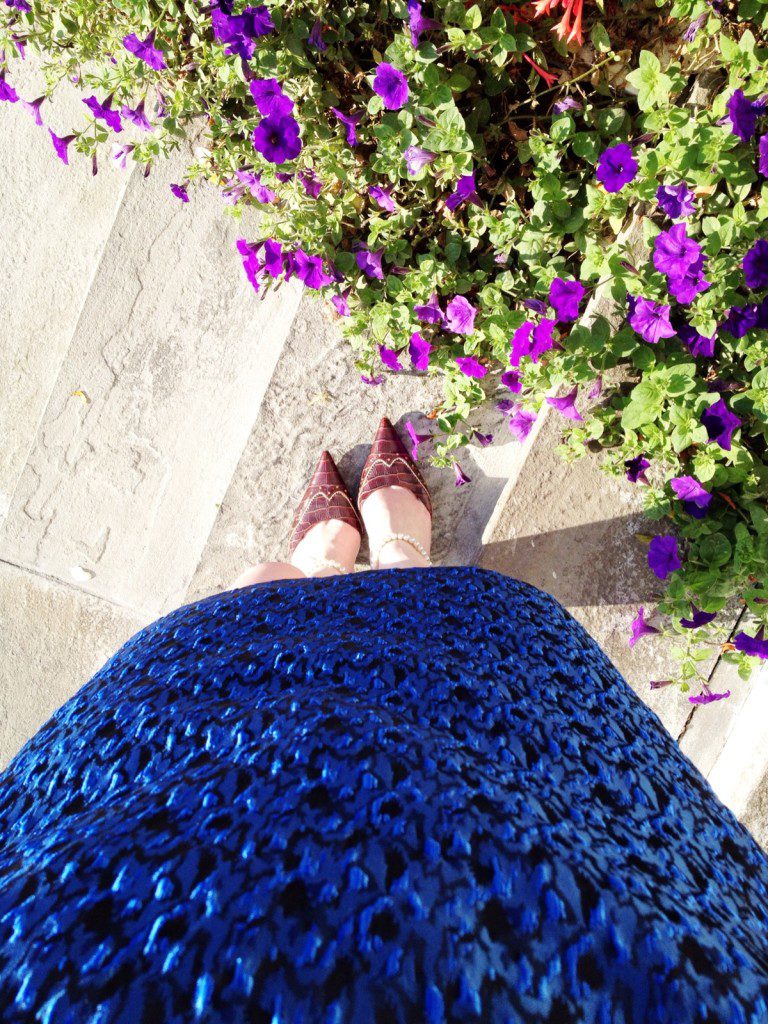 A 'gram of one of my favorite dresses that is wedding-perfect (from Erin Fetherston)
You also want to steer clear of anything too revealing or anything that makes you look like a Vegas showgirl. True story: My older sister had a garden wedding in 2013 (think mason jars and burlap, pies instead of cake, and a ceremony in the rose garden). Anyone who knows her and her husband also knows that they are laid-back and conservative in their style. She wore a classic strapless sweetheart neckline gown, and he wore a navy suit. While we were up in the bridal lounge of the historic home overlooking the gardens, I saw a flash of light come stumbling down the gravel walkway on 4″ heels. A gold sequined backless minidress had entered the property.
Don't be the Vegas showgirl.
Here are my picks for what to wear to three types of weddings this summer: garden, cocktail, and black tie. (Some people say to steer clear of black or red for a wedding, but in some places, like the Northeast, it's fine to wear black. I'd only wear red to certain people's weddings, so you have to know the bride! When it doubt, go with a color that really cannot offend: navy, pink, purple – navy would always be my choice!)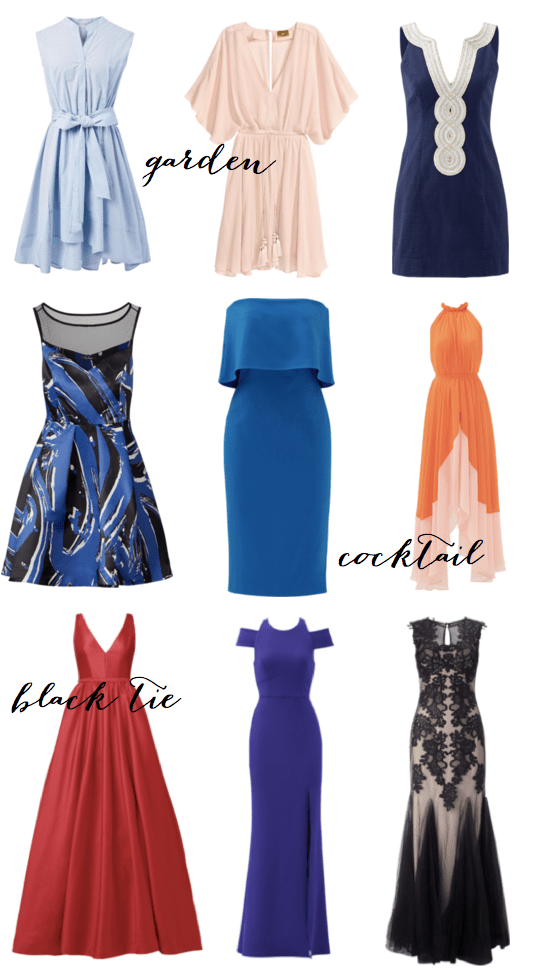 Garden: blue / pink / navy (rent for $40!)
Pair any of these with wedges (a garden wedding usually means there's going to be grass or surfaces that don't work well with heels!) and pretty earrings.
Cocktail: black and blue / blue / orange colorblock
Break out your favorite shoes and something interesting like these feathered earrings or these winged earrings.
(In the Northeast, any of these cocktail options would also work for a "black tie optional" wedding, which is somewhat of a mix between cocktail and black tie! If T is wearing a tux, I'll go fancier, and if he's wearing a suit, I won't.)
Black tie: red / purple / black
Fancy sandals and minimalist jewelry will do the trick for these dresses, unless you want to go bold.
One other note – Most brides won't care at all if you're wearing the same color as the bridesmaids. I chose long navy dresses with a ruffle detail for my bridesmaids, and one of our guests told me later that she was embarrassed to have shown up in a navy dress, too (even though hers was short with lace). It didn't bother me! I knew I was picking a popular color. If you're worried that you might wear the same color as the bridesmaids, go with something printed like the brushstroke dress or color block dress above and you're 99% sure to avoid that.
P.S. Pin this for the future! >>