The weather in Boston has been so weird lately. Though I hear it's not that normal in the rest of the country either, so at least we're not alone!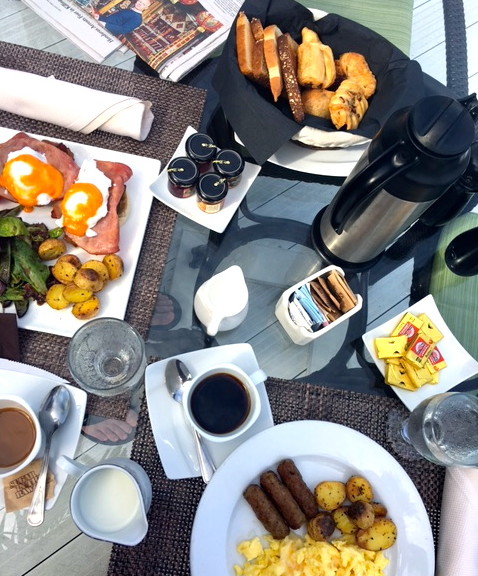 But going from wearing a heavy parka to hiking in a tank top to long sleeves and a puffer vest… It's like just make a decision on what season you want to be!
Last weekend I did an impromptu closet clean out, which felt so good to finally get done, and I'm hoping this weekend to tackle the less-fun part of dropping off donations and taking photos of everything I'm going to sell instead of donate. I have a fun post for next week about some of the items I found during this clean out, and you'll want to check that out… SO embarrassing.
Sales and things
In the meantime, you can bet I'm over at the Shopbop sale looking for classic pieces (like a white button down) to replace some of the items I got rid of last weekend that were worn out. One thing I love about the Shopbop sale is that it's on current items, not things you'll stop wearing in a couple of weeks. I have my eye on these espadrilles (so many options!) for the summer months, this pretty dress, and this swimsuit that's pretty much universally flattering.
Nordstrom Rack has wallet-friendly prices on items you may need for next year. I just picked up these brown riding boots to replace a pair that I've worn to death, as well as these black flats. (Both are by a brand that is well-made and comfortable, but buying staples like black flats won't set you back hundreds.)
Around the web
I've seen this article circulating on social media, and it's so true that you need your friends more as you get older. (I talked a little bit about my friends in this post!)
7 date night ideas for when you just want to stay home – this couple is adorable, and I love how they show date night ideas in pjs! My kind of date night 😉
If you're a blogger, Jess's advice on how to price your services for a sponsored post might be helpful. So many people just take a stab in the dark with a number!
Brighton's list of 12 investment pieces worth splurging on is spot-on! I don't typically buy "investment" pieces, but I've been looking at a specific pair of shoes and a specific bag for a while, so I might take the plunge soon.
Lastly, this DIY tulip wreath is so cute! I need a springtime wreath, so maybe I'll DIY this one for our front door!