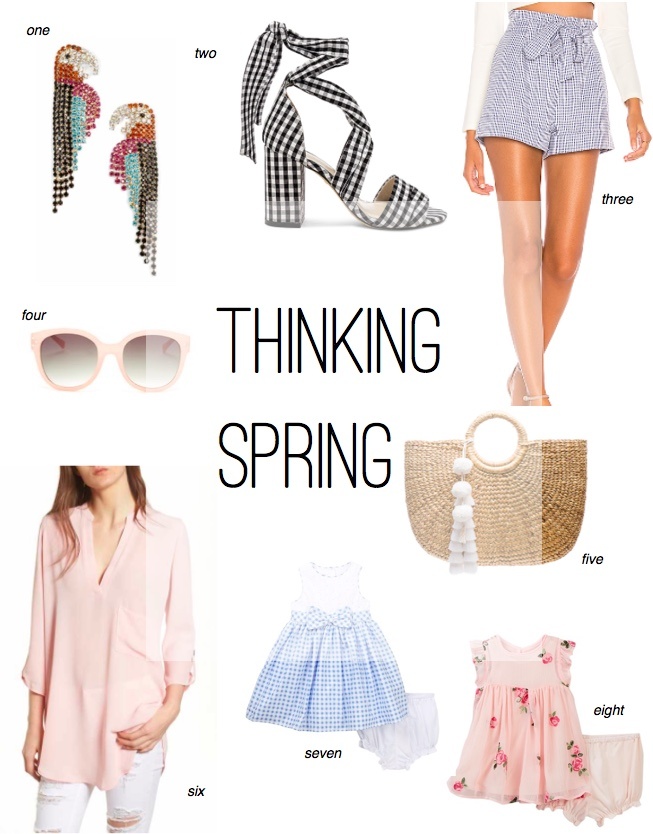 March is always a bit of a rough month for me. My heart says buy all the spring things while my head says don't put away the parka yet.
one – parrot earrings | two – gingham sandals | three – high-waist shorts | four – light sunglasses | five – beach-ready bag | six – a closet staple in a springtime hue | seven – gingham for the baby | eight – a rose-printed baby dress
For example, as I type this, we have a blizzard warning for Boston with a possible 12-18″ of snow on the way over the next 24 hours. Yet I just placed an order for 3 different sleeveless gingham dresses. See what I mean?
After months of basically hibernating, I'm just ready to shed all of my gray and black clothing and break out the pastels! I own this shirt in black, hunter green, maroon, and white; but I love this pink color and might need to add it to the collection. I've worn it with everything from leggings and riding boots to jeans and a suede waterfall jacket. And can we just talk about the parrot earrings for a sec? I just got them in the mail, and they're SO cute. I just need an excuse to wear them!
Is it time for a beach vacation yet?