Throughout my entire pregnancy, I think I purchased about 15 total maternity clothes essentials. I could have gone absolutely nuts and redone my wardrobe into a maternity closet, but you really don't need to do that!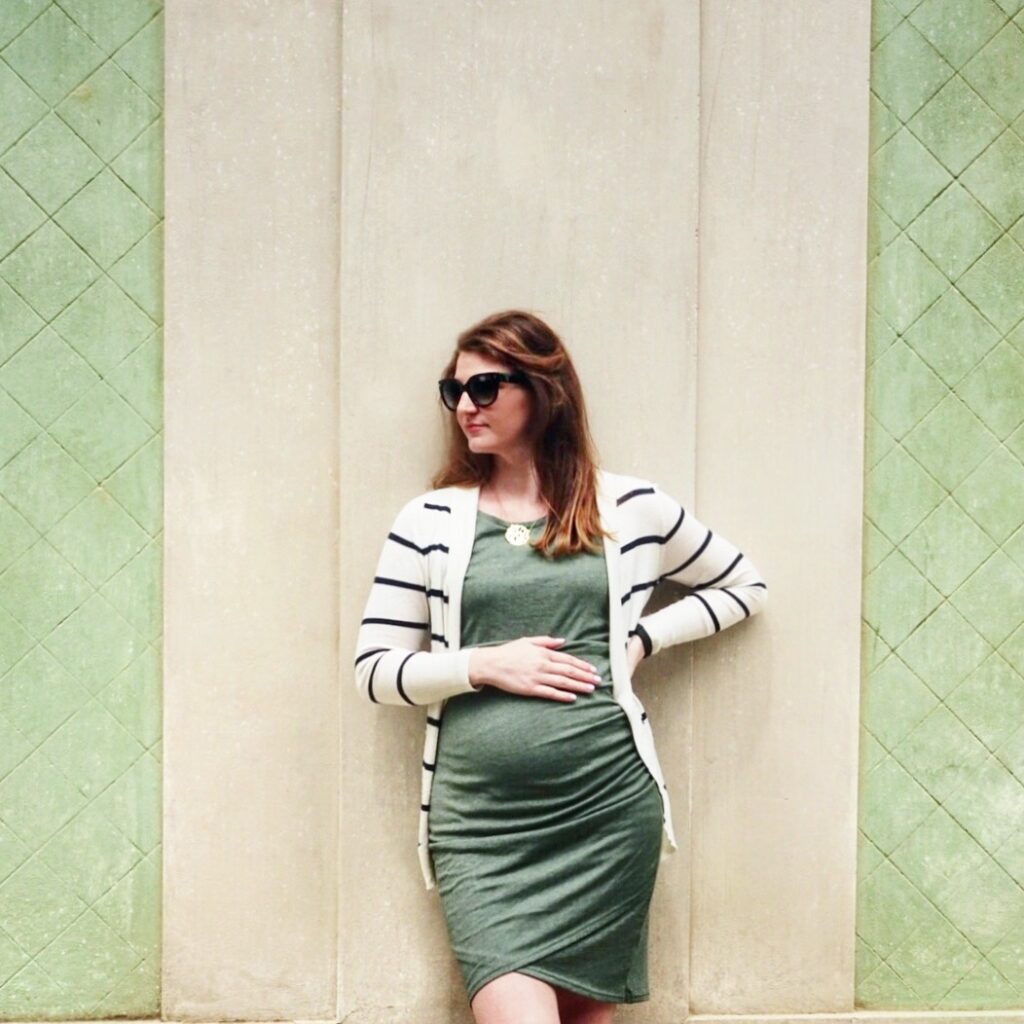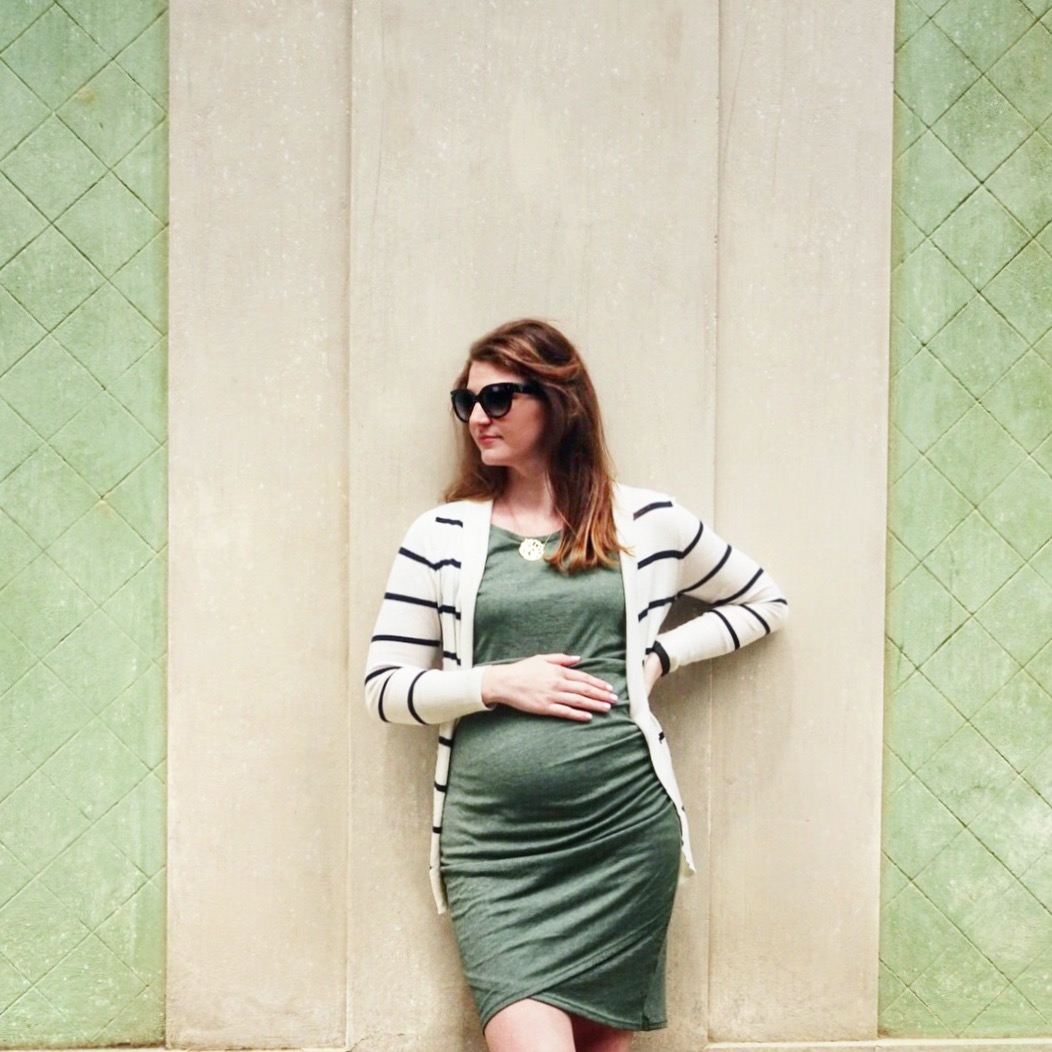 at 20 weeks: I wore this ruched dress well into the end of the second trimester! It also comes in a long-sleeved version. (I thought my bump was huge here- haha!)
Taking into account that I can wear leggings or jeans to my day job, it was silly for me to think I needed an entirely new maternity wardrobe just for the 40 weeks of pregnancy. For one thing, I stayed in my normal clothes well into the second trimester (with the help of #1 below), and continued to rock the same workout clothes (below-the-belly pants, for example) and shirts that were long enough to cover the bump.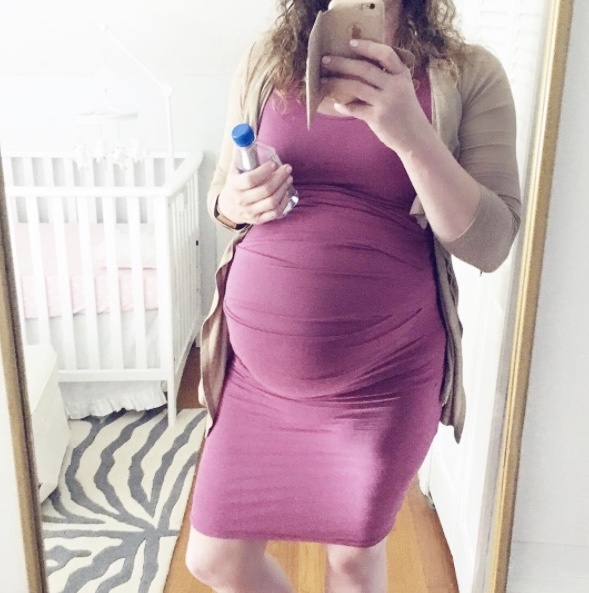 super comfortable maternity dress – 38 weeks pregnant here!
7 Maternity Clothes Essentials
Here are the items you actually need during your pregnancy (yep, all 40 weeks of it):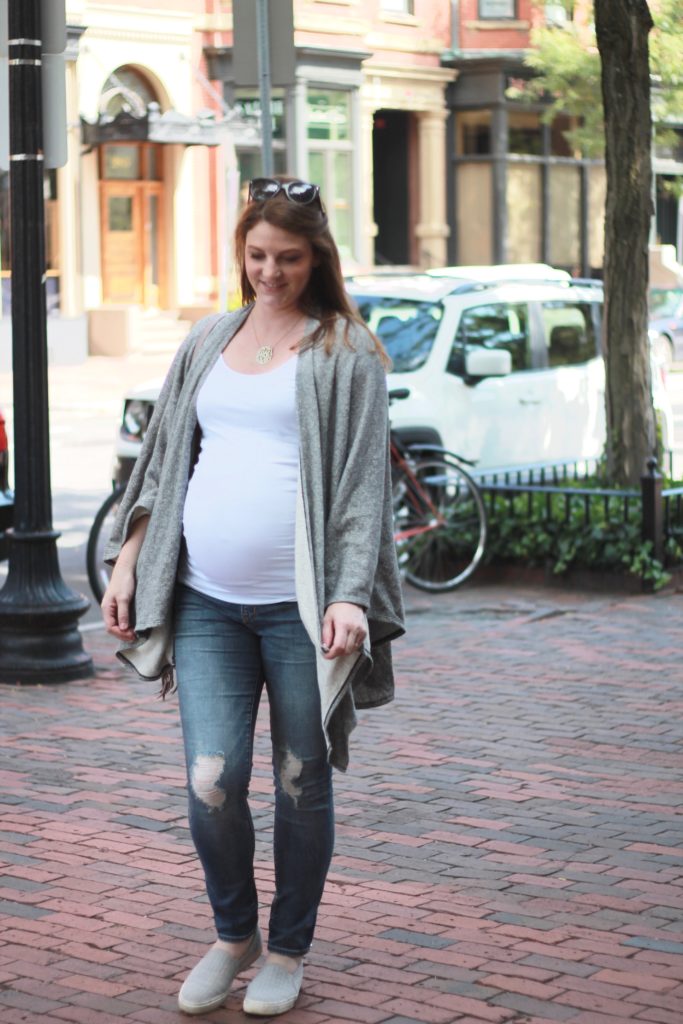 at 37 weeks: maternity jeans and maternity t-shirt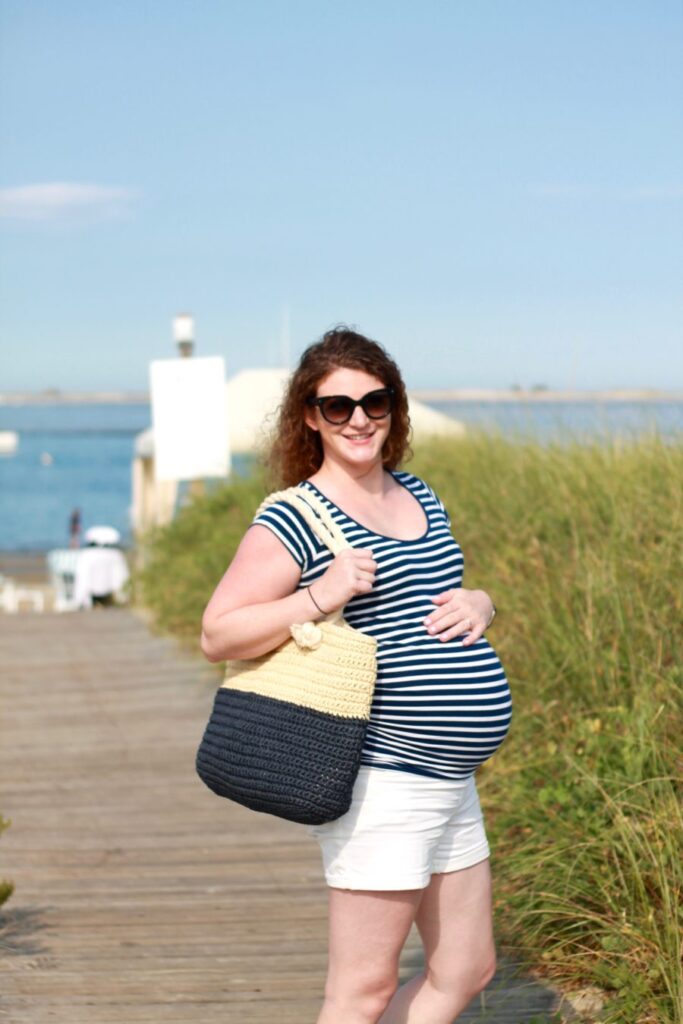 at 36 weeks: maternity t-shirt and maternity shorts
Non-Maternity Clothes I Wore the Whole Pregnancy
Athleisure – I kept wearing my favorite cropped workout pants, which have actually become my go-to for most days since I'm now working from home pretty much every day. I also have loved this shirt because it's really long and perfect for a big ol' third trimester bump. These tanks have also been awesome for the length!
Pajamas – I am not a fancy girl when it comes to bedtime wear, so my pajamas have pretty much stayed the same! I love these pants for hanging around the house – they're SO comfy. And I've always loved Wildfox sweatshirts! (This is where I buy mine at 50% off!)
Swimsuits – I originally thought about buying a maternity swimsuit and then decided to just rock the two-piece all summer. Toward the end I had only 2 swimsuits I could comfortably wear in public, but I was okay with that because a) swimsuits are expensive anyway and b) who knows if my next pregnancy will be in the summertime! This swim top was actually my favorite to wear for coverage and comfort!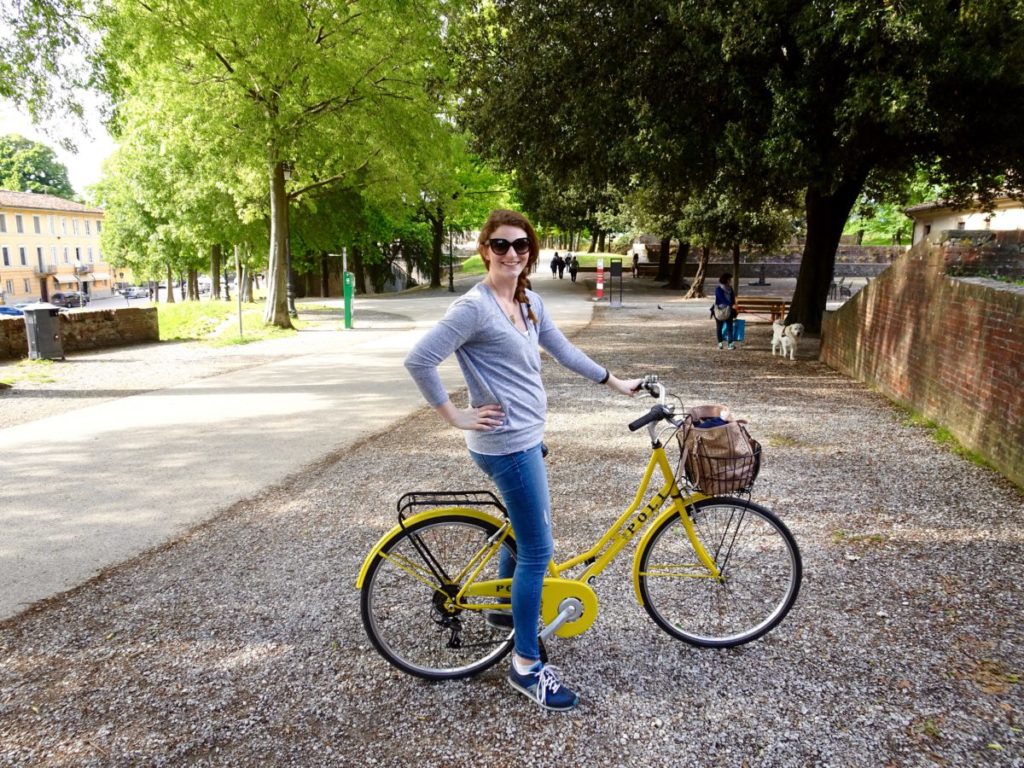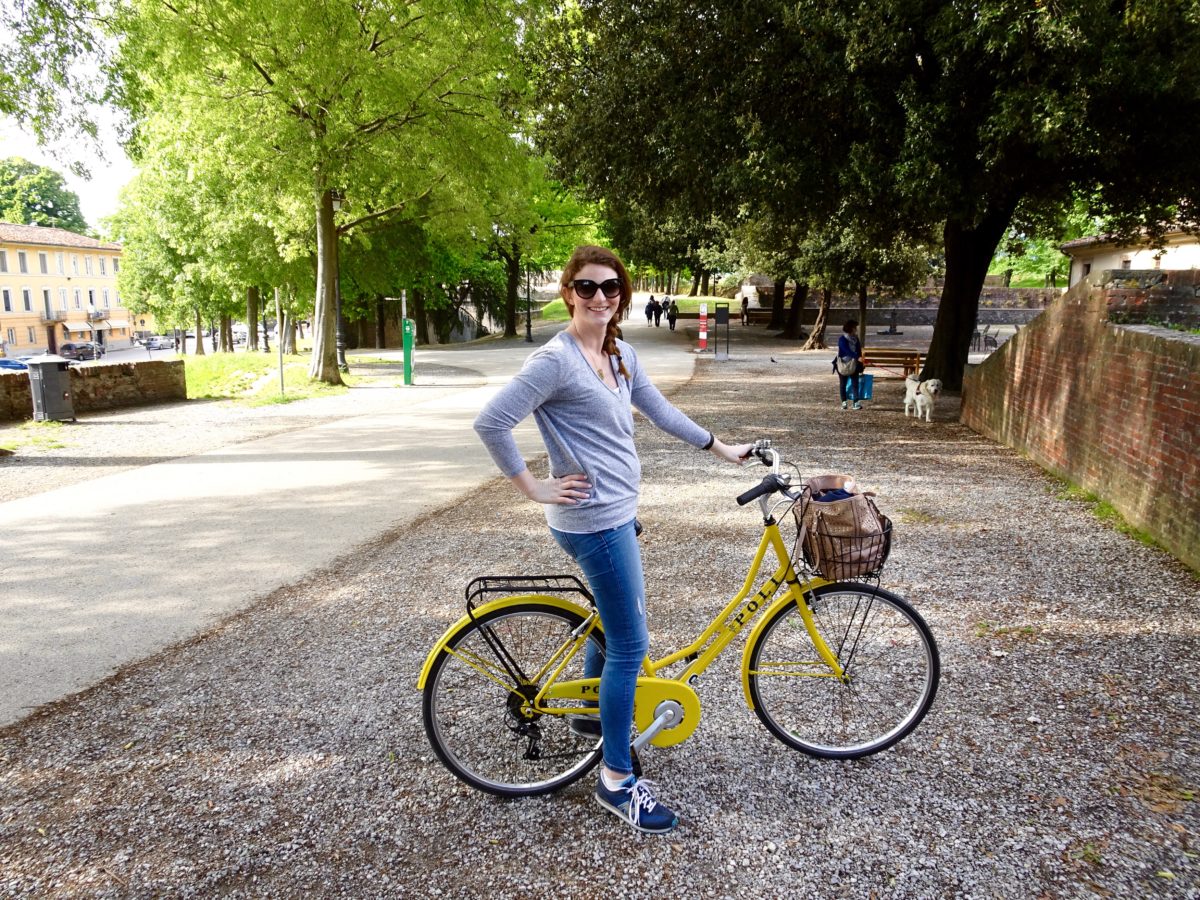 at 20 weeks in Italy: pre-pregnancy jeans with the Belly Band and this top
Moral of the story here: You definitely do not need to go out and spend a ton of money on a new maternity wardrobe! Take the pieces that you know won't work with your bump and put them away so you don't have to see them in your closet. Keep ONLY the items that you know fit and make you feel good in your closet/drawers, and it will make getting dressed so much easier!