Traveling with little ones is kind of daunting at first. But I promise once you get the hang of it you will want to go everywhere on your bucket list! A huge question in traveling with babies or toddlers is about the car seat. What's the best car seat to travel with on a plane, in particular. As we're getting ready to travel by air again soon, I thought I'd share what worked well for us with our first child (in the before times).
We traveled with our daughter as a lap infant until she was about 19 months old, when we started getting her own seat on the airplane. When she was really young and still in the infant seat, we would use that from home to the airport. Then would gate check the car seat and stroller. (That way we had her own car seat for any vehicle travel once we got to our destination, like in the rental car.)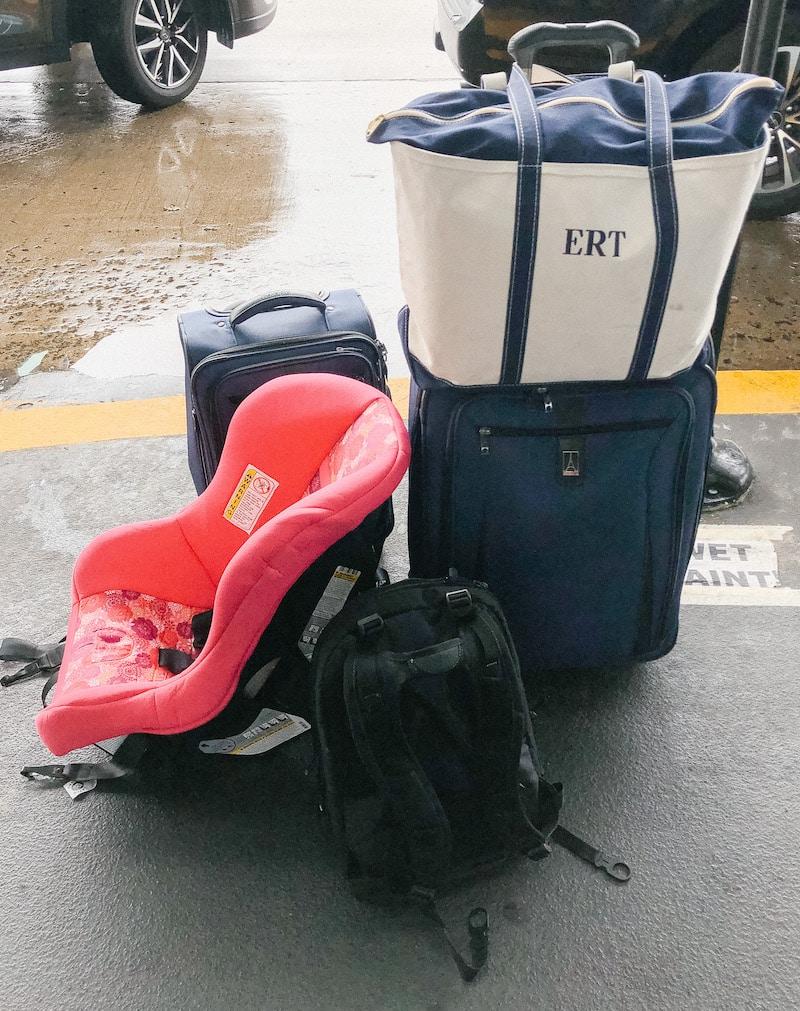 Flying with a toddler who needs a convertible seat, you have the option of having them in the seat during airplane travel or just bringing it and checking it at the desk. I've heard of some parents who will always use the car seat as a travel seat vs. letting a child sit in the airplane seat without a car seat. I'm not sure if we'll go that route, but it's nice to know it's an option!
For a long flight, the car seat works well for young children because they're kind of stuck. My kids ride in their car seats for trips around New England, so they're fine on a plane buckled in. I find that a regular airplane seat belt is too different compared to their regular car seat. (Also a bonus: Their car seats have cup holders, which airplane seats obviously don't have.) Also if you get unexpected turbulence, it's nice to know that they're safely buckled in vs. just in a lap belt.

Safety and ease of use
When we were looking for the best travel car seats, I wanted something safe enough to use in Grandma's car. It's not our everyday car seat, because it doesn't have side impact protection, but it's fine for sporadic use.
The FAA (federal aviation administration) approves car seats for use on airplanes, but you obviously also want something safe in motor vehicles! But for us, for air travel, we wanted a lightweight car seat that would be easy to carry through the airport. The best option we found was the Cosco Scenera Next (currently $59 at Walmart), which is an affordable rear-facing car seat. It can also be used for a forward-facing car seat: It's convertible). It's super light weight and approved for airplane use.
Pros of the travel car seat
Light weight (weighs just 10 lbs) which makes this a very portable car seat
FAA approved
LATCH system for car travel
Affordable at $50-65 depending on when and where you buy it
Five-point harness
Not just for travel- good option for everyday use because it meets safety standards for the American Academy of Pediatrics
Can be used for children 5-40 lbs and up to 43″ tall
Cons of this car seat
Not comfortable for taller kids
Weight limits of 40lbs for forward-facing and 40lbs for rear-facing mode
Doesn't click into any strollers without an add-on attachment
Frequently sold out online
Not the best option for an everyday car seat, but great for Grandma's car or just airplane travel
The same brand makes a seat for kids bigger than 40lbs and 43 inches tall who still need a 5-point harness. They also have a booster car seat for older kids. We aren't in booster seats yet so I can't comment on these, but you can see them here.