Every year I love the Nordstrom Anniversary Sale, because it lets me stock up on basics and buy some Christmas gifts at a big discount.
Why is it such a big deal? Where most sales are at the end of a season, the NSale highlights items for the upcoming season. The price is discounted during the sale window and then jumps up to regular price afterwards.
What's popular during the sale? Bags from Tory Burch, shoes from Cole Haan, activewear, coats and outdoor essentials from The North Face… they're all items you'll see sell out fastest during this sale each year. In the past I've highlighted the NSale, including hits from the 2017 sale, what I bought at the 2018 NSale, and what I shopped at the 2019 NSale.
This year I'm focused on activewear, baby/kids, and gifts!
Here's the Preview of what will be live in the Anniversary Sale!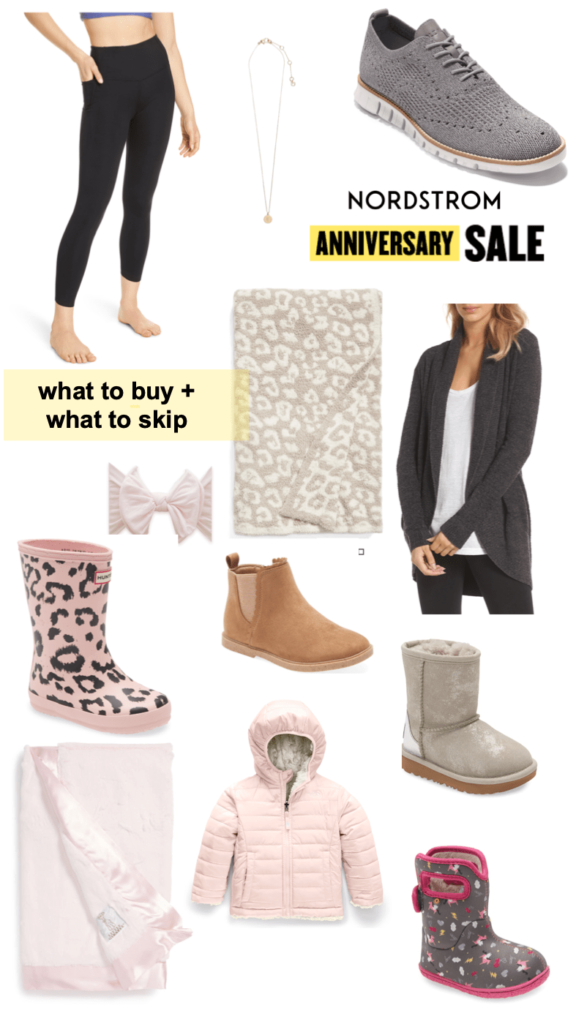 What to Buy
Women's:
Men's: I look at shoes, like these stylish sneakers, and denim. The NSale is when we would normally head to Nordstrom and try on new denim for T – I think it's when he bought his first pair of AG jeans!
Kids/Baby: Head straight for the brands that rarely go on sale, like The North Face, Hunter, Ugg, and Bogs (our favorite toddler all-weather boots). If you know you have baby gifts to buy, the Little Giraffe blankets are SO soft and worth it. I'm also looking at these adorable toddler booties (start at size 8 toddler) because the scallop detail is just too cute.
Home: One brand I love is Barefoot Dreams. Get their blanket as a Christmas gift for your mom, sister, grandmother, mother-in-law… Plus there are a bunch of Anthropologie items as part of the sale this year. I love these fun salt and pepper shakers and this floral bath mat.
What to Skip
A lot of the clothing items you could easily find at Nordstrom Rack or on sale later include a lot of Tucker + Tate, Adidas, Nike, etc. I'd also skip the car seats and strollers, because I've seen better prices at other retailers during the year.
I usually place a couple of orders during the sale every year. First I order what I really want that I think will sell out. Then I go back and order basics: things like basic t-shirts or designer denim. Normally, too, I'd shop in-store on the first day of the sale and try on a bunch of stuff. This year things are different, so I won't be doing that. If you're looking for style inspiration with some of the fall pieces included in the sale, you can always use the LTK app to see how bloggers are styling their top picks.