Sometime last spring I accidentally ripped the handle off of my everyday tote. We were headed into the summer months, so I happily switched out my bag to my summer tote and didn't think about it again until the week before Labor Day. That's when I started searching for the perfect work tote bag that could hold my laptop, wallet, and other everyday essentials (including a kids' water bottle, snacks, and the occasional toy car, too).
Searching for the perfect work tote bag
I am one of those people who has a set of "basics" that I stick with. This bag needed to be a neutral (black, nude, or navy) that I could use with nearly any outfit. (Keep in mind: I wear jeans to work most days!)
My other work tote must-haves:
Somewhat structured bag (a lot of women like the unstructured look, but that doesn't work well for me)
Monogrammable
Preferably non-leather option but otherwise sustainably sourced leather (since I switched to mostly cruelty-free beauty, this is something I've been trying to put into practice in my everyday)
Under $300
Reputable brand
The tote bags I almost bought
I kept going back and forth among 3 brands. But one brand didn't work out… (they have great reviews, but their products were all real leather and they were sold out of the one color I truly wanted – a blush color). And the other brand's bag was a little too unstructured for me but could have been fine. When I found one that checked pretty much every box, I had to order that one.
So here's what I bought!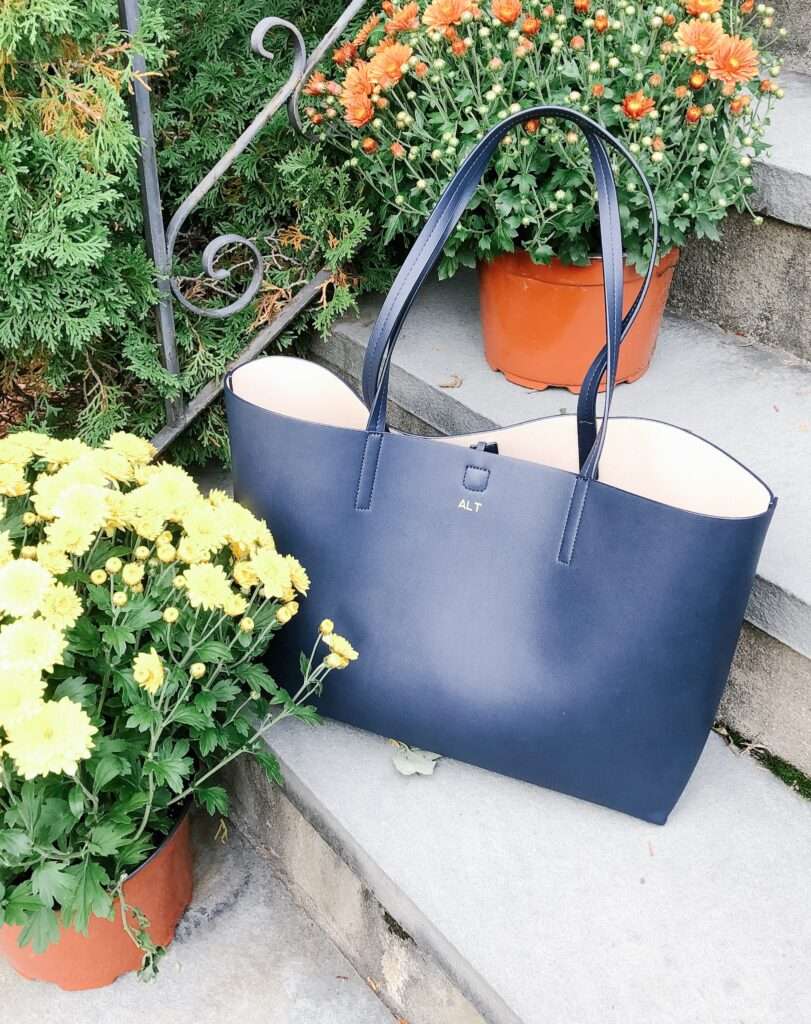 The tote bag I bought for work
The bag I bought is a navy tote with gold foil monogram. I LOVE IT. I've used it for a few weeks now, and it's the perfect size to carry to work (with my laptop in it) or on the weekend (with my mom essentials). The monogram is the perfect size – it's understated and classy but still feels personalized.
I'm going to put a tote organizer on my Christmas list (exciting, I know) because I have a bad habit of just throwing stuff in my bag (keys, hair ties, phone) and then not being able to locate what I need without digging around. (That's kind of what you get when you always carry a big tote!)
P.S. The brand is having a big sale on all bags, 20% off at checkout! You can get my navy tote for UNDER $100.
I'm curious… what bag do you always use??