If you need to know the best way to pack for a trip or how to use something in a completely different way, ask a mom. Seriously. I feel like I'm figuring out so much every trip we take.
Here are some of my tips and tricks for traveling with a baby, whether it's a road trip or flying!
I hope you find some of them useful if you're traveling soon with kids, too!
You might also want to check out my tips & tricks for flying with a baby
Use mesh bags for organization
If we are going out for the day, whether it's to the beach or sightseeing, I bring a large tote. In that tote goes sweatshirts, diapers, snacks… anything you might need for the day. But to keep it organized, I use
mesh bags
or packing cubes. I like the mesh bags because you can easily see what you need to restock (diapers, for example).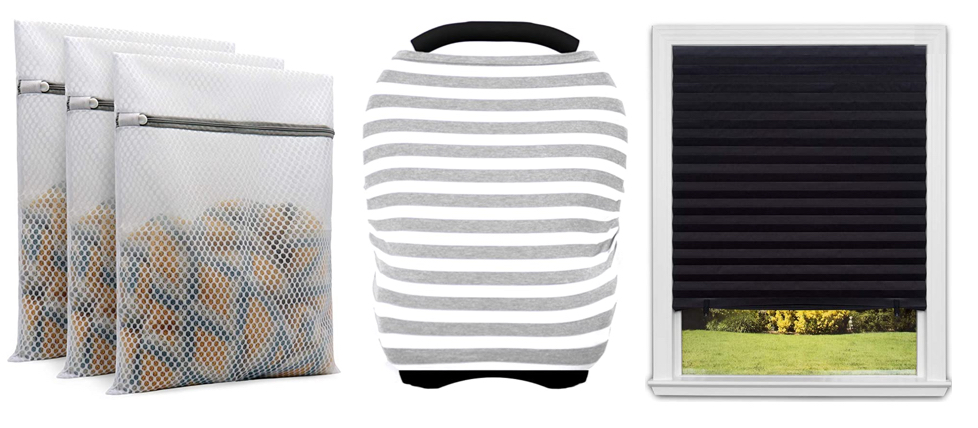 mesh bags – car seat cover – black out shades
Bring your own black out shades
Before I had kids I would have thought this was completely unnecessary, but if your kids sleep in darkness at home, how are they expected to sleep past sunrise on vacation? I like
these blackout shades
that are made of paper so they're affordable, pack easily, and fit pretty much any window. You can also invest in a SlumberPod (which I haven't been able to catch in stock), or one of these mesh covers for a situation where you might be sharing a room with the baby and don't want to sit in darkness all evening. (Been there, done that.)
Use large closets wisely
Say your 3 year old and 1 year old are sharing a room on vacation, and your 1 year old just can't have any light while the 3 year old needs a nightlight. What do you do? If there's a large closet, make sure there's enough air flow – and use that. Closets don't have windows so they're definitely dark spaces!
Car seat cover turned high chair cover
I have been using the
car seat cover
more and more, especially when going indoors with the baby. But recently I remembered the hack I used to use with my daughter! I bring the car seat cover anytime we are dining (usually outdoors these days) and flip it upside down into the high chair. It covers up the chair to protect against germs and then I can just throw it in the wash later!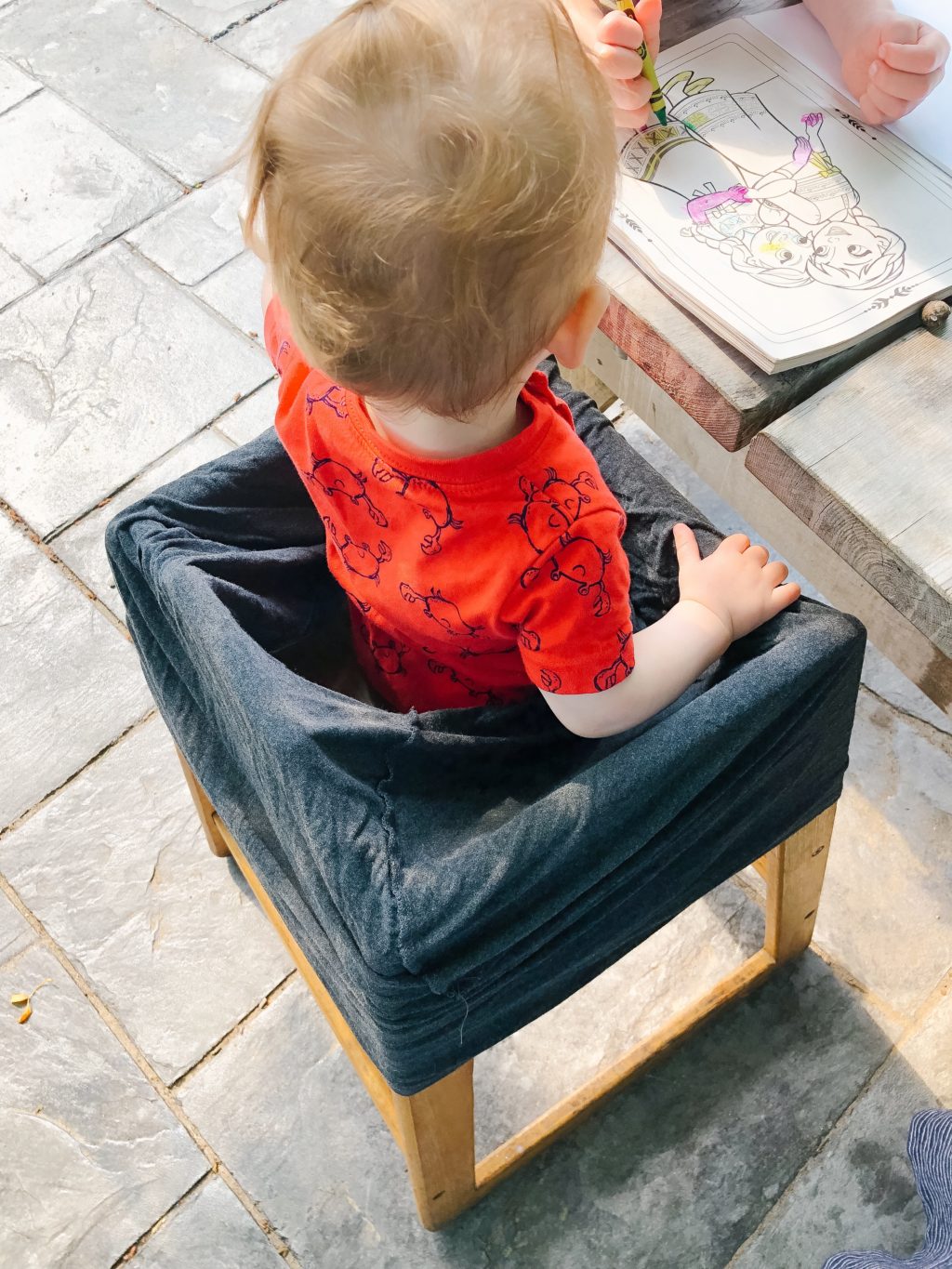 Beach vacation? Leave the stroller, bring the wagon
Since we got a
wagon
, we have brought it with us on two vacations. It has been extremely helpful for carrying not just the kids but all of the -stuff- too. Our
most recent trip was a beach house
walkable to the public beach, and you better believe we loaded our wagon with the kids, sand toys, snacks, and more and walked over. Just make sure that you don't have to go down a huge staircase to actually access the beach because that is a whole other ordeal, stroller or wagon.
You might also be interested in What to pack for a family beach vacation
Bring new things for any long car ride
I usually buy a couple of
new books
(or you could get them from your local library!) before a long car trip. When the little ones start getting bored (if they can't/won't nap), pull out a new book! Bonus points if it's a touch-and-feel book or a book with flaps. Also make sure you have…
Snacks snacks and more snacks
I pack each kid a "snack bag" that stays accessible on the car ride. I load it up with their favorite granola bars, gummies, pouches, and a water bottle so they always have something to munch on. You could also do this with a
bento box
for older kids! The goal is to not let anyone get hangry on the ride. Do you have a mom hack for travel
?
I'd love to know! Share it in the comments below.