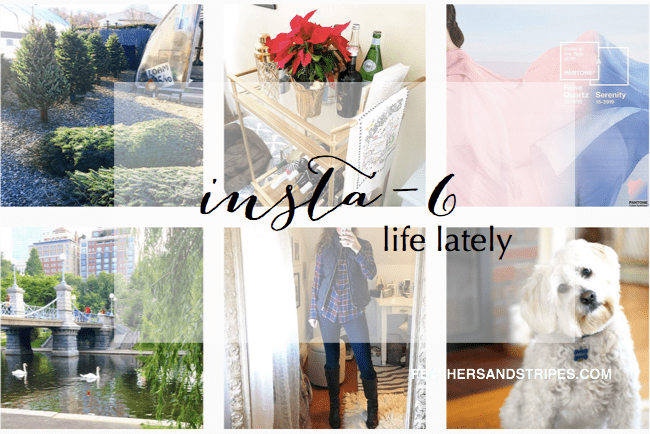 I like to look back at my Instagram feed and see what happened this week/what was on my mind. We got our Christmas tree on Saturday and it smells amazing! We went for a Frasier Fir this year, and I'm hoping that it stays longer than last year's tree, which was dropping needles before Christmas. Then we added some Poinsettias around the house, including on the bar cart that I love. (I got mine at Target, but you can find similar ones here and here.)
I'm a little obsessed with the two colors Pantone released as Color of the Year 2016. Rose Quartz and Serenity are my two favorite colors, so I'm psyched that they're the winners!
Ah, Boston in the spring – such a gorgeous place! Fast forward to the fall, where flannels, vests, and boots become somewhat of a uniform for me.
Lastly, I worked on a fun campaign with Wisdom Panel DNA. I can't wait to get my results back and see what breeds are in Sprout's lineage. The only minor issue I had was you aren't supposed to give your dog any food or treats within a 2 hour window of doing the cheek swab… But you try swabbing your dog's cheeks without treats and see how it goes!