Any time there's an easy way to get a glow, I'm in. My go-to sunless tanner for years was a lotion that built as you put it on, even though it made me slightly orange. When I was in high school it was pretty much the only thing on the market!I'm SO glad that sunless tanners have come a long way since then.When I found out about Isle of Paradise drops (available at
Sephora
and on
Amazon
), I was excited to try them. All you have to do is add a few drops to your lotion! How hard could it be?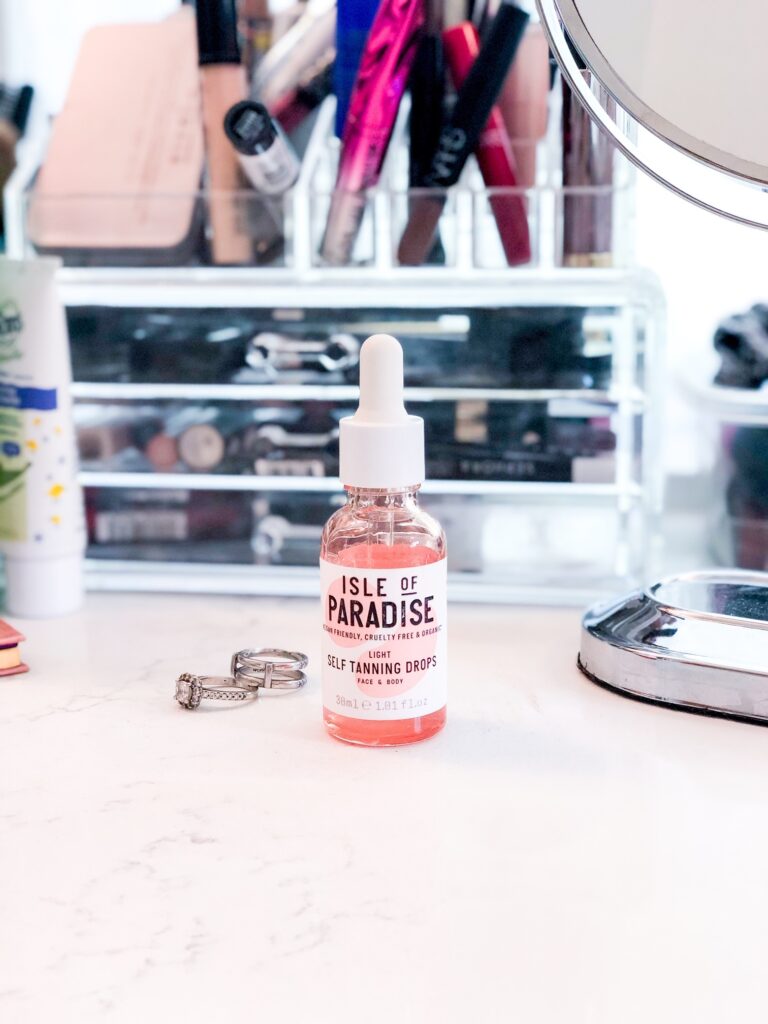 available at Sephora and on Amazon
First, a couple of important notes…
I assumed I didn't have to go through the whole process of exfoliate and moisturize first. I was wrong. I ended up with patchy knees and elbows, the tell-tale sign of a pale girl just trying to look like she got some sun. Not a huge deal, since we've just been at home and I wasn't seeing anyone outside of my family.
You really have to just try out how many drops you need to add. (I have the "Light" version which is probably only a good purchase for others like me with very fair skin.)
Here are my pros and cons of the Isle of Paradise Tanning Drops:
Pros
No drying time. You just have to wait as long as it takes for your moisturizer to dry. This in itself makes this product worth it for me!
No transfer. Unlike getting a spray tan, you don't have to worry about the color transferring onto your clothes. I've been able to put the tanning drops in my lotion, let the lotion dry, and get dressed like normal without worrying about it rubbing off on my clothes.
Very light tanning lotion smell. You pretty much will just smell like whatever lotion you're using, until the tanner starts to develop (hours later).
Cons
You can't tell where you put it already and where you missed. My go-to sunless tanning foam for the past few years gives you a sort of guide because it slightly tints your skin as you put it on. Not so with this.
How many drops you use is a guessing game. I started with just 2 drops mixed into my lotion, and I saw pretty much no change. Eventually I realized that I need to use almost a full dropper for my legs and 4-5 drops for my arms.
The verdict:
I think Isle of Paradise Tanning Drops are perfect for when you need to add a little bit of color quickly. I wouldn't recommend using these before an important event just because it's too hard to tell where you've applied it and haven't. I haven't yet fully mastered NOT having patchy areas… maybe I'll feel differently once I master that (hah!).
Where to get these tanning drops:
They're available at
Sephora
and on
Amazon
.