I thought it was a little silly when I heard yesterday that an inch of snow in DC made for 5-hour commutes for some people, and then I remembered that not everyone chooses to live in an area where the snow shows up – and stays, for months on end.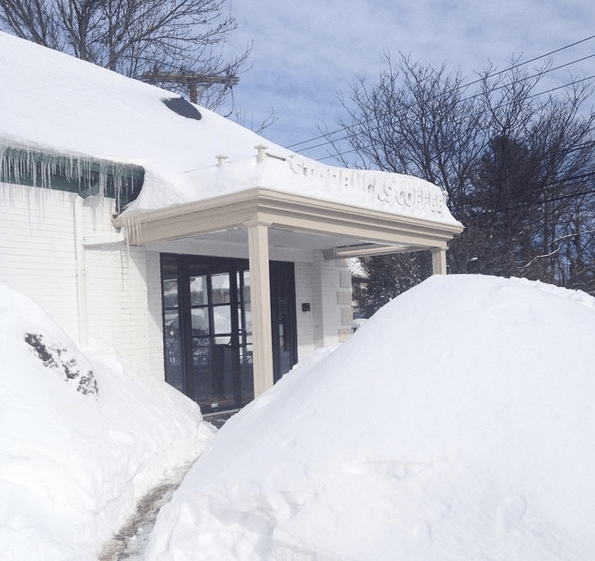 Since I'm a New England girl (born and raised), I thought I'd give some words of advice to those of you in the mid-Atlantic states, prepping to take on #Snowmaggedon2016.
You don't need 3 loaves of bread per person.
Seriously, you will survive without cleaning out the grocery store shelves. Just make sure you have some snacks, especially if you have kids, or you will lose your mind trying to figure out how to get to the nearest 7-11 (my 2006 self can attest to this). Also, why do people buy a ton of bottled water for snowstorms? Snow is essentially frozen water, right?
Wine, board games, batteries.
The 3 necessities of a snowstorm. Oh, and maybe a shovel, snow pants,

warm boots

…
Set up a snow removal service before the storm hits.
Last year T went on a business trip and left me to fend for myself in back-to-back blizzards. (For the record, I did perfectly well on my own.) Everything that could have happened, actually did happen: Downed tree limbs, snowblower breaking on morning #1, and no chance of finding a snow plow guy to come bail me out. There was one point where I was finishing shoveling out the driveway and a city plow came by and plowed it all back into my driveway. I literally stood there crying. #lowpoint Oh, and in the midst of one of the blizzards, some creep showed up on my doorstep and tried to break into my house. So, yeah. (Okay, so maybe the creep trying to break into my house was actually a teenager who may or may not have been locked out of his own house and trying to just use my phone, but I was alone and not buying it.)
Check on elderly neighbors.
Be a good person and check on those who might need help. Elderly neighbors, the family next door that has newborn triplets, people who might not be able to prepare for a storm on their own. If you need to earn good-person points, now's the time to reach out!
Don't freak out.
It's the job of your local meteorologist to come up with scary terms just to make you nervous (obviously, so you keep the news on 24/7). When the storm hits, if it's bad, don't drive. (If you didn't grow up driving in snow, I suggest you stay put. There's nothing worse than someone who has no idea what they're doing wreaking havoc for the rest of the people on the road.) And make sure you're with people who you can stand for days on end, because cabin fever is real, my friends.
Good luck. We'll be watching up here in Boston!