How do I make baby food at home? Does it take forever? How do you store it? Is making your own baby food worth it?  …SO many questions popped up when I shared my new baby food maker on Instagram recently, so I thought I'd do a whole post about what I'm using to make my 9 month old's food at home.
TL;DR: Homemade baby food isn't hard to make when you're ready to introduce solid foods!
When my daughter was ready for food 3 years ago, I wanted to make it all myself but felt like I didn't have the time for homemade baby food purees. You know… working, being a mom, managing a household… there's a reason there are so many different baby food brands available! Fast forward to now, and I am making ALL of the food my son eats. Why the big change? Because of the recent findings (report linked) showing toxic metals in baby food. That was enough to make me throw out everything in the cabinet and order my own baby food maker and a whole bunch of organic produce.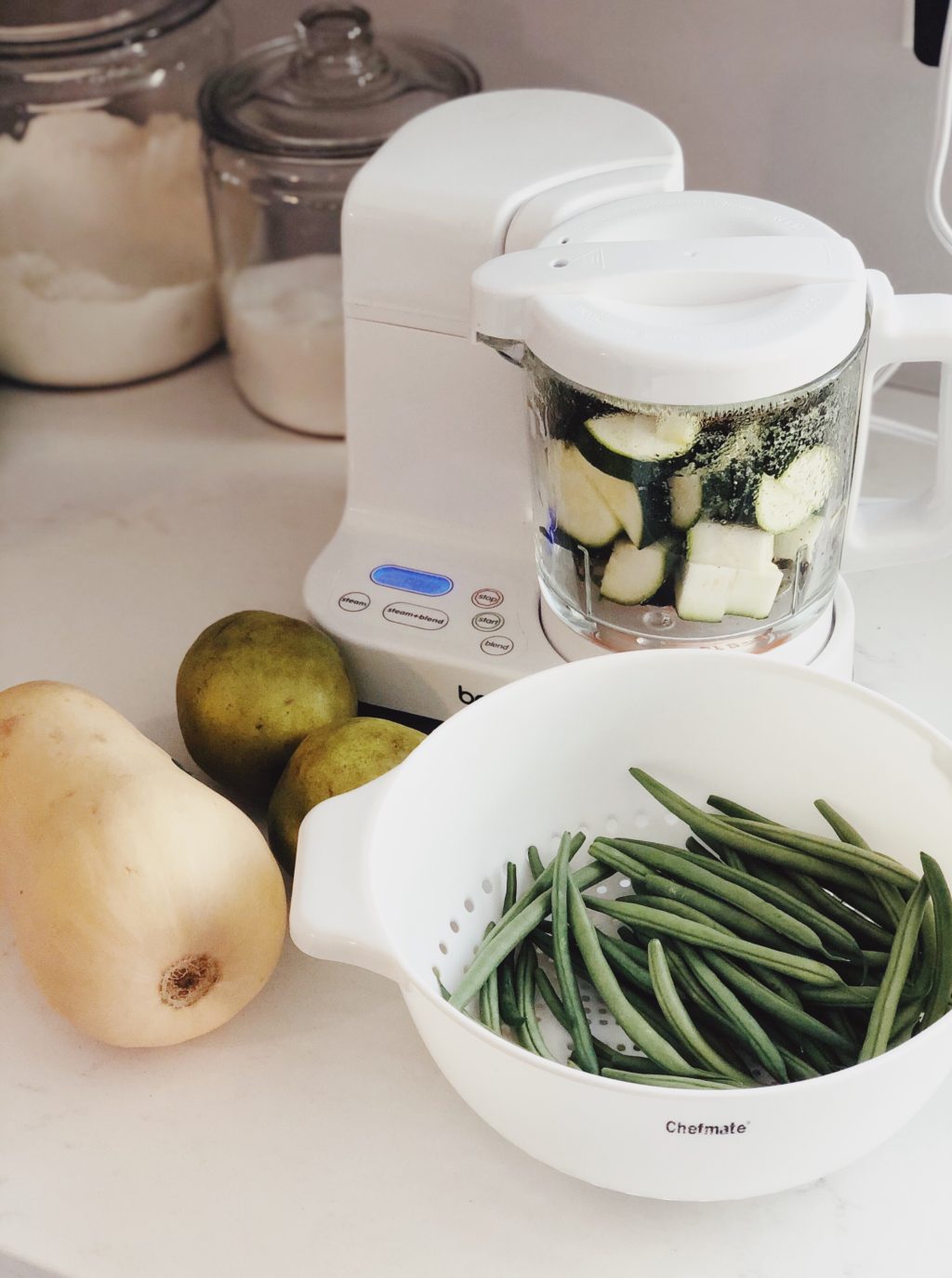 After reading tons of reviews on baby puree food makers, I bought this food maker with a glass bowl. It steams and blends in the same glass container, so it's a lot less mess to clean up. It automatically makes everything into a smooth puree, but you can blend it more if you need to. I tend to make a bunch of food at once, rather than making small batches. Once or twice a week, I'll do one or two types of food (say, sweet potatoes and then pears). Then while I'm waiting for the purée to cool, I put the first batch into a glass measuring cup and make the next batch.
I also have this handy blender (called the "Ninja") for foods that might not need to be cooked. I use it mostly for bananas and to add in peanut butter or cashew butter to fruits. (You could also skip the steamer machine and just steam foods in a regular pan and use the Ninja for the pureeing!)
What's the best food to make for a baby?
I find myself making the foods that we like to eat! Pears are a staple, sweet potato and applesauce too. Spinach, strawberries, corn, zucchini, peas, green beans… I'll  make each food individually, if I wanted to do a combo (say, spinach and pears together) I can make that mix. I haven't jumped into cooking meats, just fruits and vegetables so far. We're starting to add in some finger food, which is where I'm introducing some meat. I'm sure you could steam and blend up chicken or fish just as easily as the fruits and vegetables.
Freezing the purees
I freeze everything into
2.5 ounce cubes (in these silicone freezer trays I found on Amazon)
. A meal for my 9 month old might be 2-3 cubes at a time, and he typically eats 3 meals a day (plus bottles throughout the day). I bought 2 freezer trays, and once the food is frozen enough I take it out and put it into separate containers. Everything is nicely labeled so I can quickly see what we have and don't have. (You can also just use an ice cube tray to freeze the purees if you have those at home!)
Is it cost-effective?
Total side note time about whether or not it makes sense financially to do all of this work once your baby is ready for solid foods. One thing I was surprised by is the cost savings of making everything at home. I kind of assumed it would be more expensive, but the organic baby food I was buying costs around $1.50 per jar for 3-4 ounces. For $4 I buy a bag of organic pears, which (steamed and pureed) fills 2
9-cube freezer trays
. So it's half the cost to just make it at home. You can make your own pouches too – Amazon has
these reusable pouches
.
What are the benefits to making baby food yourself? The obvious: You know exactly what is (and isn't) in it. It saves money. You can control how pureed it is, which is great as your baby gets older. You can make different combinations of food. Less waste (baby food jars).
What are the downsides? It's more work than buying food in jars. There's a cost associated with buying the steamer (unless you want to just use what you have, but I got tired of having to clean multiple pans every time I did this).
How long is homemade baby food good for? I treat it like I treat every other food… 3 days in the fridge and then it goes! When I make my son's food, I pretty much put everything into the freezer right away. Then I just take it out and defrost as he eats it, so I'm never checking dates or worrying about whether it's been sitting around too long in the fridge.
Finally, mom hack time!
Buy FROZEN organic veggies and fruits. Strawberries aren't in season right now, for example, so they're $7 at the store for a small container of them. Frozen strawberries are half the cost. Still organic. Still strawberries. Added bonus? If life gets busy and you can't make everything you planned to make, just stick them in the freezer until later when you have more time!