I used to do a general Friday round up, but this week I thought I would try something different! So for this week you have 3 things Friday, where I'm going to share 3 different categories. They can be entirely random, related, whatever… but today I'm including LOTS of Labor Day sales!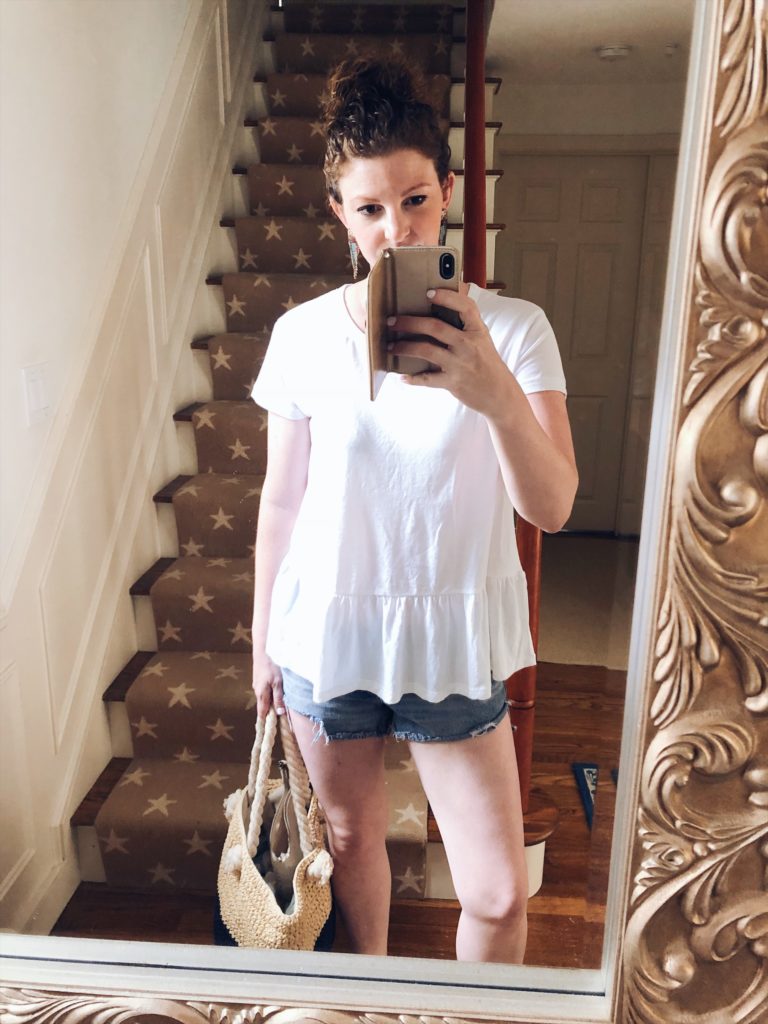 top | earrings (these are fun too!)
Weekend Vibes
The weekend is ALMOST here. I've thought it was Thursday since Tuesday, so this week has felt reeeeally long for me, but we are almost there!
Here's what I'm looking forward to this weekend:
An extra day off on Monday
Lots of outdoor time, because the fall comes fast and furiously in New England!
Labor Day Sales
J.Crew Factory: 50% off everything [I like their statement tees]
Macy's: 20% off using code WKND plus free shipping over $49 [I'll be shopping pajamas for Eleanor, plus makeup items that you can't get on major sale elsewhere – like this eyeshadow palette I use everyday that is 50% off]
Nordstrom Rack: Clear the Rack sale is on! This is when I look for specific brands at basement prices, like Eliza J dresses for as low as $13 ($13!!)
Target: up to 30% off home items, 20% off workout gear, 20% off baby/kids/toddler clothes
Sephora sale: 10% off for "Insiders" and 15% off for "VIB" – see my favorites below!
Beauty Favorites on Sale
3 things I'm buying from the upcoming Sephora sale!
Twice a year Sephora has a 15% off sale for everyone – you just have to be part of their loyalty program, which is as simple as giving them your email address (you can opt out of all marketing emails!). For the VIB Rouge members the sale started last Friday 8/24, but for everyone else the sale starts 8/30. Just use code YESVIB if you're VIB or YESINSIDER if you're the basic Insider level.
My favorite products that I've bought multiple times:
Heavy-duty concealer to cover the evidence of not getting any enough sleep these days (I wear the lightest color)
My go-to brow pencil to fill in (I use Caramel)
Makeup:

Hair/Skin:

And two products that I want to try:
3 Things I Bought this Week on Amazon
A bubble machine (yes, seriously). Eleanor loves bubbles, so who am I to deny her having those at her birthday party?? I actually bought a professional one, which is far larger than anyone should have at their house, so I'm returning it for this bubble machine instead.
Kitchen cabinet locks because we have reached THAT stage of babyhood where E is into every cabinet, pulling out the dog treats and anything else she can get her hands on. Her current favorite toy? The salad spinner.
A multi-pack of baby bows. They come in a bunch of different colors and work extremely well in E's fine hair!
I'll be back on Tuesday with E's 11 month update! Have a wonderful long weekend!