Fall has always been my favorite season. There's something so comforting about cozy layers, boots and socks, and the not-too-warm temps that are not yet trying to freeze your face off.
I've added a few pieces to my closet that I thought I'd share here.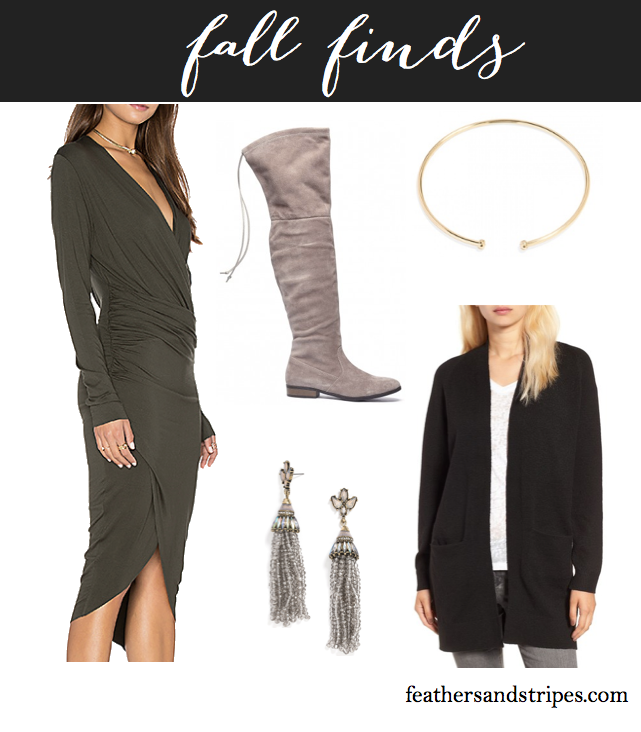 Shop the post:

OTK boots – I have so many outfits in mind with these boots, but the two times I've put them on I've walked outside and it's been way too hot for OTK boots. So they'll just have to wait a few more weeks before they can come out, it seems. (New England weather can be so weird – 50 degrees one day and 78 the next!)
This dress – With long sleeves, it'll be perfect for a couple of events I have this fall and early winter.
New tassel/fringe earrings and a simple collar version of the choker that's so popular right now to spice up my accessories. I don't often wear earrings, but these are so fun for a night out.
Open front cardigan – I pretty much live in these during the fall, so I got another one in a dark gray. Open front cardigans are easy layers that work with almost everything. And they're so cozy!
I also added these high-waisted jeans to my closet. I'm a big fan of Free People denim since buying a pair of shorts over the summer. They just fit really well!

I'm trying really hard not to buy too much stuff, because I want to make sure I'm actually wearing everything I buy. And I'm still working at cleaning out my closet, so I'm trying to make much more deliberate purchases.
Gotta keep room in there, you know?
Anything you've added to your closet lately that you really love?