My first experience with filling in my eyebrows was in 7th or 8th grade when I was having my makeup done for the school play. (One of the moms was a Mary Kay consultant, so she volunteered to do everyone's makeup.) I couldn't figure out why anyone would actually want darker eyebrows, because it seemed like everyone I knew was trying to pluck theirs away.
I've experimented with a few products over the years (I started with this brow sculpting product), and then in December last year I had my makeup done for my sister's wedding and loved the results. Right then and there I converted to her methods. Now, I can't leave the house without filling in my brows, or I think I look like there's something missing from my face! Today I'm sharing some of the products I've tried and the pros and cons of each, in case anyone else with the lightest brows ever is reading this.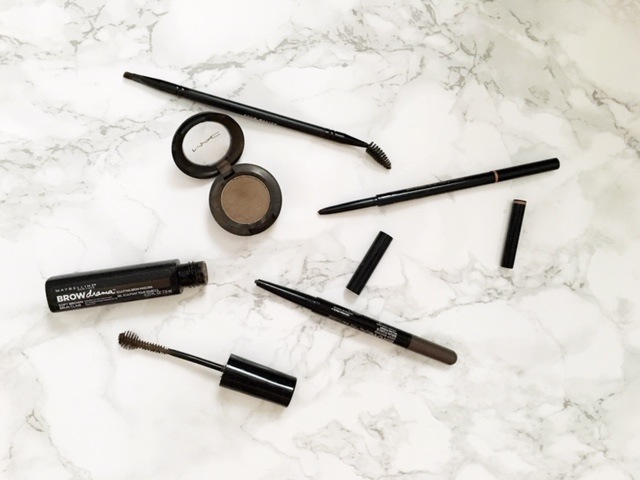 My current routine:
Start by drawing a short line at the inner part of my eyebrow, just underneath the brow with my Anastasia brow pencil (in Taupe). Then fill in any less-full spots along my brow with short lines. Brush out with the eyebrow brush end of the pencil. Then use Mac "Coquette" and a brush (this one is the one I use) to add some powder on the whole brow, starting out and working my way in, gradually adding more as I go. Finally, brush out with an eyebrow brush. If I'm being lazy, I'll use a brow mascara by itself for just a bit of color.
Products I've tried:
Powder/pencil duo (I used Maybelline Eye Studio Brow Define + Fill Duo)
Pros: 1. The price. You can find it at pretty much any drugstore, and it's under $10. 2. Ease of use. Wham, bam, done. 3. Only one item to carry around in your makeup bag.
Cons: Not a lot of color choices, and it's easy to make your brows look severe if you aren't careful.

Crayon pencil (I used this Pomade crayon pencil)
Pros: Same as the powder/pencil duo, the price is right at under $10 at pretty much any drugstore.
Cons: It can look waxy, and it definitely takes practice. This isn't one of my favorites because I haven't mastered making it not look like I put clumps of wax on my face.
Brow mascara (using this one)
Pros: Light, easy to use, and it's hard to make a mistake. Definitely budget-friendly at under $10.
Cons: Does the job if you only need a little tint to your eyebrows, but it's not enough if you need more than that.

Powder with brush (I use MAC's "Coquette" and this brush)
Pros: 1. You have a ton of control over where the powder goes. 2. The product lasts for a really long time.
Cons: It's more expensive than the other options above and requires that you have two items (powder and brush) instead of one in your makeup bag. You can easily put on too much powder and make your brows look too severe, but because it's powder it seems easier to fix any mistakes.

Eyebrow pencil (My favorite is by Anastasia)
Pros: The colors are great, and you have a lot of control with your lines. I also love the softness of this pencil – it's not too hard and not too soft!
Cons: I think it takes a while to figure out how to really use an eyebrow pencil right. Some people can use one flawlessly, and others need a 3-hour class (or a lot of practice) to figure it out. A lot of pencils are too hard, which means you have to push down to get the desired effect – and on me that actually makes some of my eyebrow hairs come out over time (not what you want!). Then there are pencils that are too soft and look really smudgy (also not a good look). I sound like I'm talking about Goldilocks, but you really need to try more than a few pencils before you find the perfect one!