Ordinarily I publish gift guides/gift thoughts that are affordable, maybe a little expensive – but today I'm sharing the most expensive, awesome gifts I would totally buy if I was a multi-millionaire or billionaire. Everyone's all about going into space these days with their stacks of cash, and I have zero desire to do that. But buy a bubblegum-colored indoor jungle gym for my kids? 100%. Maybe you're looking for luxury gifts, or maybe you're just curious what expensive gifts for kids look like these days – either way, here are some ideas!
Expensive gifts for kids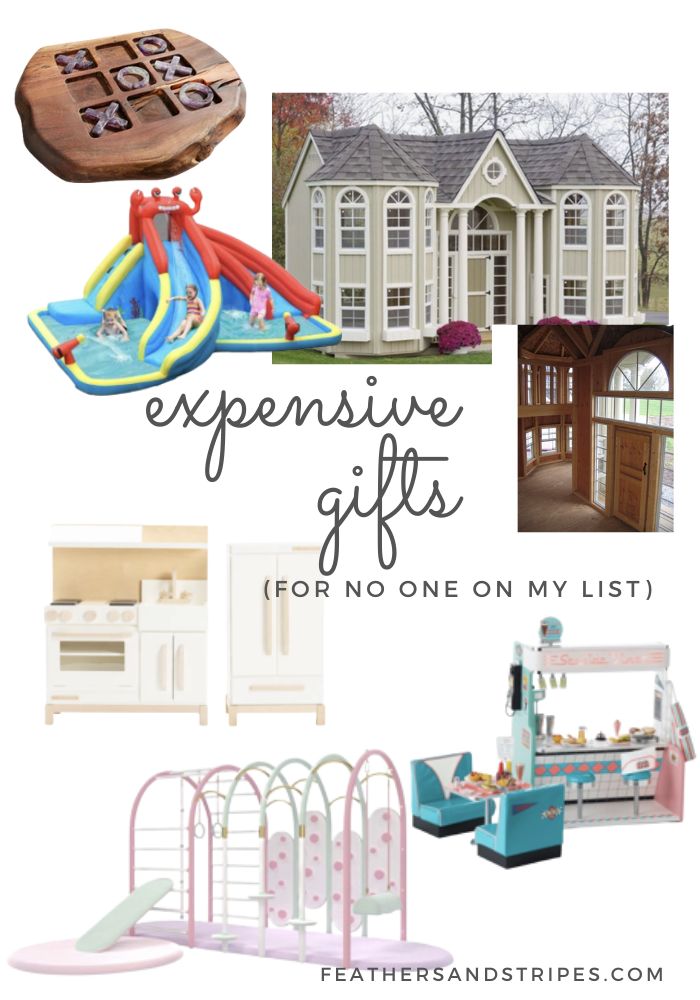 Enjoy these crazy-expensive gifts, and let me know which one is your favorite!

Bubblegum jungle gym with gold-plated accents (what kid wouldn't want to play on this??) At just under $34,000 it's just a bit out of my price range for an indoor jungle gym 😉

More than $17,000 for an outdoor playhouse? Not happening around here. But this is the playhouse of dreams! Multi-story, with ladders and windows! What little girl (or her mom) wouldn't love to play here?

How about a $1,000 tic-tac-toe game? I'd categorize this as an "objet" aka something that you need only if you have more than one vacation home

At $350 this American Girl diner set is something I definitely would have circled in the catalog, because I probably circled everything! 

It doesn't make sense to buy this bounce house with a yard not big enough for it, but I know people who invested in bounce houses at the beginning of covid and didn't regret it one bit!

I've seen some bloggers recommending this play kitchen for real, but at $1600 it has just one too many zeroes for me. My kids have the IKEA version, and they are perfectly happy with it!
For other gift guides check out these links:
25 Gifts for a 3 Year Old Girl
Gift Guide: Best Gifts for New Moms
Gift Guide: Stocking Stuffers + Gifts Under $25