I must have tried on 10 different Dudleys before I finally bought one. Though I love the look of them, I wasn't completely sold on the price tag, especially for something I wasn't sure I would love. I get hot really easily and kind of hate to be hot! And I couldn't decide between the hip-length version or the tunic-length version. BUT. Then they came out with a mid-length called Greenpoint, and they had a really great sale, so I dove in!
Right now! There's a big sale- on sale for $79 but use code DUDLEY25 to make them $59.50!
Dudley Stephens Fleece
I bought a kids turtleneck for my daughter in her favorite color, and it has been her go-to for ski days and all-around cold days. For my 4 year old I sized up to a 5 to get 2 winter seasons out of the top. I think they actually run a little small compared to most clothing (because there's no stretch), so I probably could have gone up to a 6 for her.
I bought myself a Greenpoint (more about the styles below!) and sized up to a large (I normally wear a medium in pretty much everything) again because they don't stretch. If you are taller, I'd go with a longer length. The Park Slope is supposed to hit at the hip but I felt like it was at the top of my jeans and that wasn't comfortable for me. The Greenpoint should hit below the hip, and the Cobble Hill is meant to be tunic length.
Dudleys (as their fans call them) are made in Brooklyn, NY out of recycled materials. On their website they say, "The majority of our fabric is made using recycled yarn which is created using recycled plastic bottles." Pretty cool for a sustainable brand that has carved out its own fashion niche.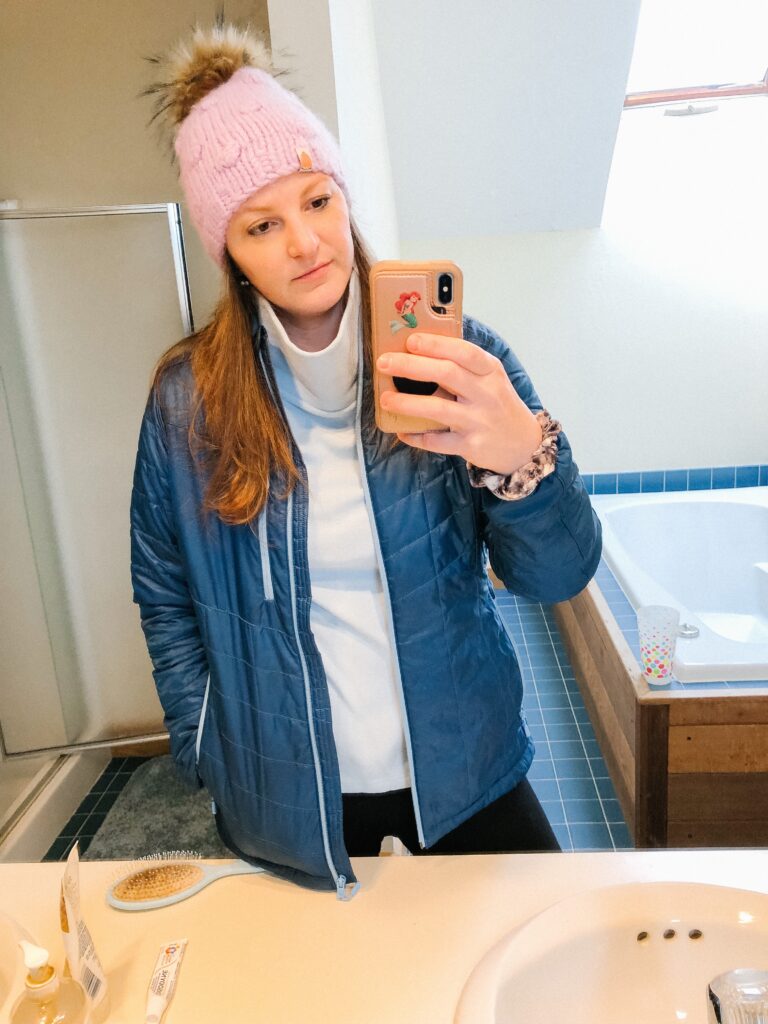 Dudley Styles + Sizing
Dudley uses two main fabrics for its famous fleece tops: Vello fleece and terry fleece. The vello is more what you think of when you hear "fleece" – thicker, less breathable, warmer. The terry fleece is lighter and more breathable. I chose terry fleece because I HAAATE to be too warm. It's perfect for the coldest New England days! If you get cold easily, go with the vello fleece. You can find their fabric guide for all products, including their newer jersey stuff, here.
They come in three lengths: Park Slope hits at the hip, Greenpoint hits below the hip, and Cobble Hill is a tunic length. If you're tall, go with a longer length. I went with a Greenpoint because I felt like the Park Slope was hitting the top of my jeans, and I honestly probably could have gotten a Cobble Hill and been comfortable. I wear leggings most of the time anyway, so the Cobble Hill length would be fine.
If you're petite, go with your normal size. If you're built broad, wider in the hips, or have a large chest, definitely size up. You'll be more comfortable! The fabrics don't have any stretch, so keep that in mind.
Dudley Fabrics: Vello fleece vs. terry fleece
Dudley Stephens describes vello fleece as "traditional fleece" and terry fleece as "sweatshirt material," but it's still a fleece. I'd describe them to be traditional fleece (vello) vs. lighter fleece (terry). Both will have the structured neckline if you get the turtleneck style.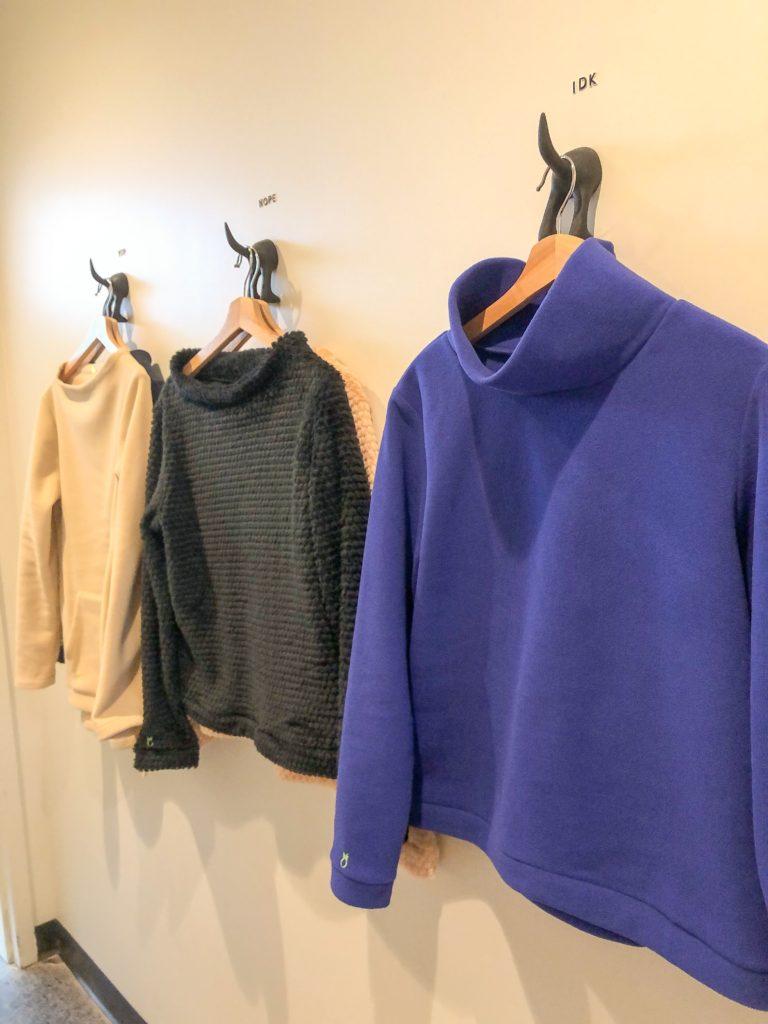 How to wash a Dudley
I wash ours inside out (to prevent pilling), on a gentle cycle. I don't put mine in the dryer (just hang it to dry), but my daughter's has gone through the dryer a couple of times (by accident) and still looks good. Hers does have some pilling from the dryer, so I recommend line drying to avoid that. That said, if you're looking to make your terry fleece softer and more pliable, throw it in the dryer. My daughter's turtleneck is much softer than mine, and I think it's because of its travels through the dryer.
Is Dudley Stephens worth it?
Define "worth it"? But for real. We live in New England, we ski in the winters, and we choose to go farther north even in the coldest months. If you live in Texas and maybe see two cold days a year? Probably not worth it. But if you don't like to be cold and you go to (or live in!) places with cold temperatures, then yeah I'd say you should give it a try.
Where to Buy Dudley Stephens