Last week E and I went to visit the zoo for the first time in a while.
The two zoos near us in MA (Franklin Park Zoo in Boston and Stone Zoo in Stoneham) recently reopened, with some new health and safety rules in place due to coronavirus. I was a little nervous about how many people might actually be there, even with the timed tickets (to help control capacity), but I was really happy with our experience!
Stone Zoo or Franklin Park Zoo?
I chose to visit the Stone Zoo because they have reindeer, which I thought E would love. One of her favorite movies involves a certain special reindeer named Sven, so I told her we were going to visit his friends at the zoo. (Next time we'll try the Franklin Park Zoo, though, because they have giraffes and zebras!)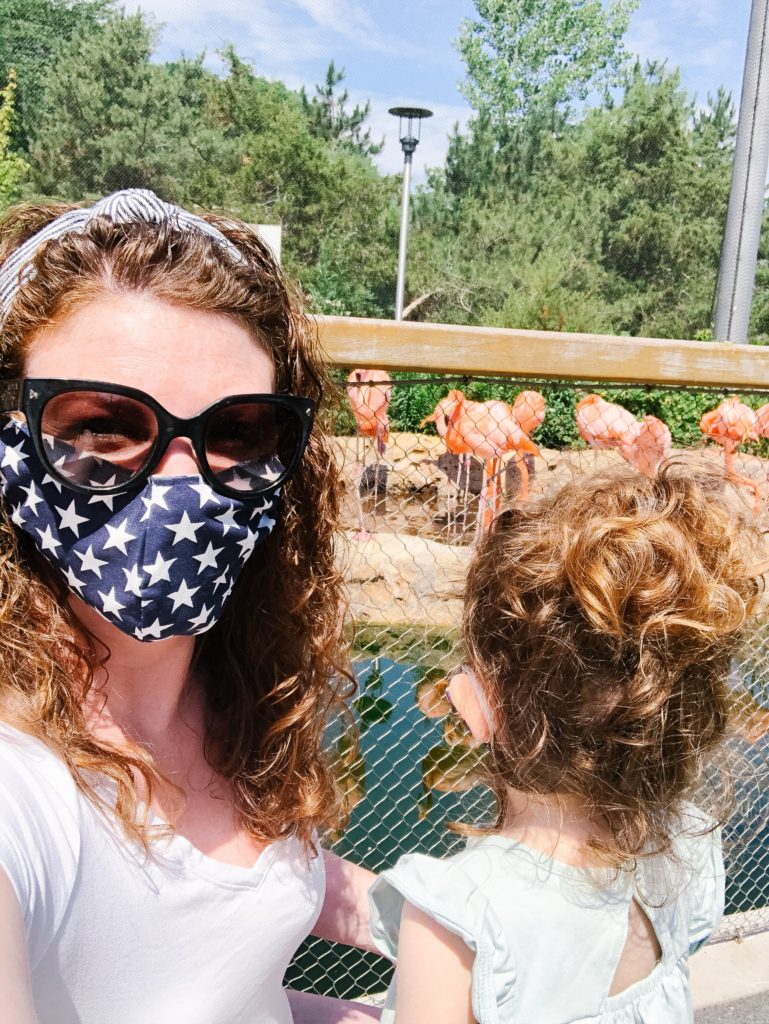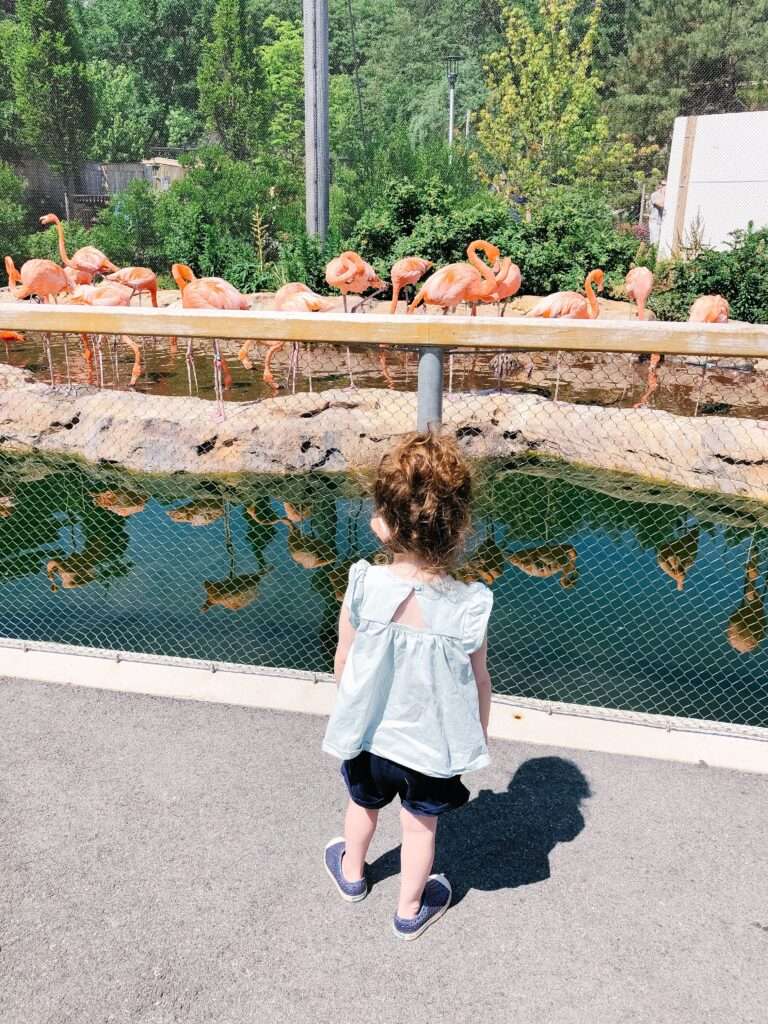 New health and safety rules at the zoo
Here's what has changed at the zoo:
Timed ticketing required (you can choose a spot every half hour that the zoo is open, and these must be purchased in advance online)
Face masks required for everyone over the age of two
Social distancing encouraged through signage
One way throughout the zoo
Hand sanitizer stations
Employees cleaning more throughout the day
We visited the Stone Zoo, and when we were last there in October for a large event, it was packed. I knew there were limited tickets per time slot, but I didn't know exactly how many people would be there when we arrived.
I was really impressed with how the zoo is managing the numbers of people inside on the grounds. I didn't realize how big it was – 26 acres of space! It was very easy to stay more than six feet apart from other groups, and the markers on the ground (as well as the signs posted around the grounds) were helpful reminders of how far apart six feet is. (It's two flamingos!)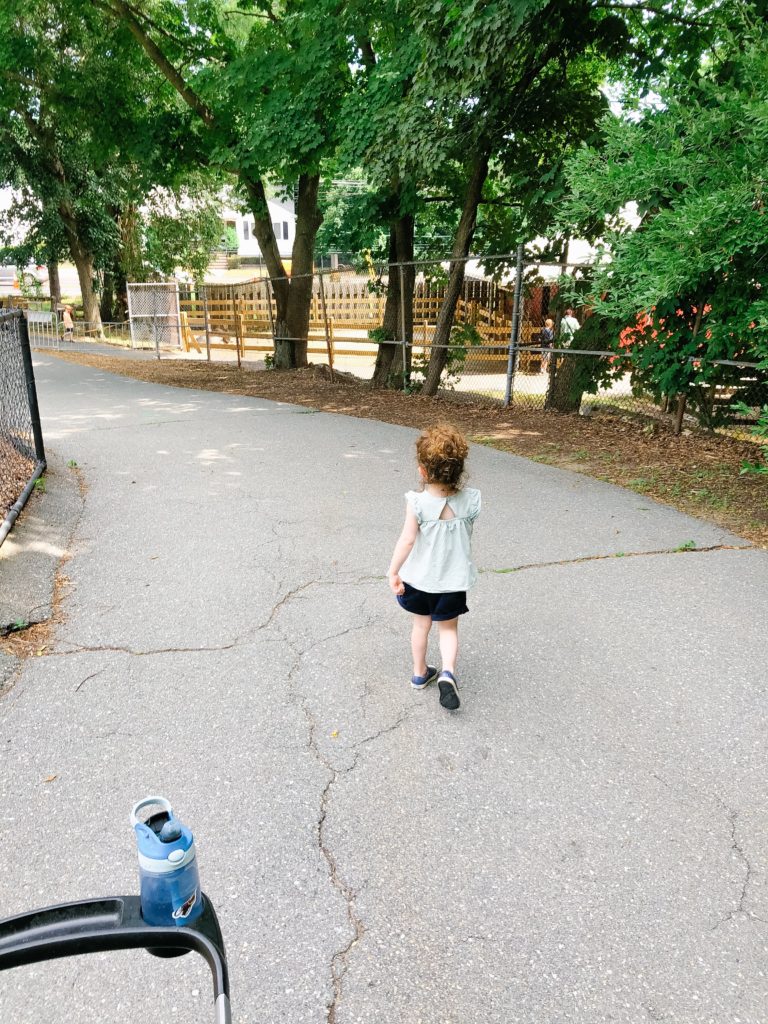 It was a little busy on the playground there, and E really wanted to go play. I told her we could come back later or go to a different playground later in the day. (To be honest, it was a hot day and normally at playgrounds she wants me to climb up the structures with her. This 35-weeks pregnant mama just wasn't feeling it that day!)
Also, even though it was already 84 degrees at 11am, there are so many shady spots around the zoo so you aren't in the sun the whole time. Definitely bring your sunscreen, but it's so nice to have some shade!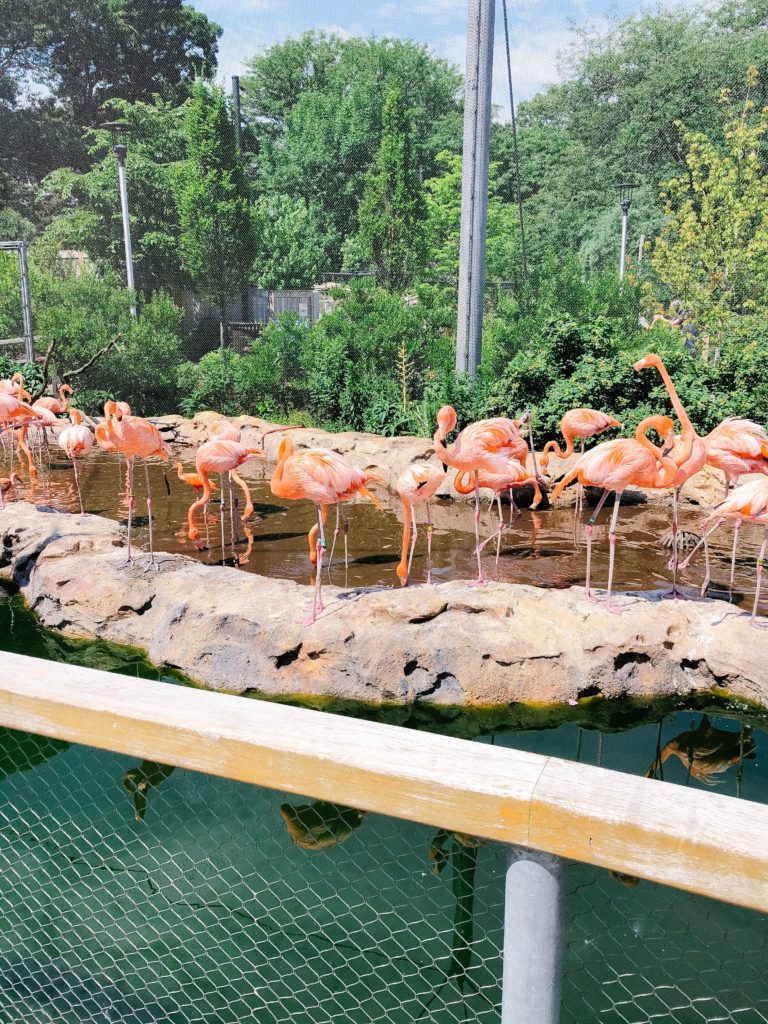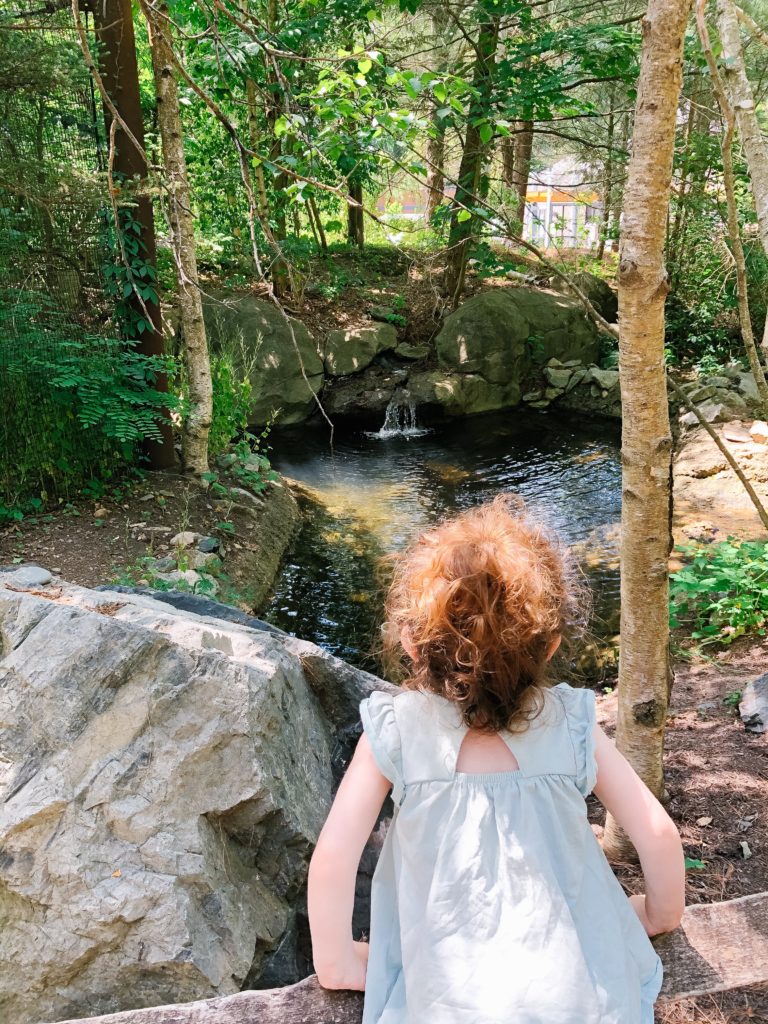 Our favorite animals at the zoo
I've always loved the bird exhibits, and the flamingos are pretty funny to watch. I never thought about them swimming but saw one in the water paddling around for the first time.
E's favorites? The "moo cow" (a yak), "Sven's friends" (the reindeer), and a chicken with a big white plume. We also saw the snow leopards lounging up on a big rock, two black bears (Smoky and Bubba) taking a nap in the shade, and some super cute little gibbons who were jumping around. The sloths were, predictably, sleeping, and the otters had a pretty captive audience watching them.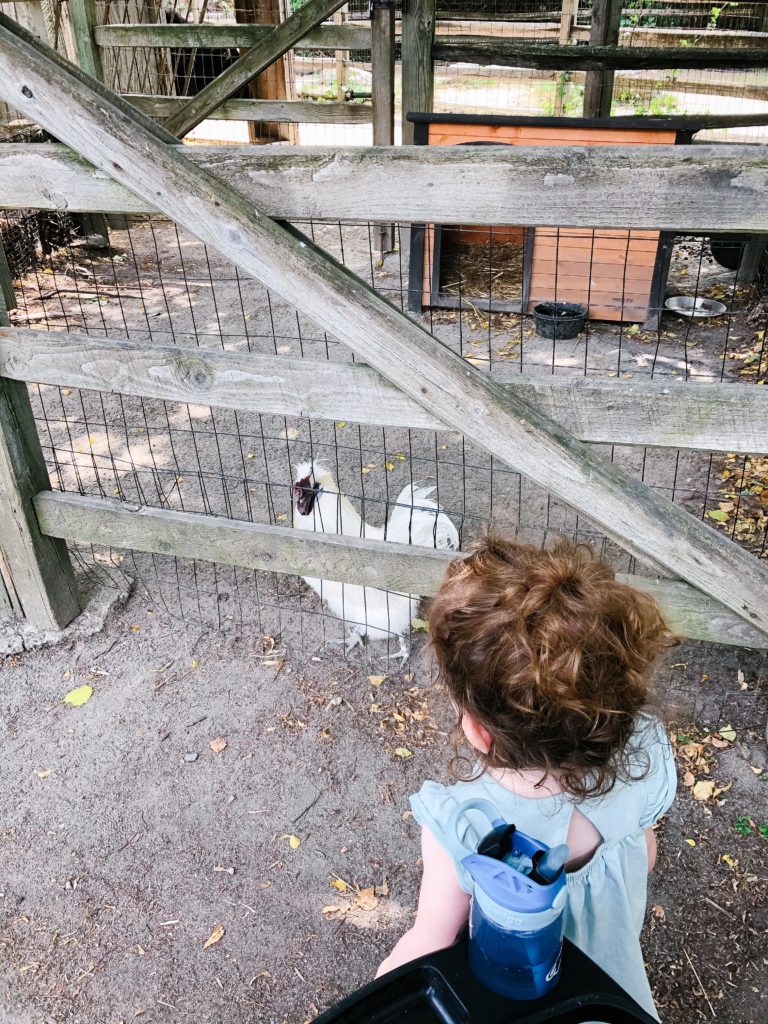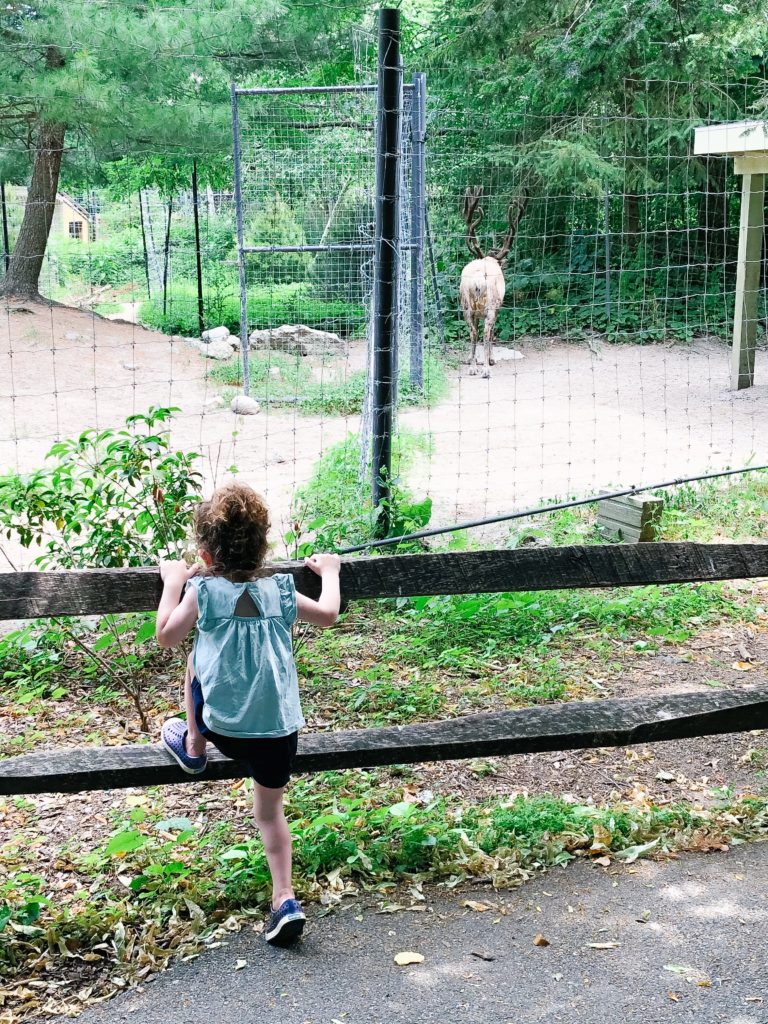 One other note: I was really happy with how great the other families were, taking turns at the exhibits and reminding their kids to stay away from other groups. It was just a really nice experience overall!
Thanks to the Stone Zoo and Zoo New England for hosting us and sponsoring this post!