I always love reading these sorts of recent purchases posts from other bloggers, so today I thought I would share my own. I always find the most random things that I want to share, but it seems too random to share them. So here we go!
My Top 5 Recent Purchases for Organizing and More: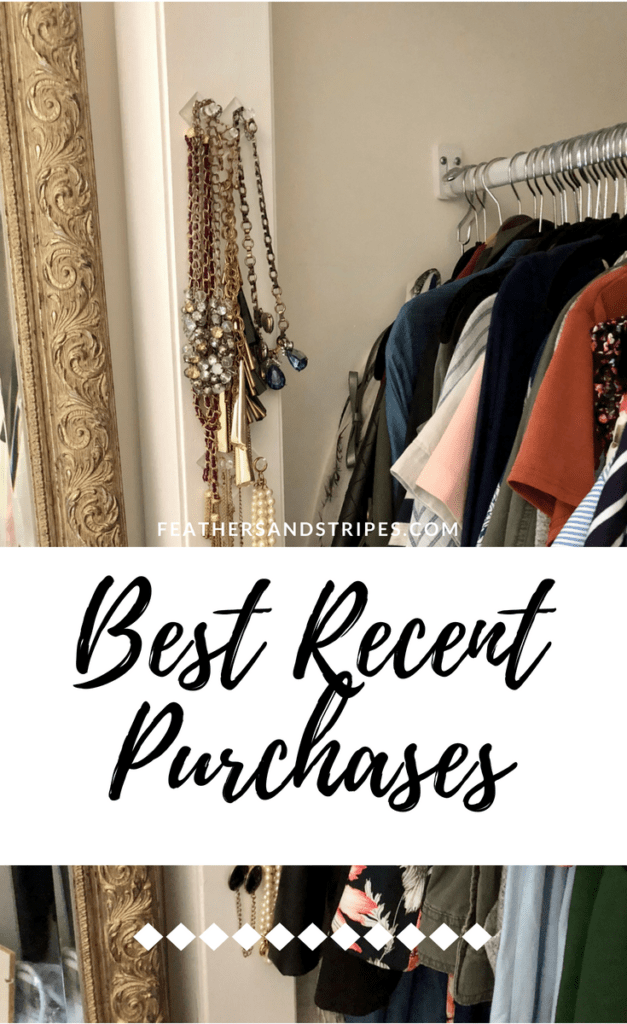 Shop these Recent Purchases:

Removable Jewelry Hangers
I've shopped this brand for hangers for holiday decorations, so when I found these jewelry hangers, I had to try them. They're incredibly easy to hang (and you don't have to put any holes in the wall!) and so far have held my statement necklaces without any issues! Plus, they're acrylic so they look nice! And at $6.75 for a set of 2, they're affordable.
Blue summer dress
In the hot summer months, I like to have easy pieces in my closet that I can put on with some simple jewelry. This dress is perfect, so I bought it in blue and black to have on hand! (I'm actually wearing it right now!)
Disposable rose gold-rimmed plates and flatware that look like china
I love having a beautiful table scape, but I also love to not be in the kitchen washing dishes for hours. I found these plates and these plastic forks and knives online, and they were just perfect for E's baptism lunch! They look SO much like our china, too! I've bookmarked these to order again in the future.
Kitchen organization bins
I ordered these clear plastic bins to start organizing in the kitchen, and I love how easy they make things! I started by ordering 2 of them – one for E's fruits and one for her veggies – and it's helping keep the small jars of baby food organized. I just ordered a few more to organize some other small items in the pantry.
Drawer dividers
Speaking of organization, I ordered drawer dividers to help keep my drawers more organized – and so far, so good! (Can you tell I'm on an organization kick lately? I'm determined to make my day-to-day easier by keeping things tidy.)
Shop these Recent Purchases:

Have you purchased anything recently that you love? Tell me all about your favorite recent purchases!
Loving these recent purchases? Click here now for more Home essentials!