One of the main tips I got as a new mom was to make the baby's bedroom as dark as possible for optimal sleep. Apparently having a dark room helps anyone sleep better because there are fewer distractions for your brain to have to compute. So with that information I went on a hunt for the best blackout curtains I could use in the baby's nursery. At the time I found out this info, I had sheer curtains in my daughter's room… not the best option because it let in too much light in a room with a lot of natural light.
I didn't want to spend a fortune on window treatments because I'm sure my kids will want different themes in their rooms as time goes on. So instead I found very functional curtains that I won't feel bad about swapping out later (and a great option if you're renting, too).
In both of the kids' rooms I have these rod pocket blackout curtains in different colors (one room has white blackout curtains with silver stars and the baby's room has teal curtains). I used the same curtain rod in both rooms (comes in silver, bronze, gold- I have the gold in both kids' rooms). The rods and curtains both come in a variety of color options. The curtains have a blackout lining and come in different sizes, so if you have small windows or shorter windows you can still get these!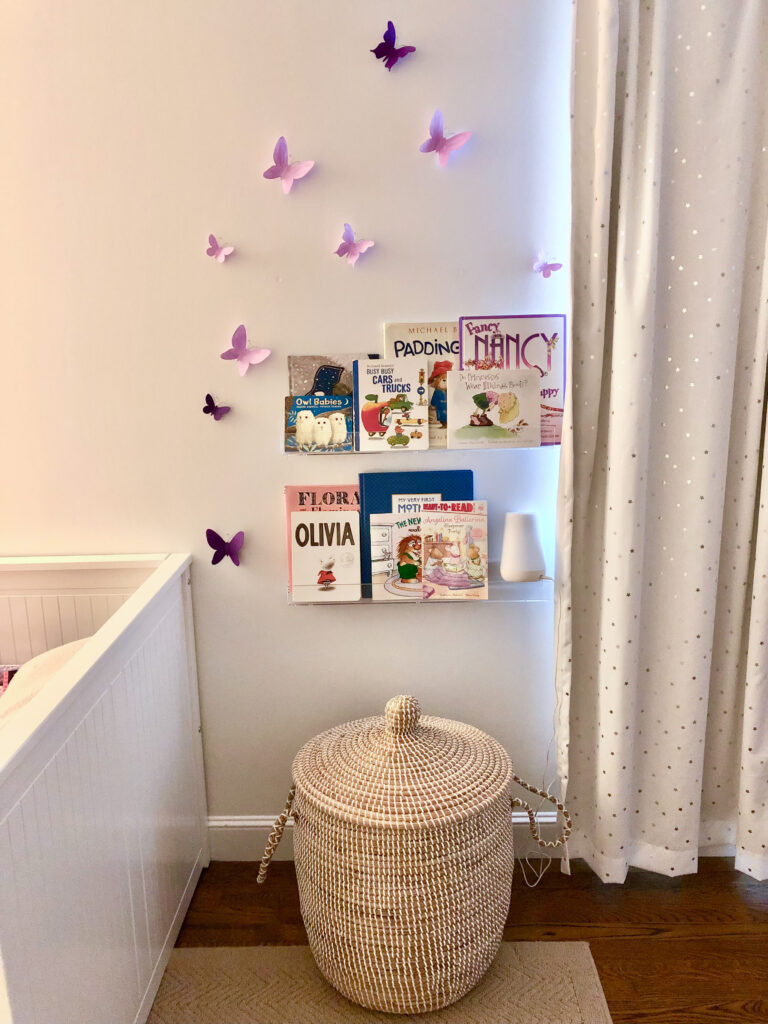 When the curtains are drawn, paired with our blackout shades, the room is pitch black: It is basically impossible to see your hand in front of your face at night. That's why I added these little motion-sensor night lights, so if I need to walk into the room at night I can see where I'm going! I can't comment on the washability of these- the tags say they're machine washable but I honestly have not had to take them down to wash yet. And as far as noise reduction goes, I'm not sure how much a curtain could reduce loud noises. That said, I think these blackout curtains are a great solution for any child's room or baby's nursery room. The bedroom is super dark for daytime naps, and my kids both get a really good night's sleep with their window shades down and curtains drawn.
(Also… When we travel I bring suction cups and blackout shades with us!)
More home-focused posts:
Small Space Pink and Gray Nursery