I've noticed that there are a lot of newbies visiting f+s lately (thank you, Google Analytics), so I wanted to re-introduce myself to all of you.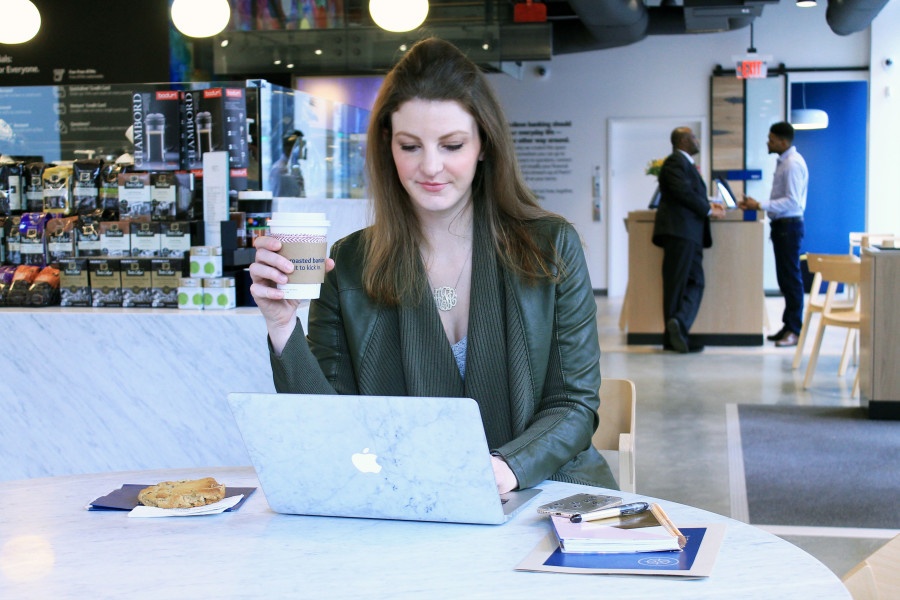 (Photo from this post)
While you can easily see the basics on my About page, today I'm sharing 10 things you might (or might not!) know about me.
I was born and raised in Massachusetts. I left briefly for college (going ALLLL the way to Rhode Island – go Friars!) and live in MA with my husband and our dog, Sprout, not far outside of Boston.
I work in marketing full-time, which means that I'm basically on my laptop 24/7. Because of the type of marketing I do, I'm pretty much always connected to social media. I try not to post too much. You can find f+s on Facebook, Twitter, Instagram, and Pinterest!
I have an MBA, which actually was the catalyst for starting feathers and stripes back in 2013. One of my classmates suggested that I put my creative frustration from work into writing a blog, and here we are 4 years later! (And yes, I was working full-time, going to school at night, and then decided to start a blog on the side. #busybee)
I have 2 sisters, and I'm the middle child. True to my birth order place, I can either be a peacemaker or a trouble maker. Just depends on the day! 😉
My favorite color has always been blue, and almost every room in our house is decorated with the color. I can't help it! I'm close in age to my older sister, so when we were little our parents bought red for her and blue for me (lunch boxes, backpacks, etc.) – and the colors just stuck! Red is her favorite color, and blue is my favorite color.
As far as my closet goes, I tend to invest in certain pieces and go fast-fashion with the rest. I will spend months lusting over a higher-priced item before I purchase it, but I'll buy a bunch of trendier items at lower price points. I do the same thing in our home! (For example, we splurged on our sectional couch but then I added two of these chairs – about $100 each – to finish off the room.)
Two of my favorite vacations I've taken were to Thailand and to Utah (Zion National Park and Bryce Canyon). Two very different places, and two very different experiences, but each amazing in their own right.
I have been working on an ancestry/family history project for a few years, and it's been cool to find out that some of my ancestors took part in the American Revolution. While most people think that my heritage is mostly Irish because of the red in my hair and my fair skin, I'm actually mostly English, Italian, and French Canadian.
My perfect weekend involves lazy time at home with my little family, lunch with friends, and time outdoors in the sun, either on a short hike or hanging out by the pool. I'm definitely a homebody, but I absolutely love being out and about with my friends, too!
So tell me… what's a fun fact about you?