When I was a little girl, moving the mouse in our advent calendar was an important job. I was so excited when I found an identical advent calendar to the one we had when I was younger and can't wait to drag out all of my decorations. I had originally said November 1 but decided to wait a few more days!
There's something about the lead up to Christmas that is just so wonderful. The snow, the Christmas lights on everyone's porch, and the festive decor in every room… and it's even better seeing Christmas through the eyes of my kids!
There are some really cute advent calendars out this year. I ordered this angel advent calendar for E's room, because I just think it's so sweet. Her godmother gave her one of the dolls from the same brand, and I find myself putting it up on the shelf so it doesn't get destroyed because it's just so pretty!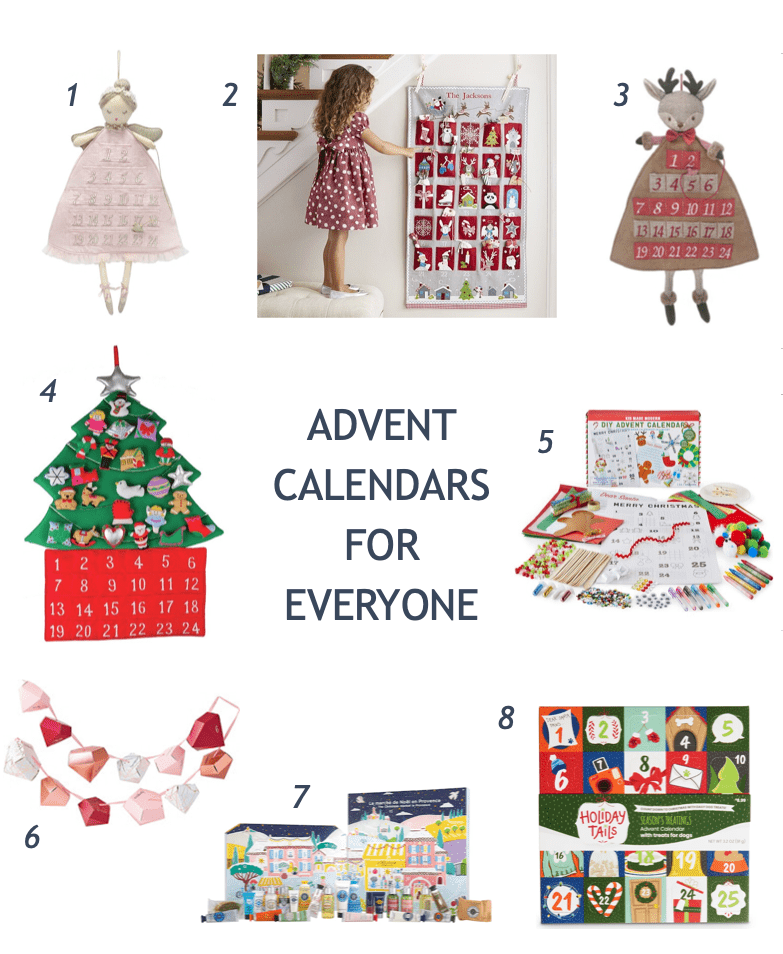 1- ballerina advent calendar, 2- personalized advent calendar, 3- ballerina advent calendar, 4- tree shaped advent calendar, 5- DIY advent calendar, 6- beauty advent calendar (12 days of beauty), 7- classic L'Occitane advent calendar, 8- advent calendar for your dog
If you want an advent calendar that can be personalized, look at number 2. It even has pouches big enough for small treats or gifts.
Soft Christmas-themed toys are perfect for little hands, and toddlers will love an advent calendar they can get their hands on!
A make-your-own advent calendar would be a great project (especially this year) for school-aged kids who would rather DIY.
Shop the post: