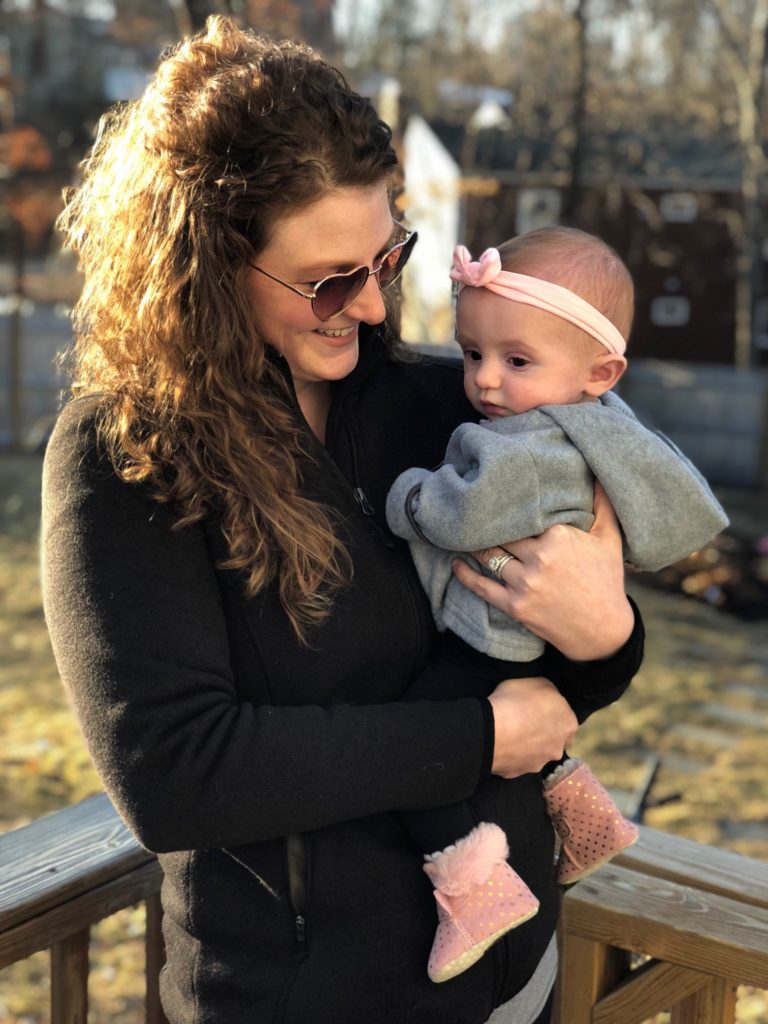 baby headband | similar baby boots
my sunglasses | my jacket
These past few weeks have been a total game changer for my baby girl's personality, schedule, and development. I feel like 5 months is when Eleanor changed from a newborn to a baby. I know they say the first three months of infanthood are actually a "fourth trimester," and now I completely get it!
Highlights
E is probably the happiest baby ever. She wakes up babbling to herself, and when she sees me (or her dad!), she puts on a huge smile (the best way to start any day!).
This month we've had full-blown belly laughs because this girl is ticklish. It's one of my favorite things when she laughs like that!
She continues to notice Sprout more and more, and she's genuinely interested in what he's doing when he walks by her.
When E is fussy, we have one thing that is a surefire way to make her happy- just put her on the changing table! I don't know what it is, but that is 100% her happy place. You'll get an instant smile!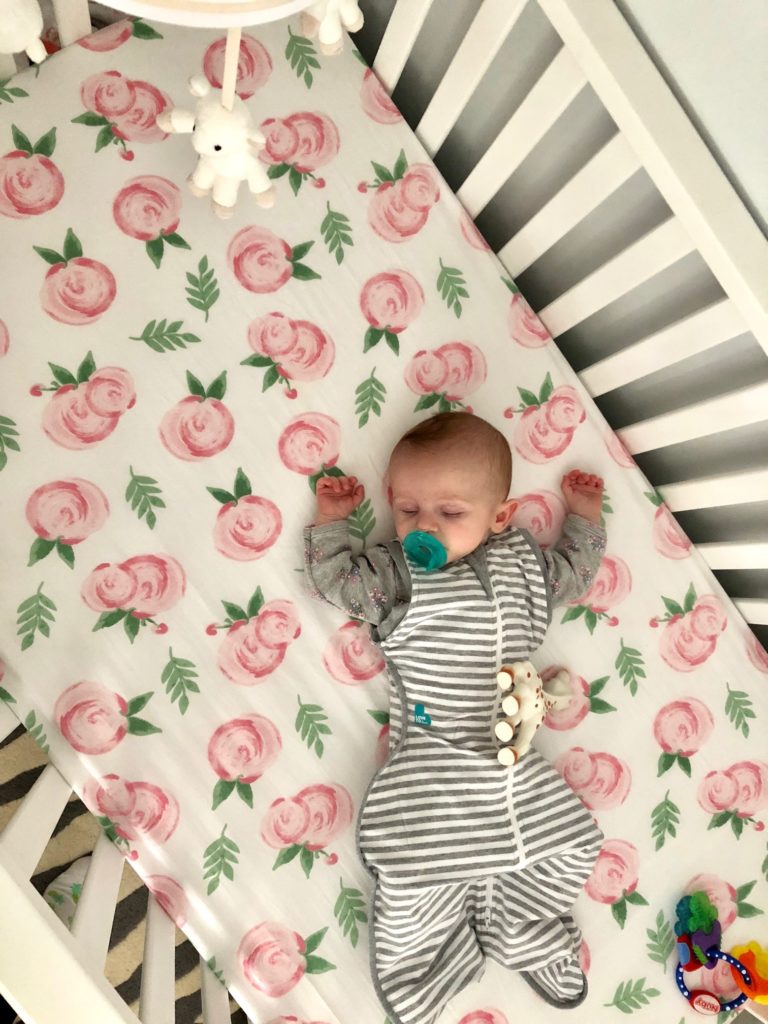 sheets | mobile | swaddle
I love this pattern on the sheets – we also have the car seat cover! And it comes in a hat and blanket, too!
Challenges
One of the biggest changes for me? I can't count on her napping in her car seat anymore. She doesn't want to be in there for long periods of time, which made a recent drive to NY and back… interesting.
Speaking of naps, E has tried to just get rid of them all together. I need to be more consistent about forcing her to go into her crib at the same time everyday, even if it's to have some quiet time.
Another huge change: She now recognizes the difference between me being in a room with her and me leaving the room.
I was reading back to our 3 month update, and man oh man have things changed. Since the 4 month sleep regression, we now get up 3-4 times a night. That's been happening for the past month or so, and I'm exhausted. It's been messing with my day-to-day, and my productivity is so far off from where it used to be! I still try to do a lot, but it's so much more challenging.
More of a personal challenge for me – I have a hard time dressing her in "real" clothes. I see all of these other babies wearing the cutest little outfits, but there are just so many PIECES. I find that 99% of the time I have E in what's referred to as a "sleep and play" which is basically a one-piece suit with feet. I call them "leisure suits" because it's a way better name. I've promised myself that I will do a better job of this in the near future, but personally if I was napping on and off all day (actually, just kidding… my child refuses to nap) I'd want to be comfy!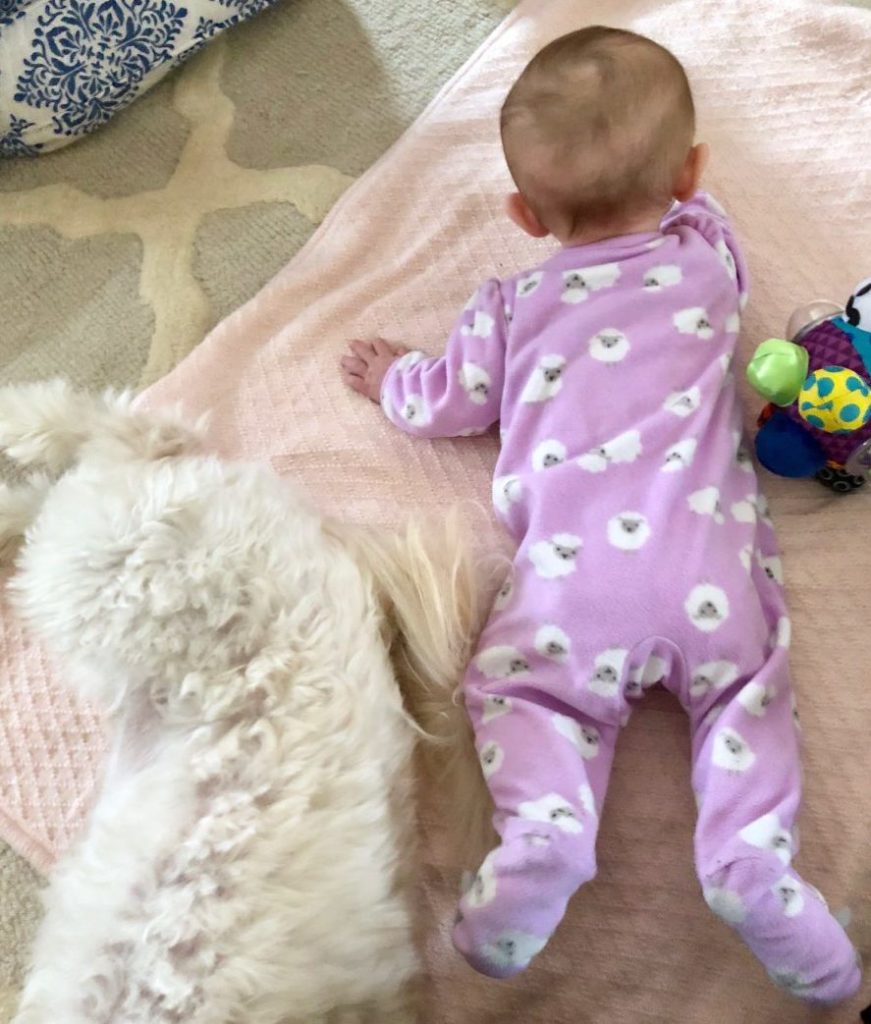 Stuff we love
Now that E has realized she can throw things, our pacifier clip keeps her pacifier in reach (and not on the floor).
I had no idea about this until my friend was over one day and told me, but you can buy different sizes/kinds of bottle nipples. (WHO KNEW.) We love these bottles, and we're currently using both number 2 and 3 bottle nipples.
My dad got us these teething things because someone recommended them to him, and they are the best. They're soft enough that they don't hurt E's gums, they're just the right size for little hands to hold onto, and they're bright so they're easy to find in the diaper bag. Def recommend these!
Another great thing for teething is this banana teether. I bought it mostly because I thought it was funny, but it has turned out to be a big helper with the teething we're going through!
Other stuff we use all the time that I've mentioned before:
For gear:

For toys and such: