What I'm Watching
Did anyone else catch A Million Little Things this week? It was the pilot episode, and there were so many twists and turns that it definitely has me hooked. I'd compare it to a Grey's Anatomy except about friendship, no medical drama here. Can't wait until next week!
Modern Family also started up again this week. This is a show I could binge watch!
And lastly, Grey's Anatomy came back. I can't believe I've been watching this show since I was in college… funny story: We had a fire drill freshman year on a Thursday night when Grey's was on and a bunch of us were gathered in a friend's room to watch (because DVR didn't exist back then…). When the fire drill happened, everyone was seriously trying to decide whether to stay and watch, and possibly get in trouble, or to go outside for the fire drill. It's been on for what feels like forever… are you over it? I actually don't know anyone else who still watches!
What I'm Reading
I have only started one new book from my August reading list, so I'm a little behind. Those are all books I had hoped to read in August/September! Are there any new books I need to add to my reading list?
What I'm Wearing
I'm still wearing the leggings I love the most for everyday. The temperatures in Boston have been up and down (but mostly down, and with a lot of rain) so I started adding my favorite fall vest (currently on sale!) on top. I'm still rocking that hairband on my wrist, too.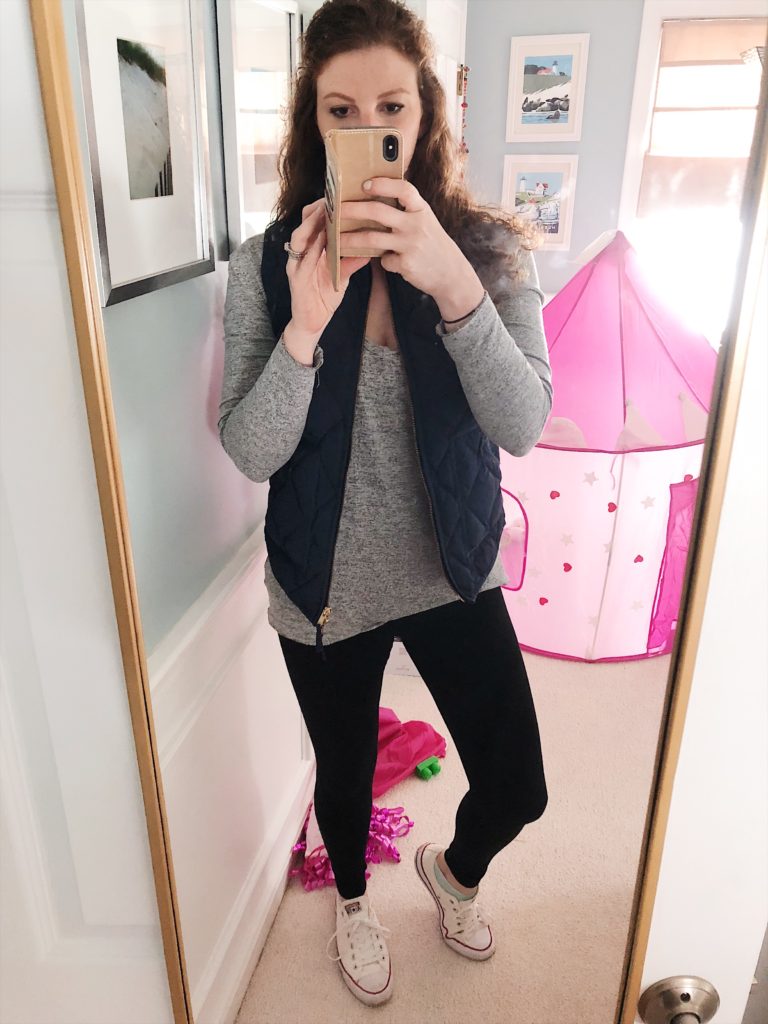 leggings (wearing high-waist version) | sneakers (just bought Eleanor a matching pair!) | vest | E's play tent
What I'm Shopping
I have been ON THE HUNT for good denim. I have my favorite pair of jeans right now, but they're distressed. I love a good pair of distressed denim, but when the winter hits, having distressed denim means extremely cold legs. If you have a recommendation, let me know! So far I purchased a pair of AG Prima, but tbh I'm not the biggest fan. I like really stretchy, high-waisted denim. Help a girl out!
I'm also a sucker for a good sweater, so I'm considering adding these to my closet:
Have a great weekend!