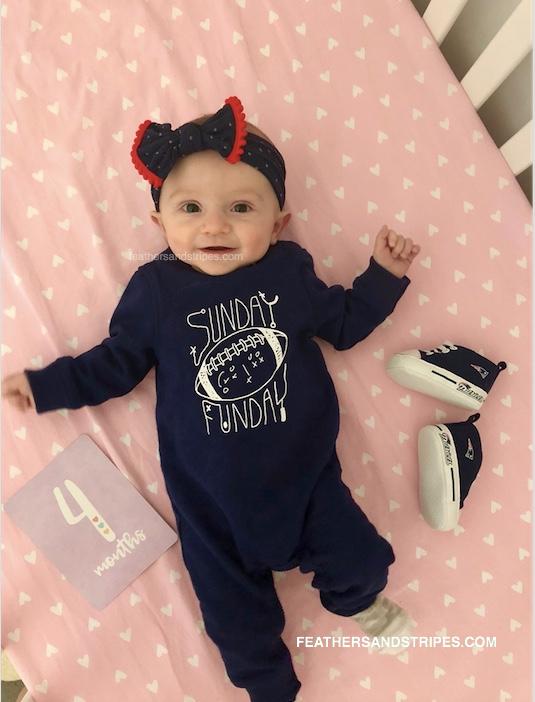 These months are just flying by! I am sure that every mom says this, but I feel like my little girl is growing up so fast.
monthly cards | heart sheet | onesie | bow (older, similar) | booties
I thought I'd do something a little different this month, so I'm sharing some of our favorite things. Some of these we've used for the whole 4 months and others we just started using (like the toys). But all of them are things we use everyday!
Favorite book: Tie between The Mitten (specifically the page with the bear!) and Mangia Mangia. We also love Goodnight Moon at bedtime.
Favorite time of day: First thing in the morning is probably E's favorite time of day. She's so smiley and ready for whatever comes her way (until her nap about 45 minutes later). I call her "bright eyed and bushy tailed" because she's always so ready to start the day. I love her afternoon nap, when I usually lie down with her. It's such a special time to just snuggle her and watch her snooze!
Favorite seat: Depending on what we're doing, E loves her swing or her rock n play. This bouncy seat is also really portable and useful in different rooms of the house, like the dining room when we're eating dinner.
Favorite outfit: Mom (that's me) loves these zip ups because they make diaper changes SO easy. And these ridiculously cute mittens. E loves anything that keeps her warm and snuggly.
Favorite new skill: E has learned to really hold onto things, so she can frequently be found with this ball, this teething toy, or her trusty set of keys.
Favorite friend: E loves watching Sprout, especially from her activity mat!
Other favorites:
We still use this blanket on the regular (so much so that I've considered buying a second just in case we lose it!).
I got rid of our clippers and just use this electric file instead.
I bought this swan onesie and it is SO cute in person!
P.S. Eleanor is really excited that the Patriots are in the Super Bowl this year!