E turned 3 months old right before Christmas. I am going to try to be better about getting these monthly posts on time!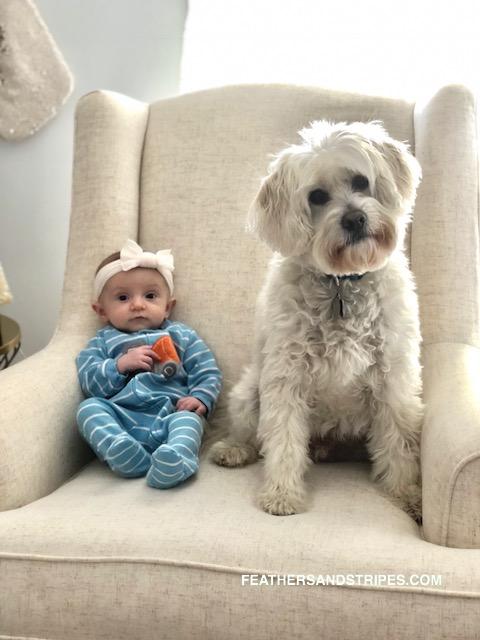 I feel a lot more relaxed as a mom, partially because E is starting to gain weight instead of just growing in height all the time (she's tall and skinny like her mom was as a kid!), and partially because E is so chill. Her personality is starting to come out, and she is curious, she is silly, and she is by far the happiest baby I've ever known.
This month E started laughing, cooing, and really focusing on items in front of her. She loves lights, so Christmas was magical. We actually still have our tree up (does anyone else keep theirs up until January 6th?) and when she is overwhelmed we just turn on the tree lights, and she calms right down.
I don't think she will ever want to be the center of attention in a big group. She loves one-on-one attention, but in a large crowd she shuts down. We saw this at two family Christmas parties. When everyone crowded around her, she just couldn't handle all of the attention. I don't blame her, though!
Favorite things this month
E is really enjoying her playmat and her piano mat. She kicks like crazy on both! She also LOVES her changing table. I think it's because she really hates being in a wet diaper, so diaper changes (and her changing table) make her super happy.
She also loves mirrors, these pacifiers that we've used since she was about two weeks old, and these bottles.
What I learned this month
I'm naturally a very sensitive person, and I don't want to upset other people. But I've found that with E, I need to do what's in her best interest, regardless of what that means for others. I'm on edge about what people will think of me as a mother (does anyone with kids NOT feel this way?). At the end of the day, though, T and I are E's number one protectors and cheerleaders, so what we feel is the best for her is what needs to happen.
I've been putting pressure on myself to dress her in "real outfits" because she's now three months old. But the Boston weather (it's been freeeeezing) combined with the number of diaper changes we do during the day have kept her in one-piece zip ups. I dressed her up for Christmas events, but the rest of the time she's comfortable and cozy!
And moms – it IS possible to travel with an infant! We took two trips before E turned three months old, spending a couple of nights in Portsmouth, NH and then going to NYC for a couple of nights.
Challenges this month
With the end of my maternity leave looming, I found myself feeling a little frantic. I'm lucky that my job allows me to work remotely quite a bit, but juggling an infant and working remotely full time is just not feasible. We had originally planned for E to start daycare in January, but at the last minute we decided to make a change. I'm now working part time for the month of January, and E is with family while I'm working which is a pretty perfect situation for us.
Our Schedule
Every day is a little different, but our basic schedule starts with a wake up around 7 or 7:30am, a catnap at 9am, and a bigger nap at 11:30am/12pm. If we're out and about she'll sleep longer, but if we are at home she tends to sleep for a shorter timeframe but will make it up with more short naps in the afternoon. She usually takes another nap around 2:30pm/3pm, and I love to snuggle with her on the couch for this nap! Then she takes another short nap around 5:30pm right before T and I eat dinner, and she's ready for bedtime around 9pm. (She's started moving this earlier, though, so it is currently more like 8pm that she's ready to go down for the night.) I might wake her up around 11pm before I go to bed for a "dream feed" but sometimes I just let her sleep until she naturally wakes up. She does get up once or twice during the night to eat, and then she'll go right back to sleep until she wakes up in the morning.
Most-used items
Aside from the obvious diapers and wipes, here's what we use most!
You can also read her one month update and two month update.