All of a sudden my baby girl is TWO MONTHS OLD.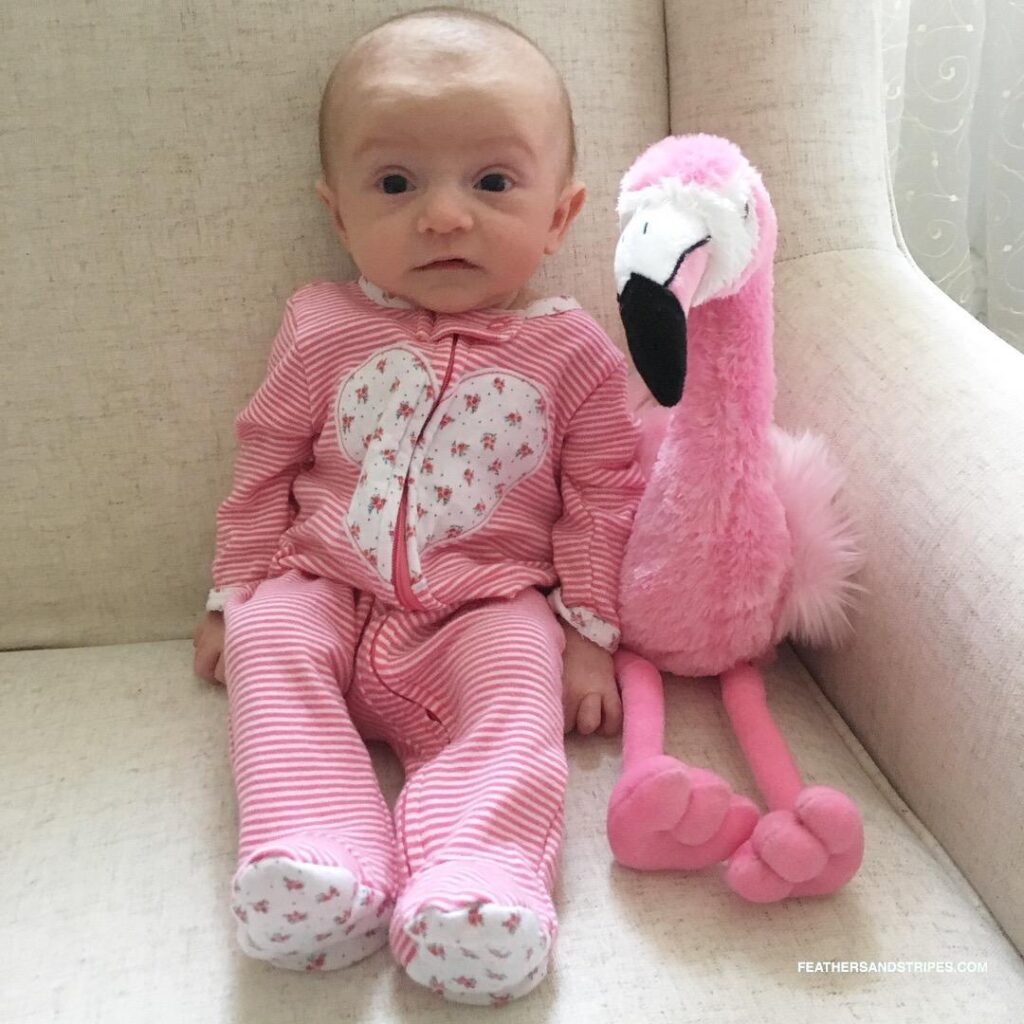 Time is seriously flying. She's 11 weeks now (I'm a little late with this post!), and it makes me so sad to think that she's growing up! (Dramatic, I know. She's still so little but these past ten weeks have just flown by.)
Size
E has grown out of her newborn clothes! Except for this onesie, which is one of our favorites (it runs long!). She's now wearing 3 month clothes for the most part, though if the brand runs on the larger size she's in the 0-3 month size. She's definitely a peanut in terms of weight, but she has my long torso. It's more fun dressing her in little outfits these days, which I did for Thanksgiving (we matched in stripes!) or for a weekend dinner out. On the daily, she wears these little sleep outfits. She HATES socks, so I don't put her in anything that doesn't have feet!
I've lost more than half of the weight I gained while pregnant with E, but I still have a ways to go! I was cleared to exercise and went back to both spin and pilates, though actually getting to class is more of a challenge than I thought it would be. I started doing some at-home workouts, too, but even that is hard to get to sometimes! I'm hoping we can get into a regular routine that involves me actually getting to do a workout!
Naps and Night Sleep
E gets up for the day around 7-7:30am but might take a catnap while I get showered and dressed for the day (new moms, if there is one thing you do for yourself during the day, take a shower and get dressed first thing in the morning!). I say "up for the day" even though she snoozes shortly after because she sleeps in a bassinet at night, and when she wakes up at 7-7:30am, I don't put her back in the bassinet. She'll either hang out in her Rock n Play or with me on the bed if I'm watching the news.
E takes a few naps each day, starting with a catnap right after she has woken up (about 30 minutes). Then she will be awake for a couple of hours and take her big nap (usually 1.5-3 hours, depending on the day!) right in the middle of the day. Her next catnap comes around 4pm, with another around 7pm. She's in her swaddle pod and ready for bed at 9:30pm, even though some nights she doesn't actually go to sleep until after 10pm. Some nights she just wants to chat with us!
Her night sleep is getting better and better, with the occasional night regressing to being up every couple of hours (which I've noticed around the same times that The Wonder Weeks app tells us she's going through a "leap"). After getting her two-month vaccinations, she had a low-grade fever and didn't sleep well that night, but the next night she slept for 6 hours straight! (Well, 5 hours and 50 minutes, but we can round up 😉 )
Our Day to Day
We still don't have a set schedule, though we have somewhat of a routine. The weekend of Thanksgiving proved to be a challenge, though, because family was in town and so we weren't doing our normal routine. Plus, I'm pretty sure E was going through a growth spurt (aka eating a ton and avoiding sleep like it was her job). I need to do a better job of keeping her on her routine so she doesn't get confused.
We get out of the house every day in the middle of the day, because if she doesn't fall asleep by noon, she will be fussy and awake for the next few hours. We'll run errands, go Christmas shopping, or just go to a nearby mall or shopping center and stroll. If it's a nice day, we might meet up with friends for a walk outside. Some days if we've gone out earlier to get me a coffee (some mornings I need more caffeine than others 😉 ), we might just do a walk in the neighborhood, or I might just put on the babywearer and do chores around the house.
E has started to be really alert, so we do tummy time, play on her activity mat, and spend time looking in the mirror every day. She loves looking at lights and the curtains, which is so funny to us. She's not a huge fan of tummy time, but we make sure she does it because we want her to be strong! I haven't yet established a night routine, but that's something we plan to do by the time she is three months old. That will entail something like bath – bottle – books – bed.
Our current day looks something like this:
7am up for the day! Change and feed, followed by some snuggles before she takes a catnap
11am feeding followed by a nap
2pm up and eating again, followed by activities. This might be activity mat, tummy time, etc.
4pm E will sometimes get a snack at this time (again, we feed on demand, so I do not at all restrict how much milk she gets!), and then she will take a catnap, which is somewhere between 20 minutes and an hour
5:30pm every other day she gets a bath, followed by lotion (which she is not a fan of) and then into a new onesie!
7pm at this time she usually will cluster feed, meaning that she eats her normal amount per feeding but in a condensed time period, so she may eat every 20-30 minutes.
9pm we start getting her ready for bed by 9:30pm, which usually involves another feeding if necessary, diaper change, new outfit if necessary, and into a swaddle pod or sleep sack. She'll use her pacifier for a short time period before she drifts off.
2-3am E will wake up for her middle of the night feeding, which occasionally takes her to 7am and sometimes might mean she sleeps until…
5:30/6am sometimes she'll wake for a feed at this time, and she'll go back into her bassinet until her 7/7:30am wakeup time to start a new day!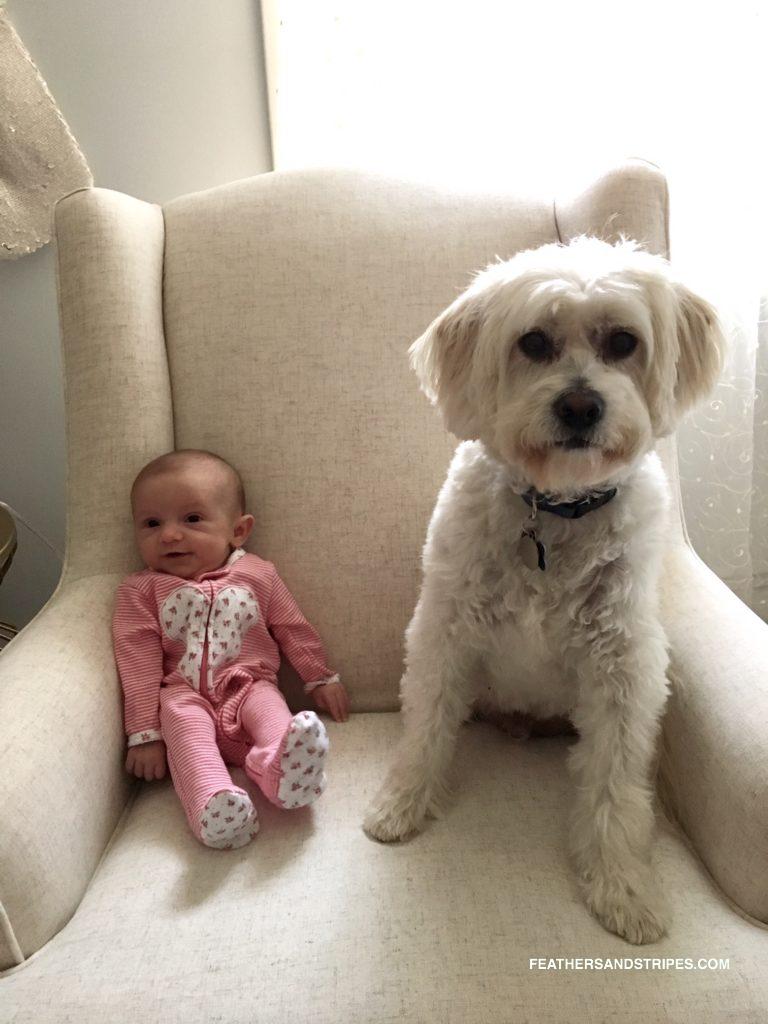 Recent Challenges
E was diagnosed with reflux, which explains a lot of the fussiness we've been dealing with in the afternoons and especially after she eats. She's been taking something for it for just a couple of days and I'm already seeing a change!
Naps are not her strongest, so I have been taking her out of the house to ensure that she sleeps. She sleeps really well with motion, so motion she gets! I know this can create issues for the future, so we are going to start doing naps at home on a stricter schedule once she hits 3 months. I'll be sharing how that goes… wish me luck!
Getting things done for me is not the easiest. I notice that when T is home with her, like if I go out to run a solo errand or get lunch with a friend, that he is able to get the kitchen cleaned, run the laundry, and complete a crossword puzzle, and I'm in awe of how that happens. Is it a mom thing that I'm not able to get all of that done?
I'll be sharing her 3 month update shortly because I was so late on this one! Any mom questions? Send me an email! feathersandstripes at gmail.com