11 months going on 14 years old, here we are!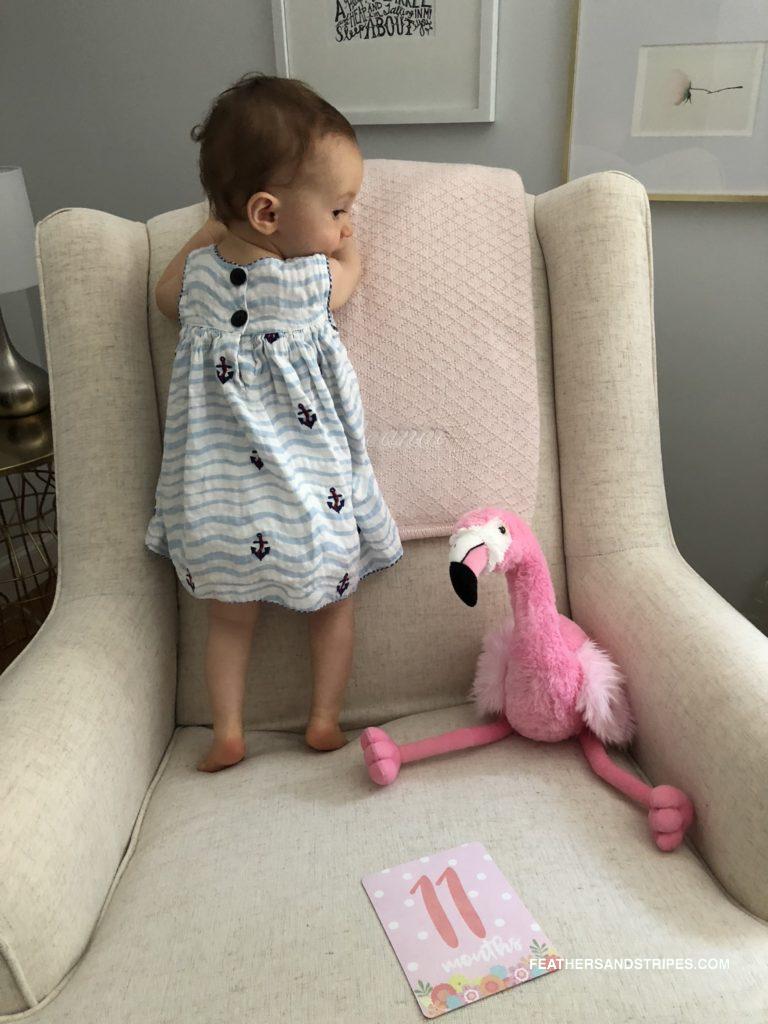 anchor dress from this brand | milestone cards | similar chair
This month
I know I said Eleanor was BUSY in her 10 month update… What's a stronger word for "busy"?
E is on the move, crawling quickly and then pulling herself up on everything. I finally put cabinet locks on everything at her level. After staring at the directions to one set I had, I bought this set of cabinet locks with sticky backs – life changing. It took me 5 minutes to put cabinet locks on the entire kitchen! Now, she goes after anything on the coffee table, any towel hanging on the stove bar, and Sprout's toys in his toy basket. She started crawling stairs this month, too, so we now have baby gates all over the first floor of the house. Upstairs is even crazier, with baby gates sectioning off our bedroom and her bedroom/my office.
Last month I told you how we were redoing a room to be a guest room so I could get stuff done and keep an eye on her. Well… she'll only play in there if we're in there with her. It's a great space for us to be out of the living room for playtime, but it's not functioning how I had hoped (yet, anyway – she's still young!).
Highlights
Gymtime. Because E is so much on the move at home, and because she's with me a lot, I enrolled her in a gym class once a week. She gets some socialization with other babies her age, and she gets to crawl all over the place. She seems to LOVE it.
Social. Eleanor continues to shout at people when we're out and they're not paying attention to her. Especially if she sees kids, she wants them to know that she's there and she wants to say hi!
Consistent sleep schedule. When I updated last month, E wasn't sleeping 12 hours straight and was attempting to avoid naps here and there. That has all changed, because we did some sleep training and so things are much, much better. Now she sleeps 12 hours a night every night, and she naps once a day consistently for 1.5 hours. I'm planning to write a post all about our sleep training!
The bum spin. Whenever E has something new or interesting, she'll hold it in one hand and spin around on her bum, looking at the object. It has been deemed "the bum spin" and is adorable!
Challenges
Clothing sizes. I think I've mentioned already that E is tall and skinny, so finding clothes that fit her length but don't fall off otherwise is really tough. She's definitely a European lady! Most of the pants that fit her length-wise fall off of her waist. Summer clothes were super easy because she wore dresses or rompers all of the time, but fall clothes are a lot tougher.
A 2nd nap. Supposedly, kids her age should be taking 2 naps, but E refuses that second nap every day. I try when she looks/acts tired, but for whatever reason she just wants her one nap and that's it. We're going to work on this one!
Busy bee. As much fun as it is to have her being so busy at this age, it's also very tiring. I don't know HOW moms have a baby this age and a second on the way!
Communication. I see why a lot of families do baby sign language, because E can get frustrated when she wants something (or doesn't want something) and we don't understand. She's pretty predictable, but there are times when we aren't sure what she needs, and that frustrates her a lot. Tonight she was removing things from her laundry basket (it was full of clothes in the next size up that need to be washed), and I put my hand on it to steady it so she wouldn't fall over. WELL… that was unacceptable. She did not want my hand on that basket, and she started doing what I can only describe as a dinosaur noise. I realized what she was mad about and moved my hand off, and then she was happy again. Annnd that is why I say she's 11 months going on 14 years old!
11 Months Schedule
We are trying to teach Eleanor flexibility but maintain a routine at the same time. Though, to be honest, our schedule lately is more rigid than it has been in the past, especially at night.
Here's a (very) loose schedule of what our days might look like:
7:15am-7:45am Eleanor wakes up and hangs out with one of us while the other is getting ready for the day
9:00am breakfast, books/playtime or this is when we head out for her gym class once a week (that day we'll start breakfast earlier so that she is done by 9am vs starting at 9am)
10:30am bottle, book (I wrote about her favorite books here!), and nap, which sometimes starts as early as 10:15am and as late as 11am but is usually around an hour and a half regardless of when she starts the nap
12:00pm lunchtime (see below!), followed by playing or going out
4:30pm snack
6pm dinner as a family, followed by her bath or quiet playtime
7:15pm in her room by 7:45pm at the latest for books, bottle, and bed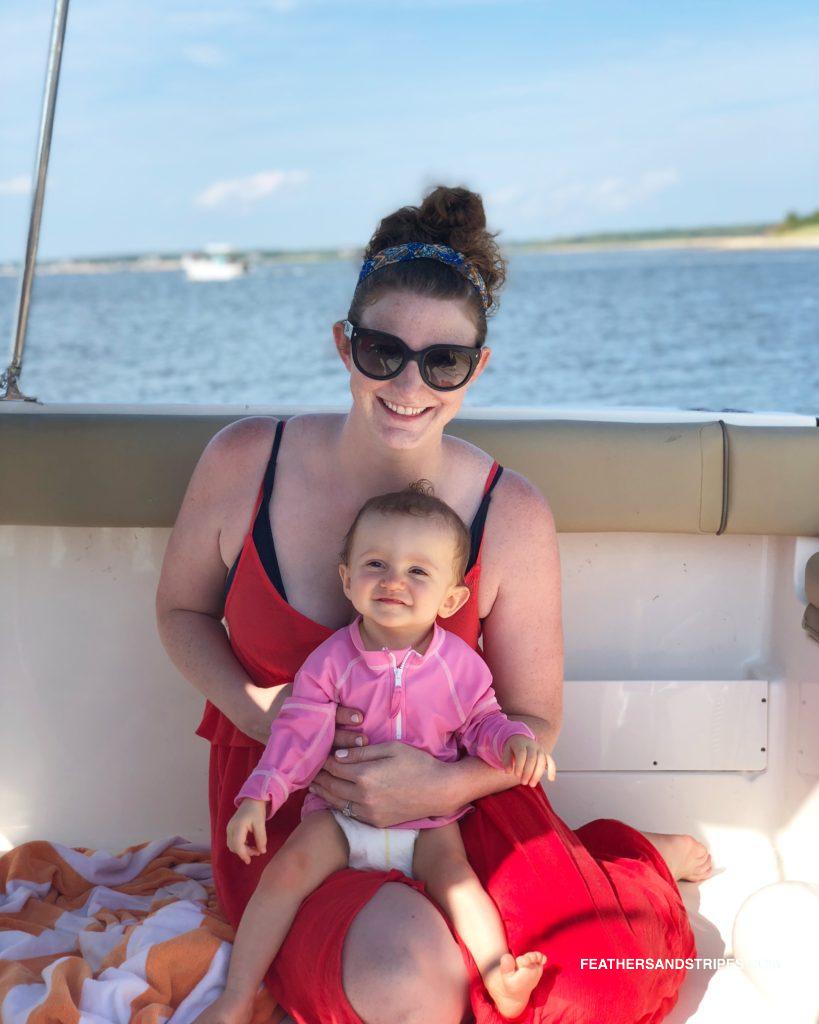 She wore this rash guard all summer! (Also can we talk about how much tanner she is than me??)
Meals at 11 Months
Eleanor is an awesome eater. She will try nearly everything, and though she is a slow eater, she loves her food!
A typical day for meals might be…
Breakfast: Baby oatmeal, applesauce pouch or other fruit; Toast with peanut butter (and jelly some days!).
Lunch: Might be leftovers from dinner (like chicken, carrots, pureed cauliflower) or some of whatever we're eating (deli turkey, whole wheat bread, avocado). Sometimes I'll add in a 4 ounce jar of puree (veggies or fruit), and usually some blueberries, too. I made these broccoli patties (without cheese and added in cooked ground turkey) for an easy option, but I think I like them better than E does!
Snack: Maybe a jar/pouch of purees, fruit, animal crackers. If we're out in the stroller, she loves to chew on these teething wafers. This might also be toast with peanut butter.
Dinner: Some of whatever we're eating! If it's spicy or something I don't want her to have for whatever reason, she might have pasta with olive oil or non-dairy butter (like Earth Balance), some kind of meat (she loves deli turkey) and some kind of carb plus some fruit.
Before bed: Bottle
See E's pink and gray nursery here
I can't believe we're coming up on a year! We're so excited to celebrate her first birthday. Based on how I've been feeling, I'm pretty sure I'll be tearing up the entire day when she actually turns one year old!