10 months – double digits! Back when Eleanor was a few days old, and I wasn't sure if I would ever feel like myself again, I heard this:
The days are long but the years are short.
And it is definitely the truth! Some of those early days felt like they would never end, and now here we are with a 10 month old who will soon turn a year old. It makes me extra emotional to know that her first birthday is coming up soon. I don't feel ready to have a toddler!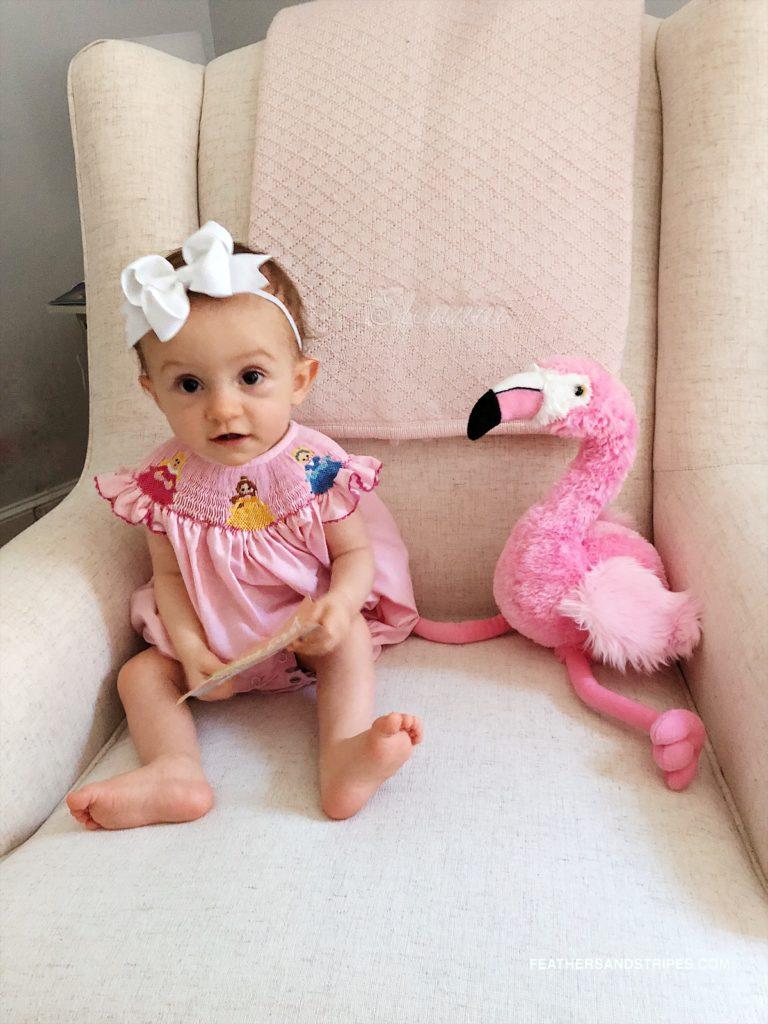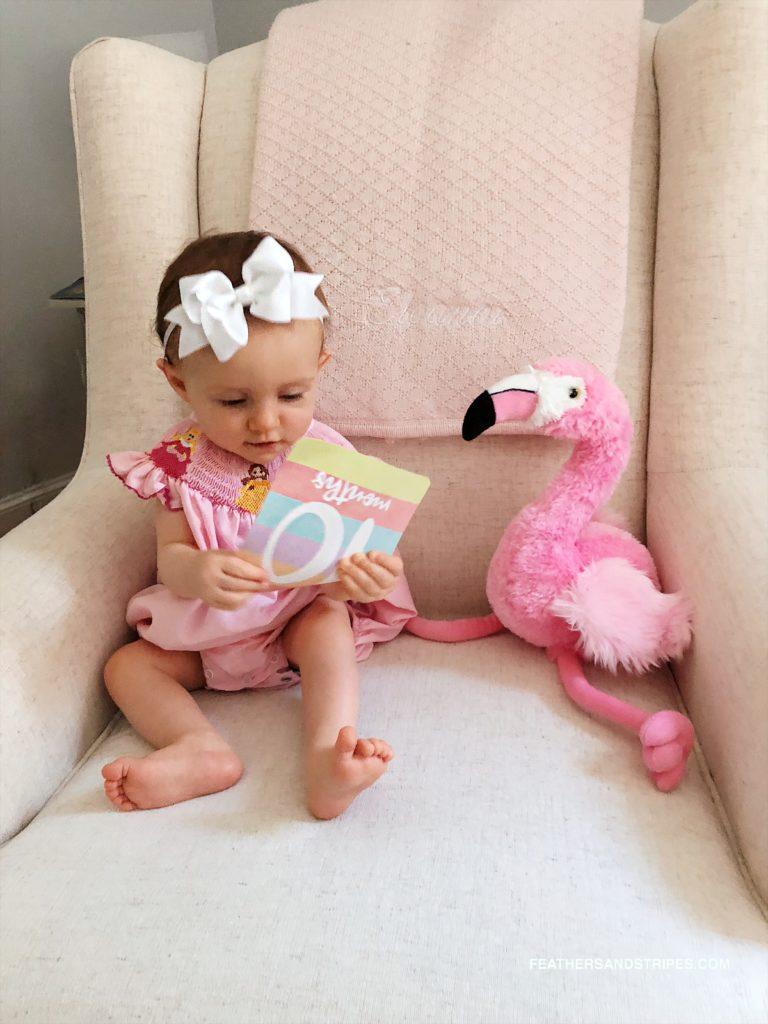 E's bubble and bow | milestone cards | similar chair
This month
If there's one word for this past month, it's "BUSY." From crawling to getting upset when she is put down at times, we are busier than ever keeping up with Eleanor. She started crawling right after turning 9 months old, making her way slowly on her arms. She would get into a sitting position and then try to get back on her belly, usually getting a leg stuck and toppling over, but that didn't last long. Now she moves fast. We're baby proofing things, as she recently figured out that she can open cabinets, pull herself up on the coffee table, and also uses things like a laundry basket to try to stand up with.
We were able to keep her in the playpen for a short period of time, but that's ending. If I'm cooking dinner or doing something where I need her in one place, she wants to be free to roam, so I'm in the process of converting one of the downstairs rooms into a playroom for her. That way I can keep an eye on her while getting stuff done. (Or at least that's the goal…)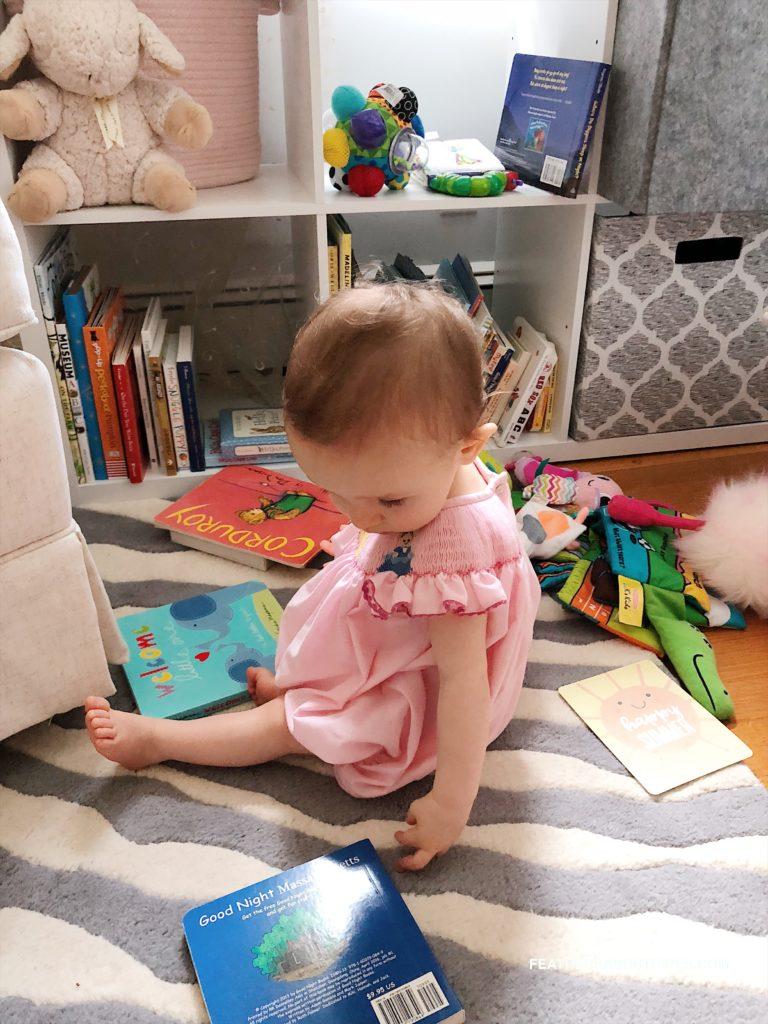 Highlights
Kisses. By far the best thing is when E "gives kisses." They are open-mouthed, wet kisses on my cheek, and they are the sweetest, most beautiful thing ever. She has been doing this since about 8 months but it remains a highlight every single day. She seems to understand, too, when to give kisses, which just melts my heart. For example, today I could NOT figure out what she needed. She was in her high chair because it was nearing dinner time, and I was finishing cooking for me and T (and, well, her, too!) and feeding her at the same time. She threw her water, she didn't want her purees, she didn't want puffs, and even her favorite silly song made her just give me a LOOK. I decided to just shut off what I was cooking and take her out of the high chair, and as soon as I lifted her up, she gave me this wonderful little kiss on my cheek. Turns out she had a dirty diaper (which. she. hates.) and just needed to be changed, but her absolute gratitude in the form of a kiss was just so sweet.
Go with the flow. I joke that E is a European baby because she is so easy about being out, staying up late, etc. She's happy to nap in the car or the crib, to go to bed on time or to stay up late like we did a couple of nights on vacation. She doesn't mind sitting on the floor and playing quietly or sitting at the table while the adults finish dinner. She does extremely well going out to restaurants, to the mall, wherever, so we take her everywhere!
Social. Eleanor LOVES to meet new friends. It could be a dog (she loves dogs) at the local park or someone in the grocery store, but she is a social butterfly. (Her mom, however, is not!) She went through a period of stranger danger, and she still gets a little weirded out when men she doesn't know want to interact with her. But put a little kid near her and she will be coughing/yelling for attention or trying to talk to them.
Chatty. E is finding her voice, and it is the cutest voice ever! She likes to "talk" to us at the dinner table. We try to eat dinner together every night, and she seems to relish in the routine. Dinnertime is when T and I discuss current events, weekend plans, whatever is going on that we need/want to talk about, and E just joins on in!
Challenges
Teeth. I heard that teething is a constant struggle, and I'm seeing why: She has 4 teeth already and her canine teeth are coming in now, and they are driving her nuts. She has a million teething toys, and I give her Motrin when I need to, but it seems like the only things that help her are a) biting on fabric and pulling it at the same time or b) biting my skin. It hurts! Not that I expected getting four new teeth at once to be a pleasant experience, but this poor kid…
Sleep. E still isn't sleeping a straight 12 hours, which we are working on. That is mostly because we have not addressed sleep training until now (oops). I'll share what we end up doing if/when it works! So far we are 5 nights in and she has fallen asleep faster each night, PLUS naps have not been as much of a struggle as they used to be. And we even had a night where she slept a full 12 hours and 15 minutes! Hallelujah!
Reflux. E was diagnosed with reflux around month 2, and she has been on Prilosec since then. It is a constant challenge, though, as certain foods definitely cause a bit more trouble than others. (Has anyone else noticed how many babies are being diagnosed with reflux lately??)
10 Months Schedule
I have never wanted to be one of those parents who absolutely must be at home between the hours of 10 and 11am and 2 and 3pm, full stop, no negotiating. We are trying to teach Eleanor flexibility but maintain a routine at the same time. Her naps start whenever she shows sleepy signs: Rather than having a set time when she goes down for a nap each day, we let her do her thing until she is tired, and then she goes down for a nap. (Unless she isn't showing signs of slowing down at all, and then we will basically make her take a nap so we don't have a meltdown.)
Here's a (very) loose schedule of what our days might look like:
7:15am-7:45am Eleanor wakes up and, depending on the day, we might go straight downstairs for breakfast or might hang out in the "big bed" for a bit reading books
breakfast, books, and playtime
11am bottle, book, and nap 1 of the day, which sometimes starts as early as 10am and as late as 12pm but is usually around an hour regardless of when she starts the nap
12:30pm lunchtime (see below!), followed by playing
3pm bottle, book, and nap 2 of the day, which could be as early as 2pm or as late as 4:30pm but usually lasts an hour and a half
6pm dinner. I have been trying very hard to make 6pm dinner as a family a "thing" and for the most part, this happens!
bath, into jammies, and quiet time in her room. We might play with her stuffed animals or she will sit and move things in and out of a basket
8pm bottle, books, and bedtime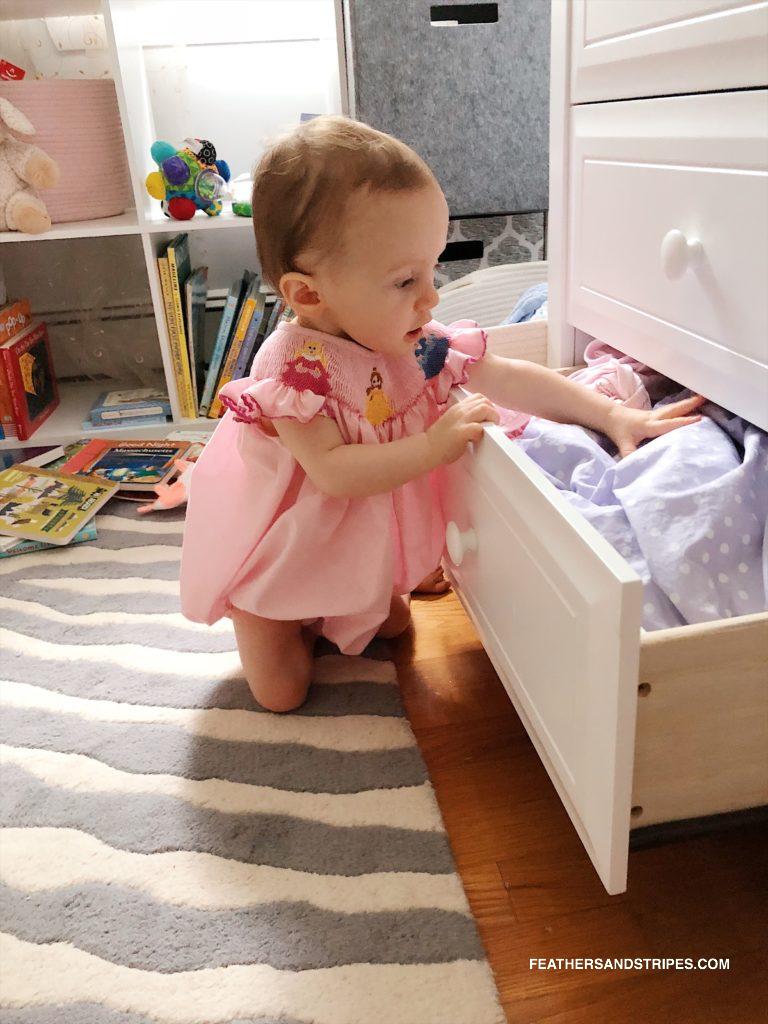 Meals at 10 Months
Eleanor has always taken in a lot less than the average baby her age, which stressed us out for months on end. She is long and lean, just like I was as a kid. She is doing very well developmentally, so I try not to stress too much about her intake during the day!
A typical day for meals might be…
Breakfast: Baby oatmeal mixed with breastmilk and cinnamon, applesauce pouch or other fruit, puffs or these dairy-free snacks, water. Other days might be less oatmeal but also scrambled eggs, toast with jam or peanut butter.
Lunch: One or two 4-oz jars of purees (usually veggies), plus some of whatever we are eating, with water or milk.
Snack: Maybe a jar of purees, steamed carrot sticks, or part of a sandwich (peanut butter and jelly) with water. If we're out in the stroller, she loves to chew on these teething wafers.
Dinner: One or two 4-oz jars of purees (usually veggies and fruit), plus some of whatever we are eating, with water.
Before bed: Bottle
*I will say that Eleanor drinks a lot less milk/formula than other kids who are 10 months old. It's just the way she has always been!
A few of our favorite things
Favorite books: I wrote this post that includes our favorite books for the past few months.
Favorite thing to say: "Hi Dada"
Favorite food: Sweet potatoes, always.
Favorite bedtime book: This one (touch and feel books are big in our house right now!)
Favorite travel bag for weekend getaways: This one (size medium!) with the zip top
Favorite animal: Dogs, for sure
See E's pink and gray nursery here