Today's gift guide is all about your lady friends: gifts for mom, gifts for your sister, gifts for your best friend!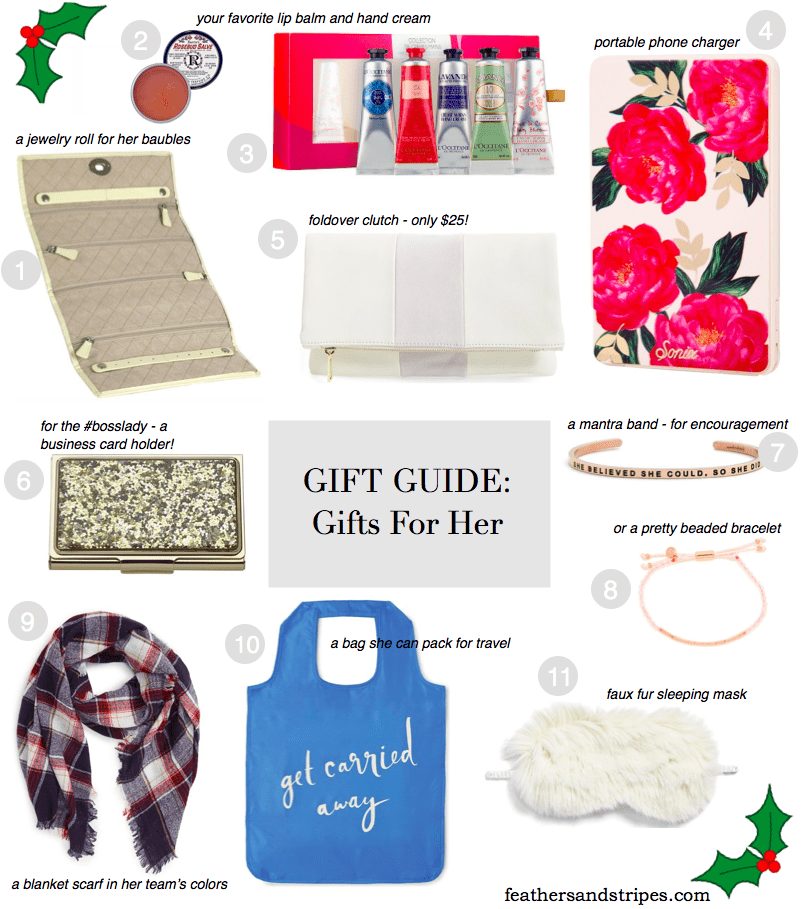 Shop by number: 1 / 2 / 3 / 4 / 5 / 6 / 7 / 8 / 9 / 10 / 11
I always have the easiest time shopping for my sisters. There are so many fun items I could buy each of them! For this gift guide I thought about all of the ladies in my life, and I put together a guide with gifts that work for your bestie just as well as they work for your mother in law.
For the frequent traveler: My sister bought me a bag similar to #10 from a trip she went on, and I brought that bag along on quite a few trips (these bags roll up really easily and take up close to no space in your suitcase). It was a great little bag to have! Hand lotion is something I always have in my bag when I'm flying.The air up there is just so dry! This lip balm (only $6!) is one of my favorites. And I've been meaning to buy one of these jewelry rolls, which organizes your jewelry into a tidy little pack rather than having it floating around (and getting tangled up) in a bag. (P.S. You can put together a little gift pack with the bag, lip balm, sleep mask, and hand lotion!)
If she's a #bosslady: She's going to need something to hold her business cards, a portable cell phone charger, and something to give her a little encouragement.
If she's getting married this year: This clutch (only $25!) will be perfect for all of her bridal events. (But it comes in black, too!) She can bring this easy tote along on her honeymoon, and she'll need the sleeping mask for her flight!
For your mother-in-law: Possibly one of the hardest categories of people to buy for: the in-laws. Why not put together a beauty bag with your favorite hand lotion, lip balm, and a gift card to Sephora? Or if she's always on the go, a portable cell phone charger is a great gift. And if she's not into gadgets or beauty items, a cozy blanket scarf or the softest sweater ever are great gifts! (Yes, the sweater is almost $100, but it is seriously the softest thing I have in my closet! Totally worth the price.)
Gifts don't have to be anything crazy – they should be something you genuinely want to give! That's why this year you're going to see a lot of these items under my tree:
What's your favorite gift to give?